Judge Rules Against Syracuse University Students' Free Speech Rights
A shortsighted decision that makes little sense.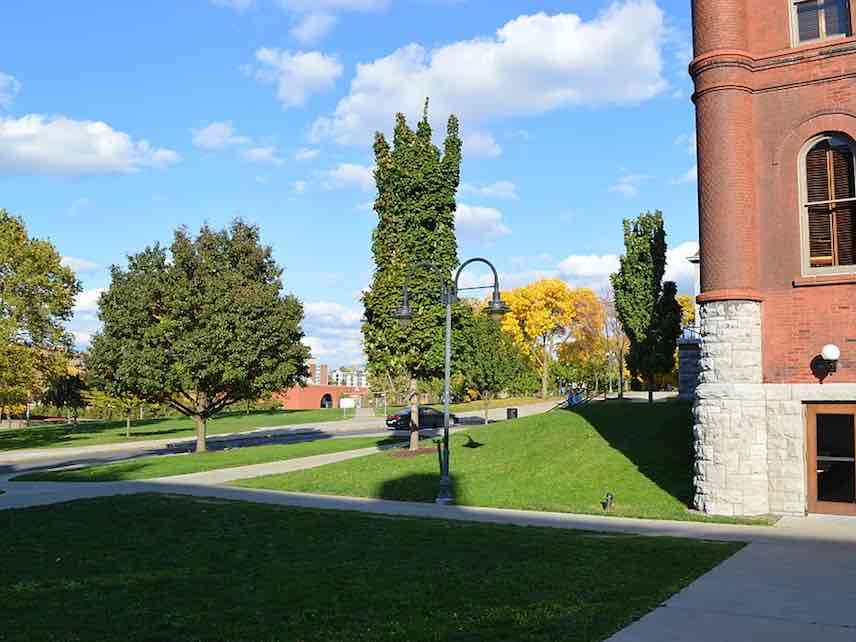 A judge has dealt a significant blow to the free speech rights of students at Syracuse University, a private school in New York.
James McClusky, a justice of the New York Supreme Court 5th Judicial District, ruled earlier this month that Syracuse may suspend several members of the Theta Tau fraternity for private, offensive behavior—despite the promise, contained within the university's student code of conduct, that students generally have the right to express themselves freely.
Syracuse first took action against the students in June after video footage of them privately roasting one another—making immature and demeaning but satirical comments about each other—were leaked to the student newspaper. The language used by the students was offensive, and Syracuse's administration was right to describe it as "extremely racist, anti-Semitic, homophobic, sexist, and hostile to people with disabilities." Note, though, that this was a private, comedic event, and the hurtful language was aimed at willing participants.
In any event, the student code of conduct states that students "have the right to express themselves freely on any subject provided they do so in a manner that does not violate the code." Administrators characterized the speech as harassing and threatening, and thus outside the protection of the code.
McClusky disagreed, writing that he could imagine some on campus feeling threatened "after a debate on abortion, a debate on the support of Israel, or a debate on the confirmation of Justice Kavanaugh, issues upon which one would think an institution of higher education would encourage debate."
But despite outlining a rationale for overturning the punishments, the judge ultimately sided with Syracuse. "The Court will not overturn this finding," he wrote.
The Foundation for Individual Rights in Education's Zach Greenberg characterized the decision as "contradictory" and reckless:
FIRE is disappointed that this court refused to apply one of the most basic principles of our legal system: Institutions must generally adhere to the promises they make, especially the clear, written policies advertised by a university in its student code of conduct and similar policy materials. Just as a college cannot take a student's tuition and then refuse to provide any sort of education, SU may not purport to uphold its students' expressive rights and then suspend them for speech protected under First Amendment standards.

FIRE has called out this hypocrisy again and again at SU, a university that has the words of the First Amendment emblazoned on its school of communications, yet continually displays a disturbing disregard for freedom of speech. From SU's expulsion of an education student for his Facebook post to its investigation of a law student over his satirical blog, the university has made it clear that its stated commitment to student rights is worthless.

This court ruling will only encourage private schools like SU to create, advertise, and then refuse to enforce illusory promises of free speech. Based on the logic of this ruling, students at private colleges can be expelled for flaunting universities rules, but these colleges should fear no consequences for defaulting on their obligations. SU students should know that their expressive freedoms are determined not by university policy, but by the arbitrary whims of university administrators, who may defy student's rights with impunity.
The students plan to appeal the decision, and for good reason. Universities that make free speech guarantees must keep their promises, even when the speech in question embarrasses or offends the campus.