Harris County, Texas, Flashpoint of Bail Reform Battles, Will Mostly Eliminate Cash Demands in Minor Cases
Lawsuits playing out for three years spotlight how poor people end up trapped in jail even before being convicted.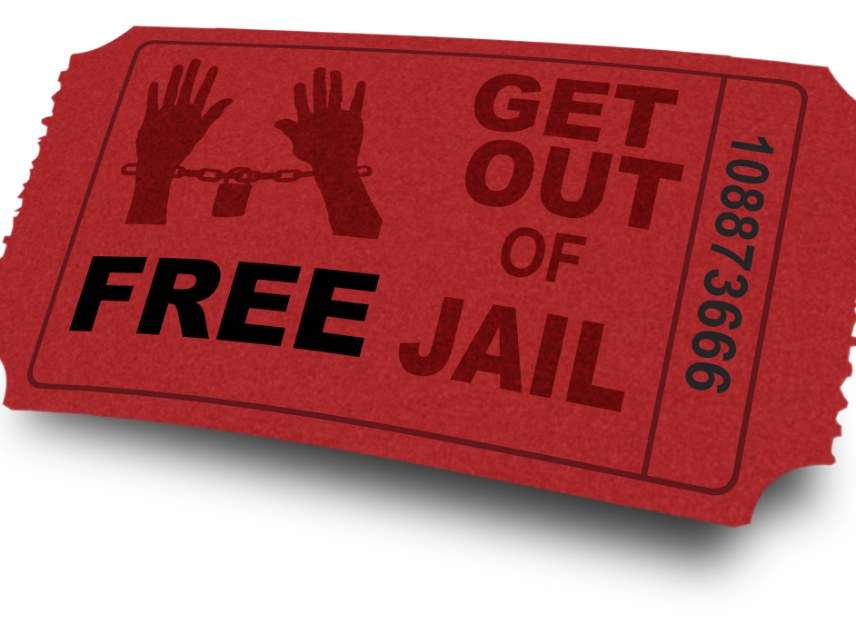 Harris County, Texas, has essentially been ground zero in the fight to reform how cash bail works in America. Civil rights lawyers have successfully sued the county in federal court for locking up indigent arrestees and requiring them to pay cash bail, even for minor crimes and in cases when they are neither dangers to the community nor flight risks.
The county has been ordered by federal judges to reform its practices so that money is not the determining factor of whether somebody is free or detained prior to trial. But judges and county leaders—many of them Republican—have been resisting these demands, and Harris County has spent an estimated $9 million since 2016 fighting the lawsuits.
Then the blue wave came in November and pretty much all of those resistant judges were tossed from office and replaced with Democrats. Credit or blame straight-party voting for the outcome. Democrats and Republicans turned out to vote in equal percentages in Harris County, but a higher percentage of voters, 42 percent to 33 percent, took the straight party option to vote for each Democrat on the ballot rather than for a few Republicans a la carte.
The new crop of Democratic judges are supporting bail reform. Earlier in January, not long after being sworn into office, these judges dropped the county's efforts to appeal federal rulings ordering changes to the system.
This week, that same crop of new judges, working in tandem with prosecutors and the Harris County Sheriff's Department, are announcing new bail guidelines intended to eliminate the dependency on cash bail as a determinant for pre-trial release in misdemeanor cases. From The Houston Chronicle:
County Court at Law Judge Darrell Jordan, the presiding judge, estimates that 85 percent of people arrested on misdemeanors will now qualify to be released after arrest on no-cash bonds, with a few exceptions for people who must await a hearing—for up to 48 hours—for bond violations, repeat drunken driving offenses and domestic violence charges. At that point, they may also qualify for personal recognizance bonds.

"What it means is that no one will be in jail because they cannot afford to get out," Jordan said. "The only people who will be detained and have to speak to a judge are a very small subset who will be processed through the Harris County Jail and those carve outs are aligned with best practices from around the country."
To be clear here, these changes are only for misdemeanor crimes. Nobody is likely walking free without bail after being charged with armed robbery or attempted murder.
The changes, unfortunately, will come too late for Tracy Whited, who was arrested on Saturday in Harris County for misdemeanor charges from a fight with an ex-boyfriend and a subsequent attempt to leave the jail while she was being booked. Her bail was set for $3,000. She was found hanging by a sheet in her cell on Monday and died in the hospital on Wednesday. She's the fifth suicide in that jail in two years, according to the Houston Chronicle.