70 Years After They Were Wrongly Imprisoned, the Groveland Four Have Been Pardoned
The criminal justice system failed four black men after a white woman accused them of rape.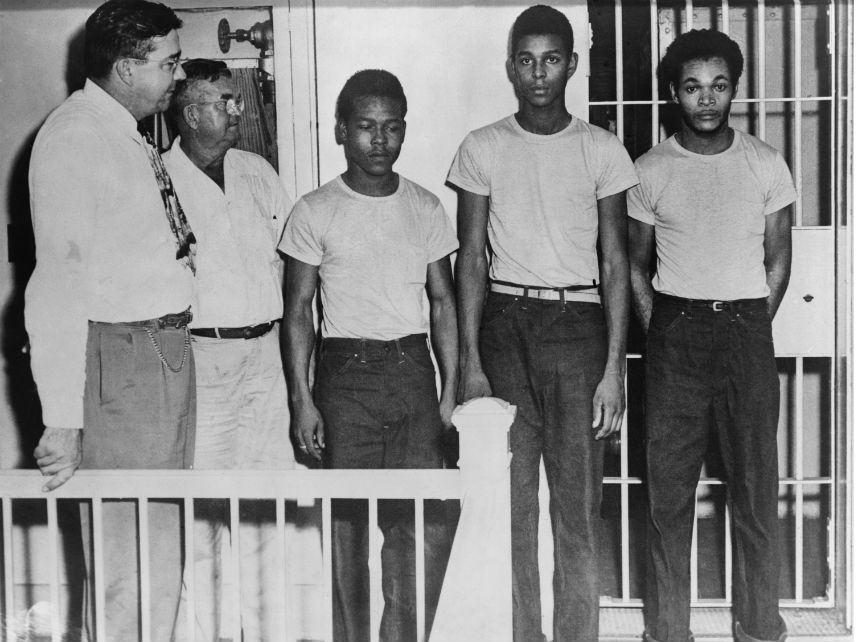 Nearly 70 years ago, four black men in Lake County, Florida, were accused and convicted of raping a white woman. Today, Charles Greenlee, Walter Irvin, Samuel Shepherd, and Earnest Thomas have received posthumous pardons from the state.
The men, commonly referred to as the "Groveland Four," were accused of raping a 17-year-old in 1949. Greenlee, Irvin, and Shepherd were beaten into confessing after their arrest. According to the Innocence Project, documents from the case revealed that there was no evidence of a sexual assault. In addition to the documents, no physical evidence of the men's involvement was presented in court, including a medical examination of the accuser.
After the first trial, Greenlee received a life sentence while the others were sentenced to death. A mob of 1,000 men hunted down Thomas and shot him over 400 times. The arrests also prompted white residents to commit violent acts against a black neighborhood, including burning down houses and shooting guns into homes of black residents.
Thurgood Marshall, who was with the NAACP at the time and would eventually become the first black Supreme Court justice, secured new trials on appeal for Irvin and Shepherd. While being transported for the second trial, Irvin and Shepherd were shot after Lake County Sheriff Willis McCall said they attempted to escape. Irvin survived and disputed McCall's account, telling the FBI he was shot without provocation. He survived despite being denied an ambulance ride because of his skin color. Shepherd died of his injuries. McCall, meanwhile, was re-elected five times after the incident.
A former FBI agent who testified on Irvin's behalf said prosecutors manufactured evidence. Despite this, Irvin was convicted a second time for the rape.
Both Greenlee and Irvin were eventually paroled. Greenlee, who was paroled in 1960, died in 2012. Irvin, who was paroled in 1968, was found dead in his car in 1969.
In 2017, the Florida legislature passed a measure that formally apologized to the Groveland Four and asked former Gov. Rick Scott to perform an "expedited clemency review of their cases" and "grant full pardons." Historians have long held that the men were wrongfully convicted.
The state clemency board handed out posthumous pardons on Friday.
While no charges were brought against the prosecutors or local law enforcement, the family was able to confront accuser Norma Padgett, 86, in court. Padgett asked that the men not be pardoned. Beverly Robinson, Shepherd's cousin, called Padgett a liar in court. Robinson claimed that she read a story written by Padgett's niece indicating that the accusations were false.
Newly elected Gov. Ron DeSantis issued a statement on the pardons.
This morning, I stood with the members of the Executive Clemency board to issue a full pardon for the Groveland Four. It's never too late to do the right thing, especially for these individuals who have had their history so wrongly written. https://t.co/SGdXYLWRPZ

— Ron DeSantis (@GovRonDeSantis) January 11, 2019
"For seventy years, these four men have had their history wrongly written for crimes they did not commit," DeSantis said. "As I have said before, while that is a long time to wait, it is never too late to do the right thing. I believe the rule of law is society's sacred bond. When it is trampled, we all suffer."