Border Backlog Fuels Human Smuggling Spike: Reason Roundup
Plus: The TSA mask is slipping and government shutdown goes on.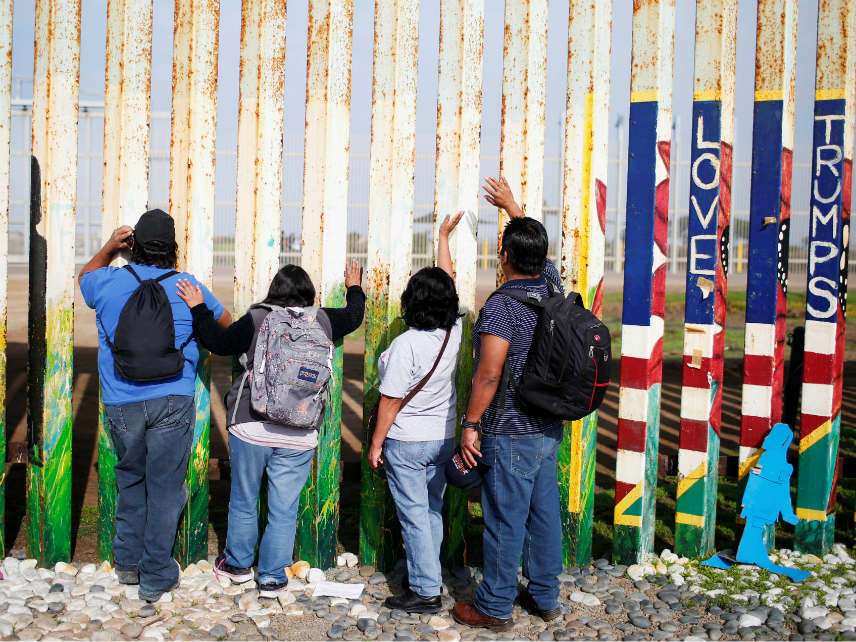 "Business is booming" for human traffickers as Washington's immigration policies drive desperation at the Mexico border, The New York Times reports. Neither the Times nor lawmakers are actually using the phrase human trafficking, of course. (That term is reserved in political theater for attempts to eradicate prostitution.) Instead they describe human smugglers and smuggling cartels that sneak Central American asylum seekers across the border for cash.
"I honestly don't want to cross illegally, but I don't really have a choice," Julian Escobar Moreno, a 37-year-old Honduran smuggling "client" (as the Times calls him), tells the paper.
As the number of refugee claims processed has slowed to a trickle, more and more migrants are waiting in limbo on the Mexican side of the border. And more and more are enlisting the services of smugglers, according to groups assisting refugees waiting to attempt their entrances legally.
In effect, U.S. policy may be driving a spike in the actual trafficking of human beings across borders, making vulnerable people more vulnerable—undocumented immigrants are now more likely to be indebted to dangerous groups, sexually victimized, or subject to labor exploitation. Yet we're hearing none of the hysterical discourse that usually surrounds human trafficking reports; the government-funded groups that usually go all in on these narratives are now basically silent.
Republicans continue to be preoccupied with building a big border wall to keep folks out. "The White House is asking for 234 miles of steel barrier—which works out to about $24 million a mile," NPR reports.
Democrats continue to deny their request, which leaves us with a lingering "shutdown" crisis.
There's some potential good news in all of this, though. The Washington Post notes that the White House's most recent funding proposal included a request for more funding to process unaccompanied minors at the border. It adds that "the administration has also signaled it would be willing to restore some version of an Obama-era program that allowed children in Guatemala, Honduras and El Salvador to apply for refugee resettlement in the United States, according to an official with knowledge of the proposal."
Meanwhile, as we head into week three of partial federal-government closure, some interesting effects can be observed at airports. Transportation Security Agency (TSA) officials with uncertain upcoming paychecks have begun to go lax on the usual "security" antics. A Reason staffer traveling through the Miami Airport over the weekend reports that TSA agents "were herding people through metal detectors with their shoes on and their laptops still in their bags."
TSA's security theater devolving into a bunch of disinterested third graders mumbling their way thru "A Christmas Carol" https://t.co/hGmbjkNyhc

— threat level: beige (@TimCushing) January 7, 2019
QUICK HITS
Perpetrators of (update: an attempted) military coup in the West African country of Gabon say they are planning to "restore democracy" there.
"Life has always been hard, but many millennials are unequipped to deal with the particular ways in which it's become hard for us," argues Anne Helen Peterson at Buzzfeed.
In case you care about the Golden Globes: A complete winners list is here. (Congrats to Rachel Brosnahan on her Best Actress win for the very stylish and endearing Marvelous Mrs. Maisel and to the folks involved in Best Animated Picture winner Spider-Man: Into the Spider-Verse, for which the same adjectives apply.)
Against morality contracts for writers.
RIP delivery drivers:
Why Your Ice Cream Will Ride in a Self-Driving Car Before You Do

(Moving stuff to people turns out to be a lot easier than moving people to stuff)https://t.co/DrL08ejWue pic.twitter.com/K7H2sZmzuV

— Christopher Mims