Movie Review: Stan & Ollie
John C. Reilly and Steve Coogan capture Laurel and Hardy toward the end of their days.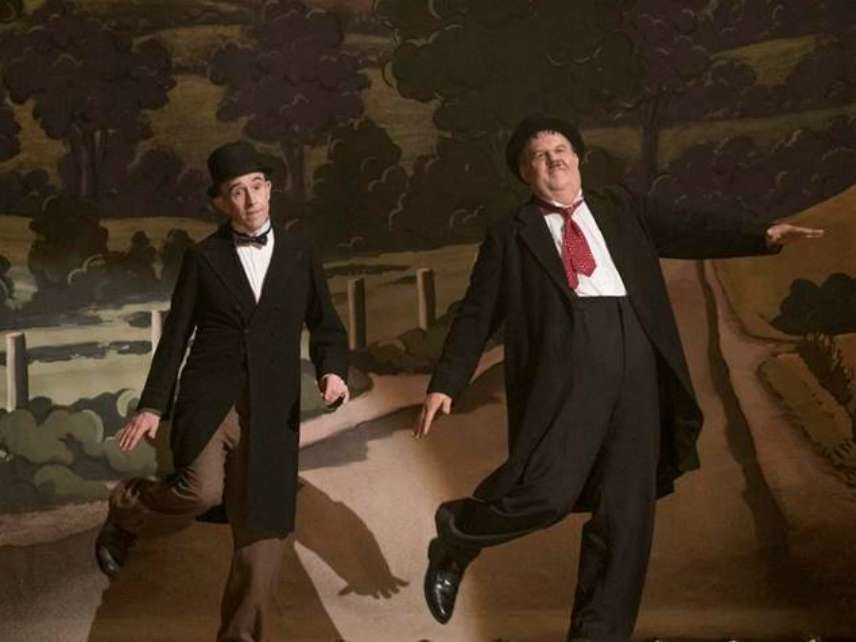 In recounting the story of Laurel and Hardy, whose Hollywood career spanned 24 years and more than a hundred films, a good place to begin turns out to be the end. Stan & Ollie dispenses with origin stories—Stan Laurel's in the British music-hall business with Charlie Chaplin, Oliver Hardy's in the remote Florida film industry of a century ago—and after making a brief stop at the Hal Roach Studios near Los Angeles in 1937, during the duo's years of worldwide glory, heads directly to 1953, when the movie work has dried up and we find the two troupers on a theatrical tour of Britain and Ireland, parading their old comedy bits across provincial stages for adoring but meager audiences.
Director Jon S. Baird and writer Jeff Pope have made a movie of gratifying simplicity. It's about a pair of decent men who are trying to maintain their dignity in diminishing circumstances, amid the usual trials of sickness and age, and they are so unlike most of the movie characters one customarily encounters in contemporary films that their gentle charm seems exotic. It helps, of course, that they're played by two actors in top form. Steve Coogan deftly mimics the simpleton cluelessness of Laurel's comedic persona while also managing to step it down a bit in order to create a plausible private personality for the man. And John C. Reilly, his face shining soulfully through a heavy padding of fat-man prosthetics, perfectly captures Hardy's beaming sweetness, and the unexpected daintiness of his stage dancing. (And who better to deliver a ukulele-borne rendition of "Shine On, Harvest Moon," or nuzzle into a cute duet with Coogan on "Trail of the Lonesome Pine"?)
The plot is of minimal complexity. The boys' health isn't what it once was (Hardy has mounting heart problems) and their hopes for a more easeful future center on a planned meeting in London with a producer who's putting together the financing for another Laurel and Hardy movie. (Stan is already writing the script for it in his hotel room after their shows: it's a comical Robin Hood picture, and in one small glowing scene here we see a snippet of that never-made film playing out in lush color in Ollie's mind.)
Stan and Ollie were unlucky in love, and even more so in divorce court. ("I'm never getting married again," Stan tells his partner. "I'm gonna just find a woman I don't like and buy her a house.") Fortunately, their final wives do turn up, played both amusingly and touchingly by Shirley Henderson and Nina Arianda. (Arianda's Ida Laurel is a hard-boiled former dancer who demonstrates her concern for her husband's well-being—which is real—by snatching up the drinks he tries to sneak and drinking them herself.) The loving support these two women provide their mates is an important part of the movie's emotional texture, although the central love story naturally plays out between the two men.
Stan and Ollie's tour is basically a downhill excursion—toward the end they find themselves judging a seaside bathing-beauty contest, of all things. But the movie's spirit of loving regard for these two showbiz pros never flags, and we're not inclined to resist the inevitable moments of eye-moistening sentiment. "It was fun while it lasted, wasn't it?" Ollie asks Stan, "I'll miss us when we're gone."