Most Americans Want Congress to Fix Budget Crisis, Increase Spending. Huh?
You can't have it both ways.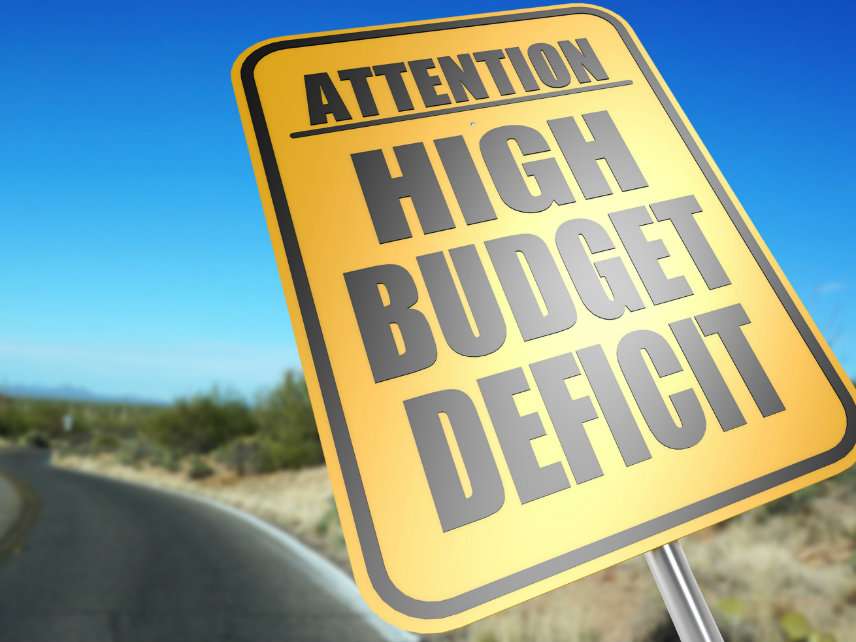 If you're concerned about the ever-expanding federal budget deficit, you probably think the government needs to, you know, spend less. Right? Maybe not.
Most Americans believe addressing the budget deficit should be one of the new Congress' top priorities, according to a Harvard-Politico poll released yesterday. But a majority of respondents also want Congress to increase spending in a variety of areas, including infrastructure, education, and the military.
Eighty percent of respondents say it's "extremely important" that Congress take "steps to substantially reduce the federal budget deficit." This seems to be a bipartisan issue, with 81 percent of Republicans and 76 percent of Democrats in agreement. This concern over the budget deficit isn't new. A Gallup poll from last March showed that 77 percent of Americans "personally worry about federal spending and the budget deficit" either a "great deal" (51 percent) or a "fair amount" (26 percent).
And there is plenty of cause for concern. It's hard to believe that as recently as 2001, the federal government posted a budget surplus (albeit a small one). In 2002, we were back in the red, with a $158 billion deficit. Now the Congressional Budget Office has projected a $981 billion deficit for the 2019 fiscal year. By 2020, that number will likely surpass $1 trillion. And the deficits from recent years have piled up, with the national debt reaching an astounding $21.974 trillion at the end of 2018.
So it's not a shock that people are worried. The problem is that Americans—both Republicans and Democrats—seem to want to keep spending anyway. Seventy-nine percent of respondents, including 82 percent of Democrats and 81 percent of Republicans, believe "increasing spending on the nation's infrastructure" is "an extremely important priority." Bipartisan support for this issue may explain why White House counselor Kellyanne Conway suggested recently that even with Democrats in control of the House, both parties could work together on an infrastructure bill. It's not exactly clear what that legislation would look like, though President Donald Trump promised $1.5 trillion in infrastructure spending during his campaign.
Infrastructure isn't the only area where most Americans want to see more spending. Seventy-three percent of respondents—including 84 percent of Democrats and 65 percent of Republicans—want Congress to raise federal spending on K–12 education. This would likely mean an increase over the $40.1 billion appropriated by the federal government for elementary and secondary education in 2019.
Finally, the poll shows that 53 percent of Americans want Congress to increase spending on the military. This idea is more popular among Republicans, 68 percent of whom agree ith it, though nearly half of Democrats (46 percent) support it as well. Of course, the nation already spends on astronomical amount—$686 billion in 2019—on the Pentagon. But sure, let's throw more money its way!
Federal spending on infrastructure and education is not the main reason the government is nearly $22 trillion in debt. Military spending is a major factor, but the biggest culprits are entitlements, including more than $1 trillion for Social Security and roughly $625 billion for Medicare in 2019. This sort of spending is not sustainable. If no major changes are made, both programs will be insolvent within the next 15 years.
Now in this particular poll, those who said Congress should address the budget deficit came from a different sample from those who said they want Congress to increase spending in the areas described above. Still, the results suggest there's probably significant overlap. But you can't have it both ways. Either politicians take real steps to cut spending and balance the budget, or they keep on spending wildly. There's really no in-between.
The results of the poll make sense. In theory, everyone wants to fix the budget deficit. But the best way to do so is by cutting spending, which no one wants to do, rather than increasing it, which a lot of people seem to like.
And the attitudes of the public reflect the approaches taken by the leaders they elect. Take Trump. Back in 2016, he told The Washington Post he could eliminate the national debt in eight years. Still, he explicitly promised during his campaign not to cut Social Security or Medicare spending. And in case his lack of interest in addressing the deficit/debt wasn't apparent, The Daily Beast reported last month that Trump has said of the looming debt crisis: "Yeah, but I won't be here."
Trump was really just saying aloud what other politicians are no doubt thinking. Even former House Speaker Paul Ryan (R–Wisc.), a supposed budget hawk, was a complete failure when it came to balancing the budget.
So here's the biggest takeaway from the Politico-Harvard poll: Plenty of people want Congress to tackle the budget deficit crisis, unless that means reigning the government's wild spending. It probably won't be long before we see how that works out.