Leaked Louis C.K. Set Puts Comedian Back in Outrage Spotlight: Reason Roundup
Plus: New York seriously limits cigarette sales and #MeToo hits the Bernie Sanders campaign.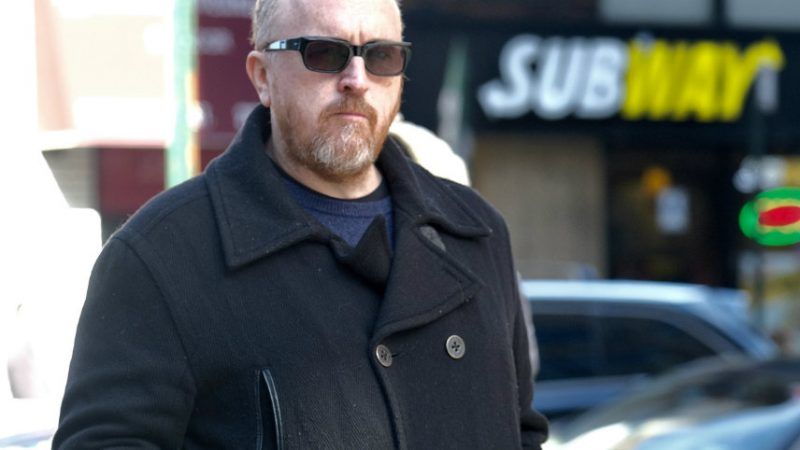 (CMG/ZOJ/TNYF/WENN/Newscom)
Comedian Louis C.K. is back in bad graces with would-be culture cops, after joking in a leaked set that teens today—including survivors of Parkland school shooting—are boring and making cracks about young people asking to be called by particular pronouns. In response, C.K. has been declared "alt-right," "canceled," and an old fart who just doesn't get it.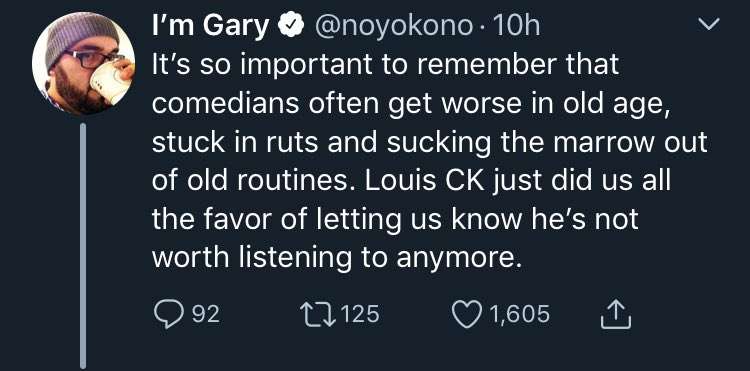 A disheartening number of critics have focused on the comedian's age. He's only 51, but to hear Twitter tell it, C.K. is basically a doddering old fool who should be put out to pasture and proof that no one older than 40 has any worthwhile perspective. While bashing C.K.'s embrace of stereotypes, non-inclusive language, and other unfashionable tropes, they've been quick to declare more than half the population to be intellectually and artistically useless.
But perhaps—and I hope you'll hear me out here even though I'm more than a couple years past Logan's Run doom—some entertainers, artists, or pundits might just be bad, boring, or whatever you don't like about them because they're them, not because their brains have been melted by age and everyone Gen X and up should just die.
Another critical refrain has been to point out that C.K. promised to listen more after being accused by multiple women of making them uncomfortable with requests to masturbate in front of them. Though his 2017 comments on that front were related to women, sexual activity, and boundaries, some seem to have taken them as a promise to shut up always and about everything.
i mean he's like a RW comic now. hes milo pic.twitter.com/QYOGI7TrGa

— jack allison (@jackallisonLOL) December 31, 2018
As many have pointed out, C.K.'s latest stand-up routine sounds a lot like his previous work—which was never perfectly in line with "P.C." values even when he was younger. So, no, C.K. didn't emerge from his masturbation-reckoning a totally changed person, but this likely has nary to do with aging or a lack of commitment to consent.
Still, "dude's out here doing stand-up as if he's somehow impervious to the repercussions of [his] actions," states Paste, making explicit the undercurrent of so much current outrage culture. The goal is to prevent people whom the appropriate online factions have deemed doomed from finding work, expressing themselves, or participating in public spheres in perpetuity.
None of this is especially novel at this point, alas, so let's at least note the irony: C.K.'s set was private. A tiny group of people paying to be there could have been the only witnesses to this allegedly wicked man's words. Now the internet is abuzz about C.K.'s set and his name is back atop headlines.
The "dude's out here" being heard because of those allegedly aghast at him being allowed to speak.
QUICK HITS
• Good news for the First Amendment and engineers in Oregon.
• New York is banning cigarette sales at any store that includes a pharmacy section.
• Hemp companies are finding trouble on Facebook.
• #MeToo hits the Bernie Sanders campaign:
Exclusive: More than 2 dozen women and men who worked on Bernie's 2016 campaign are seeking a meeting with Sanders + advisers to "discuss the issue of sexual violence and harassment on the 2016 campaign" according to a copy of letter obtained by POLITICO. https://t.co/ytKjyGlaJh pic.twitter.com/XSv8fyZxi8

— Alex Thompson (@AlxThomp) December 31, 2018