'Monkey Business': Chris Brown Might Go to Jail Over His Adorable Pet
The punishment would certainly not fit the crime.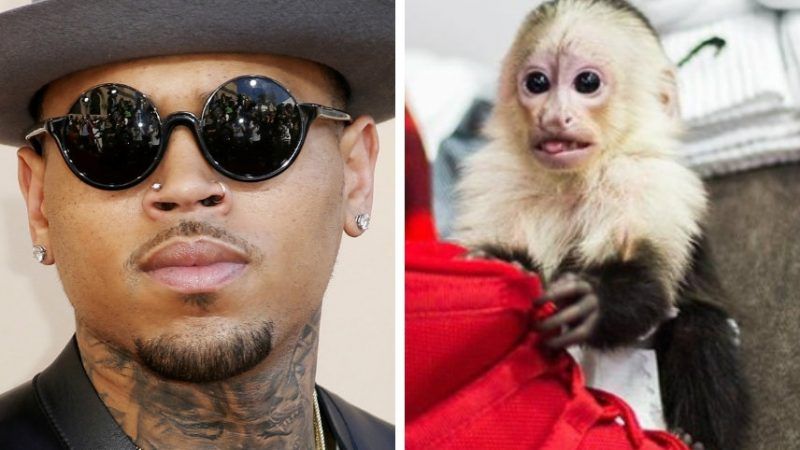 (Danny Moloshok/REUTERS/Newscom Instagram via chrisbrownofficial)
Last December, singer Chris Brown posted a video to Instagram of his daughter, Royalty, playing with a pet capuchin monkey named Fiji.
The video was adorable, and it's worth watching:
View this post on Instagram

A post shared by CHRIS BROWN (@chrisbrownofficial) on Dec 6, 2017 at 6:46pm PST
Cute or no, Captain Patrick Foy of the California Department of Fish and Wildlife (CDFW) told the Associated Press in January that about six people called in to complain. It turns out Brown didn't have a permit to own Fiji, which was problematic. According to CDFW regulations, capuchin monkeys are just one of many animals you need to obtain a permit in order to own. And permits are not given out for "pet purposes," the agency says.
Brown agreed to give up Fiji, but it might not be enough. Citing legal documents, TMZ reported today that he faces two misdemeanor counts of possessing "a restricted species without a permit." If convicted, Brown could be looking at six months behind bars (which is a stiffer penalty than he received for assaulting Rihanna). A spokesperson for the Los Angeles City Attorney's office confirmed TMZ's report to the Daily Mail.
Brown's attorney, Mark Geragos, told TMZ in January that it was a waste of resources for the prosecutors to pursue charges against Brown. "As I leave my office in Downtown L.A. and walk past people sleeping on the street on my way to defend people charged by the city attorney with selling medical marijuana…now spending taxpayer money on investigating monkey business, this completes the circle on his absurdity," Geragos told the outlet.
There doesn't appear to be any evidence that Brown mistreated the monkey, or that he obtained it in a nefarious way. That jail is even an option for such a minor offense is absurd, but not unheard of. In July, I wrote about a Key West tourist who was sentenced to 15 days behind bars for collecting 40 conch seashells. There's also the Florida man sentenced in September to 20 years in prison for stealing $600 worth of cigarettes. And don't forget about the man sentenced in 2016, under Louisiana's since-reformed habitual offender law, to life behind bars for stealing $31 worth of candy bars.
Does it make a difference if Fiji is endangered? Yes, but not in the way one might think. "One thing that we know that helps endangered animals more than endangered species lists," Reason's Nick Gillepsie said in 2011, "is actually giving people ownership rights over animals":
"In a libertarian society," he continued, "there would be ownership of more types of animals, and there would be more types of animals."