The FDA Should Lift Restrictions on Gay Blood Donors
The FDA' policy makes no exception for gay men who use condoms or are in monogamous relationships.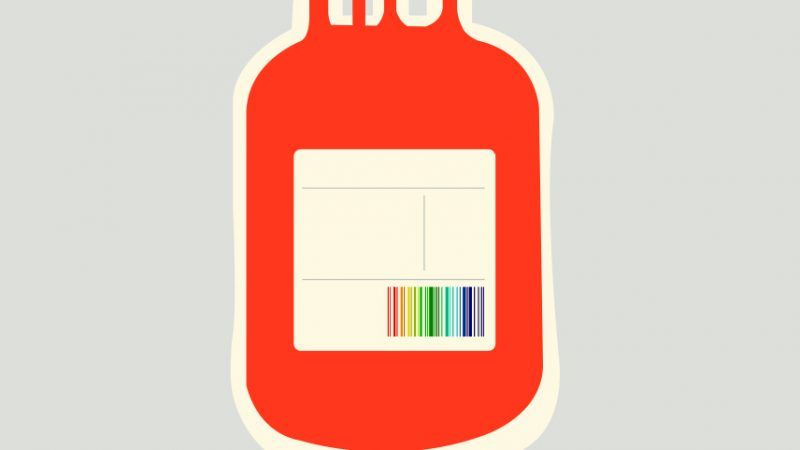 (Joanna Andreasson. Source images: simon2579/iStock and AlenaPohu/iStock)
Jerry Rabinowitz, 66, lost his life in the October mass shooting at the Tree of Life synagogue in Pittsburgh. According to his nephew, Rabinowitz was shot and killed while searching for victims in need of a doctor. Those who knew him as a physician remembered his dedication to patients and were not surprised he remained committed to helping those in need until the very last seconds of his life.
There is a cruel irony in Rabinowitz's death: He had spent his career treating gay men with HIV and AIDS, yet many gay men were not permitted to help the victims of the Tree of Life massacre. Following the tragedy, city officials asked for blood donations to assist in treating the wounded—but the Food and Drug Administration (FDA) heavily restricts gay men from donating blood, even if they have tested negative for HIV.
For decades, the agency prevented men who have sex with other men from donating blood under any circumstances, thanks to concerns about the spread of HIV, which had a long dormancy period and could be difficult to detect. But thanks to scientific innovation, screening for the virus has significantly improved. In 2010, the FDA conceded that the previous policy was "suboptimal" in that it allowed "some potentially high risk donations while preventing some potentially low risk donations." In 2015, it eased restrictions slightly to allow gay men who had not engaged in sexual activity in at least a year to donate blood.
Today, tests can detect HIV in as little as two weeks to three months, meaning that the rule is still needlessly excluding many safe blood donors. There are also no exceptions for gay men who use condoms or are in monogamous relationships, even while the restriction does not apply to heterosexuals who do not use condoms or are not monogamous.
This isn't the first time lives have been jeopardized by prejudice against gay men. The FDA's policy prevented several partners and friends of the victims of the 2016 Pulse shooting in Orlando from donating blood to help save their loved ones.
According to Michael Kerr, a former patient of Rabinowitz, the physician was "known in the community for keeping us alive the longest." In the early days of HIV stigma and discrimination, he held his patients' hands without gloves and hugged them after each visit. It's a shame that the community Rabinowitz served for so long was prohibited by an antiquated law from offering support for their doctor and his people.
This article originally appeared in print under the headline "The FDA Should Lift Restrictions on Gay Blood Donors".