Supreme Court Blocks Trump's Attempt To Change Asylum Law
The U.S. Citizenship and Immigration Services allows those who are physically present in the U.S. or have entered at a port of entry to apply for asylum.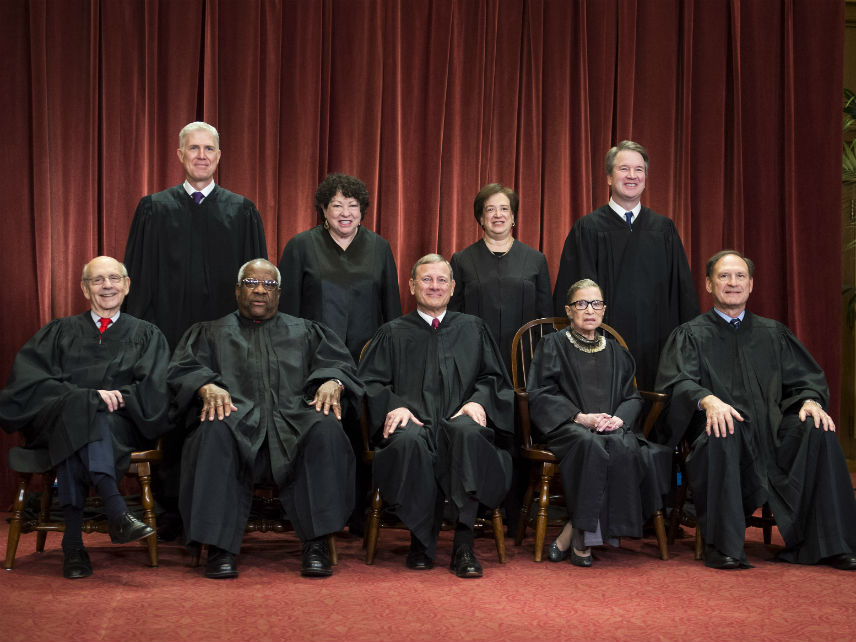 The Supreme Court of the United States has rejected President Trump's latest attempt to control migration into the country.
The Associated Press reports that the court upheld a federal judge's ruling barring a ban on asylum seeking along the southern border. The administration's proposed policy, which dates back to early November, sought to temporarily prevent immigrants from being able to apply for asylum if they did not come into the U.S. at an official point of entry.
The U.S. Citizenship and Immigration Services (USCIS) defines an asylum seeker as one who suffers from or fears persecution due to their race, religion, nationality, membership in a particular social group, or political opinion. The USCIS also says that one must be physically present in the U.S. or enter at an official port of entry in order to apply for asylum status. If already in the country, a migrant has up to a year to apply for asylum. Similarly, Reason's Shikha Dalmia found that the 1965 Immigration and Nationality Act allows immigrants to seek asylum upon arrival regardless of whether they entered the U.S. legally or illegally.
Judge Jon Tigar of the U.S. District Court for the Northern District of California, whose Wednesday ruling has kept the proposed ban in a state of limbo, ruled that Trump's ban was in conflict with immigration law. Tigar referenced the current asylum-seeking rules in his explanation.
The SCOTUS ruling was 5-4. Newly appointed Justice Brett Kavanaugh and Justices Clarence Thomas, Neil Gorsuch, Samuel Alito sided with Trump. At the time of this writing, a court opinion has not been released.
The asylum application became a topic of national debate after immigration hardliners, including the president, placed special attention on a migrant caravan of several thousand people, which set out from Honduras in October and spent more than a month traveling north toward the U.S. At one point, the president and conservative pundits jumped on an unsubstantiated claim that ISIS militants were hiding in the caravan. Interviews with some in the caravan showed a desire to leave areas overridden with criminals and to escape political upheaval caused by "the re-election of U.S.-backed president, Juan Orlando Hernández in an intensely disputed election."