A Law and Order Candidate Is Indicted for Committing a Crime
The man behind the "Deportation Bus" said he wanted to round up criminals. Looks like he should have started with himself.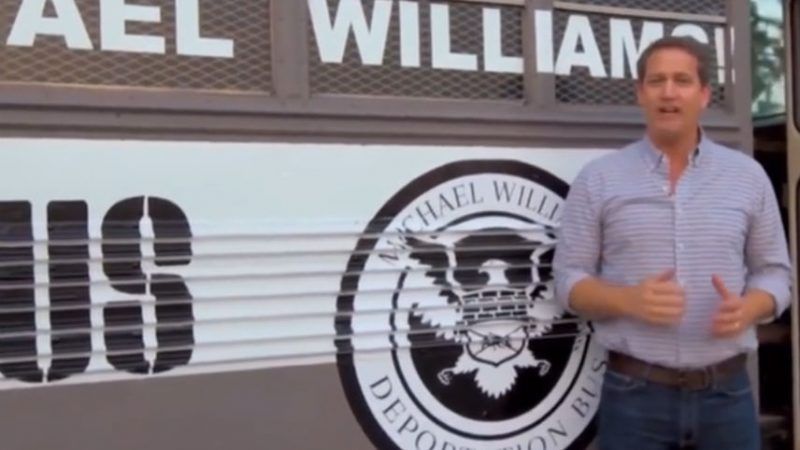 (Screenshot via The Washington Post)
When Michael Williams unveiled his "Deportation Bus" last May, he was trying to show Georgia voters how devoted he is to law and order. Now that law-and-order candidate has been indicted for committing a crime.
Williams, a Republican state senator, made an unsuccessful bid this year for his party's gubernatorial nomination. In one of his campaign ads, he stood in front of a gray school bus covered with slogans like "MURDERERS, RAPISTS, KIDNAPPERS, CHILD MOLESTORS, AND OTHER CRIMINALS ON BOARD" and "FOLLOW ME TO MEXICO."
Though Williams said in his ad that he intended to fill the bus with undocumented immigrants, he later said that he had no intention of actually using the bus in that way; it was just supposed to be a symbol of his strong commitment to law and order.
This week, Williams was indicted for insurance fraud, making false statements, and false report of a crime. The charges stem from an incident just before the primary election, when $300,000 worth of computer equipment were apparently stolen from Williams. The recent indictment suggests that the alleged theft was nothing more than insurance scam.
I don't know how Williams' onetime supporters are reacting to the news. I can report that he didn't have many supporters to begin with: He finished dead last in the gubernatorial primary.