Mary Washington Ruling Threatens Free Speech on Campus
Dissenting judge warns of "Catch-22 Title IX liability."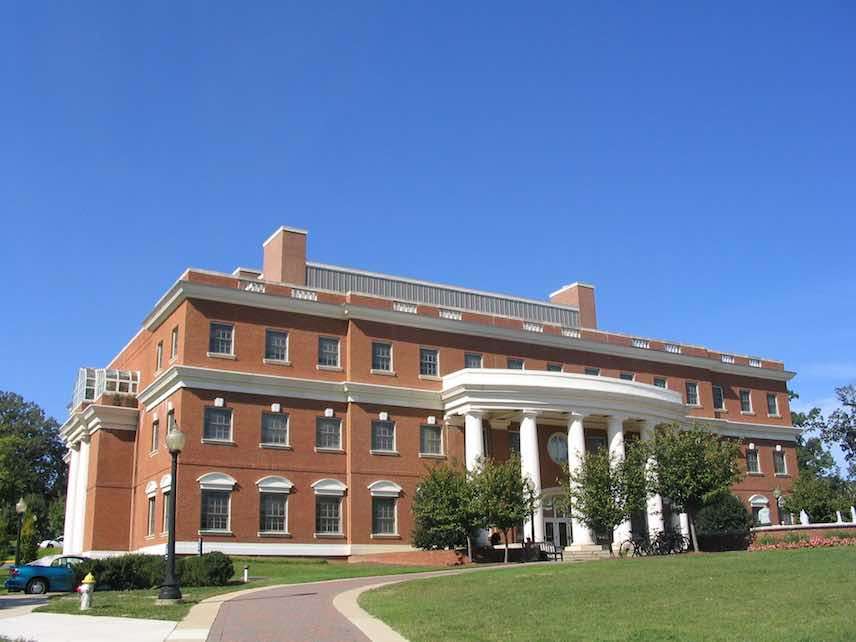 On Wednesday, the Fourth Circuit Court of Appeals largely sided with the feminist students who sued the University of Mary Washington (UMW) for failing to protect them from harassment via the anonymous texting app Yik Yak. If it stands, this outcome will imperil free speech on campuses.
"Make no mistake, the majority's novel and unsupported decision will have a profound effect, particularly on institutions of higher education," writes Judge Steven Agee in a persuasive dissent. "Institutions, like the University, will be compelled to venture into an ethereal world of non-university forums at great cost and significant liability, in order to avoid the Catch-22 Title IX liability the majority now proclaims." (Title IX is the federal statute that governs campus sexual misconduct.)
The case is the result of a series of disturbing events that took place during the 2014–2015 school year at Mary Washington, a public university located in Fredericksburg, Virginia. Members of an activist young group, Feminists United on Campus, alleged that male rugby team members had engaged in sexist chanting. Many people vented their frustration with the feminists using the anonymous texting app Yik Yak (which has long since ceased to exist); some of these texts were threatening. The April 17 murder of Grace Mann, a member of the group, seemed to confirm that female students were being targeted—though police never found any evidence that the killer, Steven Vander Briel, had sent, or acted on, the Yik Yak threats.
Feminists United on Campus eventually filed a Title IX complaint against the university alleging that the administration failed to protect students from sexual harassment. In response, UMW President Richard Hurley denied that he possessed either the responsibility or the authority to curb the offensive speech in question.
"[A]s a public university, UMW is obligated to comply with all federal laws—not just Title IX," wrote Hurley. "The First Amendment prohibits prior restraints on speech, and banning Yik Yak is tantamount to a content-based prohibition on speech."
In 2017, a federal district court agreed and dismissed the suit. But the Fourth Circuit has reached a different conclusion—one that should greatly concern supporters of free speech, according to the Foundation for Individual Rights in Education's Samantha Harris:
In a ruling that has far-reaching implications for universities' obligation to monitor and address the off-campus, online speech of its students, the court held that because UMW had the "technical capacity to control the means by which the harassing and threatening messages were transmitted" (that is, the ability to block campus network access to Yik Yak altogether) and because they could have taken other actions (such as "mandatory assemblies" or "anti-sexual harassment training") to make clear that sexual harassment by its student body would not be tolerated, the plaintiffs had sufficiently alleged that UMW had substantial control and thus could be liable for the harassment.

Unfortunately, the opinion does not address one of the most significant issues in the case, which is whether the speech in question even rose to the level of unprotected harassment or true threats in the first place. FIRE strongly believes it did not, and we submitted an amici curiae brief—joined by the Cato Institute, the National Coalition Against Censorship, and law professor (and former ACLU president) Nadine Strossen—on that point, arguing that "[t]his case turns exclusively on the university's response to offensive but constitutionally protected speech." Ultimately, it is almost impossible to conceive of this case being resolved without addressing this enormous elephant in the room; if the speech was constitutionally protected, and was not harassment, then the question of substantial control is irrelevant.
Simply put, Title IX cannot require administrators to violate the First Amendment. (Also of note: Education Secretary Betsy DeVos is currently taking significant steps to clarify that the scope of Title IX is more limited than what the Obama administration dubiously asserted.) I don't expect this decision to stand; if it did, public universities could face renewed pressure to police sexually suggestive speech on campus.