What Does Purported Trump Challenger Larry Hogan Actually Believe?
NeverTrump conservatives flock to 62-year-old Maryland governor whose foreign policy views are a blank slate.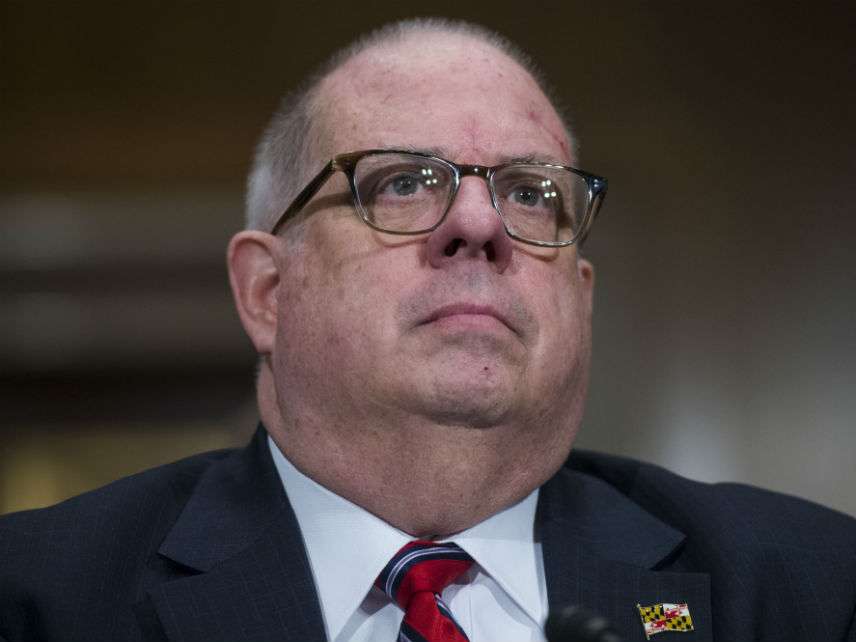 Facing a polarizing Republican populist and a statist Democrat lifer, the Libertarian Party in 2016 proposed a comparatively sensible and centrist alternative ticket composed of two former moderate-Republican governors of heavily Democratic states who were a bit light on foreign policy.
Now anti-Trump Republicans are eagerly eyeing that path.
As Fantasy 2020 Presidential Season heats up, early buzz is accumulating around Maryland Gov. Larry Hogan, the 62-year-old former real estate businessman who last month won a second and final term by a 12-point margin in this 2-to-1 Democratic state over the progressive Ben Jealous.
Washington Post "Right Turn" columnist and vociferous Donald Trump critic Jennifer Rubin touted Hogan's "vision of governance based on bipartisanship, fiscal sanity, civility and common sense." The ex-libertarian Niskanen Center last week had Hogan kick off a press-generating conference titled "Starting Over: The Center-Right After Trump," with Center President Jerry Taylor telling Maryland Matters, "If you're looking for a path that's not Trumpist…but also politically compelling, it's there." Weekly Standard co-founder Bill Kristol, a panelist from the Niskanen conference who is loudly searching for a GOP primary challenger to Trump, says he'd "be happy to have him in the mix," telling Rubin that "Larry Hogan's an impressive man with a fine record."
So what is that record as it pertains to national politics, and how does it contrast with that of President Trump?
Hogan, who supported Chris Christie for president in 2015, is out there co-writing bipartisan Washington Post pieces extolling the virtues of the Paris climate agreement ("For the sake of our future and the future of our children, it is time to put aside partisan interest and get to work"). He talks of fiscal responsibility and keeping a lid on taxes. He is a critic of Trump's family-separation policy and talks like a comprehensive immigration reformer, though he has also bashed sanctuary policies and balked at Syrian refugees.
Like many governors of blue states, Hogan has signed gun control laws, opposed repealing Obamacare, increased child-care subsidies, and offered corporate welfare to Amazon. He is currently in a spot of political controversy over proposing to pay for infrastructure improvements to lure the Washington Redskins to Prince George's County. He's also an active opponent of partisan gerrymandering.
In his Niskanen speech, Hogan began by praising the late George H.W. Bush; went on to talk about the courage of his congressman father Larry Hogan, Sr., in voting to impeach President Richard Nixon; and made a lot of noise about civility and tone. "Compromise and moderation should not be considered dirty words," he said. "I believe it's only when the partisan shouting stops that we can truly hear each other's voices and concerns."
Given the Hogan enthusiasm—particularly of Kristol, a committed interventionist who has a track record of finding and backing politicians with blank slates on foreign policy—what do we know of the governor's beliefs about the exercise of American power? Well, here's the relevant On the Issues assessment: "No issue stance yet recorded by OnTheIssues.org."
Hogan, to say the least, is not exactly a household name outside of Maryland, so it's hard to imagine Hoganmentum eclipsing even the sorry presidential results of his statehouse predecessor, Martin O'Malley. But he and other GOP trial ballooners may provide an early test case: Will the anti-Trump rump of the Republican Party ever confront its own foreign policy blunders and the backlash they created, or will the new center-right repeat the same interventionist mistakes of the old?