New York Officials Threaten Private Schools
Once again, politicians in the Empire State want to leave nowhere to hide from their control.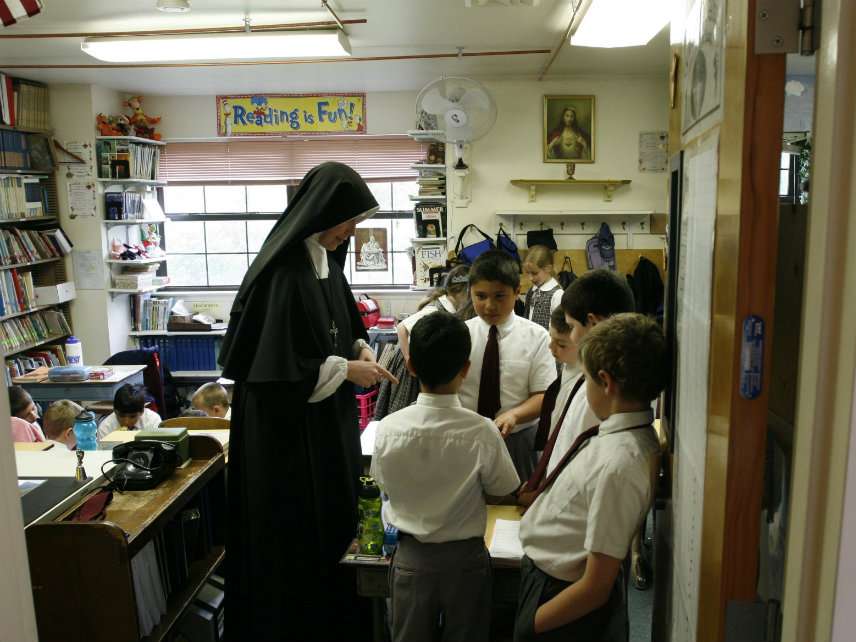 New York state officials are, once again, abusing their power in an attempt to control and destroy private institutions they find inconvenient. This should be shocking, since we're talking about an American state declaring war on private schools. But in New York, total control is just what officials do.
Leveraging concerns that some Orthodox yeshivas—Jewish schools that focus on religious studies—neglect secular subjects, the New York State Department of Education in November instructed local school authorities to assess the curricula of private school in their areas, with the continued existence of those independent institutions in the balance.
"Under state law, local public school officials have the responsibility to ensure that the education received by nonpublic school students is substantially equivalent to that received in district public schools," state officials said in a press release. "Substantial equivalency means that a program is comparable in content and educational experience, but it may differ in method of delivery and format."
The guidance issued by the state is very specific about hours of operation, mandating that "elementary and middle schools must have an educational program that extends from no later than nine a.m. until no earlier than four p.m. for grades one through three, and no earlier than five-thirty p.m. for grades four through eight on the majority of weekdays." That leaves little room for innovation or flexibility.
The guidance also mandates that private schools provide more hours of instruction than public-school counterparts.
"The state government now requires private schools to offer a specific set of classes more comprehensive than what students in public schools must learn," Elya Brudny and Disraeli Reisman, deans of two Brooklyn-based yeshivas, point out in the Wall Street Journal. "Our schools must offer 11 courses to students in grades 5 through 8, for a total of seven hours of daily instruction. Public schools have less than six hours a day of prescribed instruction."
And the state specifies that if private schools can't be brought up to snuff as determined by school boards—the same school boards managing public schools that directly compete with those private schools for students—then school authorities "shall provide written notification to the administration of the nonpublic school and the parents or persons in a parental relationship of students attending the school of such determination." In addition, it states that "students will be considered truant if they continue to attend" a private school deemed deficient.
It doesn't bode well for private schools and those who believe families should have educational options. Would anybody trust Microsoft with the power to determine if its competitors should be allowed to exist?
Maybe local school officials are just better people (asked for comment, state education officials pointed to their November 20 press release, linked above). But the administrators of private schools across New York aren't prepared to offer these empowered competitors the benefit of the doubt.
"Government may have an interest in ensuring that every child receives a sound basic education, but it has no right to commandeer our schools' curricula," object Brudny and Reisman. "Parents who want to send their children to a school offering a course list devised by the state enroll their children in the local public school. But parents who choose religious education want their children to have a specific moral, ethical and religious framework for life."
Jewish schools educate the largest subset of the 19 percent of students who choose a private education in New York City, but Catholic schools have long had the largest presence among the roughly 15 percent of students who receive such an education state-wide—and representatives of those schools are no happier. In fact, Catholic schools are in open revolt.
"We simply cannot accept a competing school having authority over whether our schools can operate," James Cultrara, executive secretary of the state Council of Catholic School Superintendents, told the Times-Union.
"We write to inform you that the New York State Council of Catholic School Superintendents, representing some 500 Catholic schools, rejects the recently released 'substantial equivalency' guidelines and is directing all diocesan Catholic schools not to participate in any review carried out by local public school officials," the state was told in a commendable example of large-scale noncompliance.
If "substantial equivalency" is the standard to be met, Catholic officials have reason to claim that their schools should be assessing government institutions, given that test scores at New York's Catholic schools regularly surpass those at their public competitors. Yet New York's Catholic educators are now at the mercy of government regulators.
"Leviathan has now focused its attention on religious schools here in New York, with the clear intention of either forcing them to submit to its authority or face destruction," writes Ed Mechmann, director of public policy for the Catholic Archdiocese of New York. "Does anyone trust that the government will self-limit their exercise of this new-found power? That's not how Leviathan works. These new rules would give Leviathan the authority to eliminate the very concept of independent private schools and to override the religious sensibilities of parents and school administrators."
New York officials' attack on the independence of private schools isn't an isolated spasm of totalitarian impulse. Earlier this year, Governor Andrew Cuomo and the state's Department of Financial Services warned "regulated institutions to review any relationships they have with the NRA or similar gun promotion organizations" in an effort to cut off groups that advocate for self-defense rights from access to financial services. Official guidance was blunt that banks and insurance companies would face official displeasure if they continued to do business with groups advocating ideas at odds with those of state officials.
Governor Cuomo openly gloated on Twitter that "If the @NRA goes bankrupt because of the State of New York, they'll be in my thoughts and prayers."
"The allegations of direct and implied threats to insurers and financial institutions because of these entities' links with the NRA, and the allegations of resulting harm to the NRA's operations, are sufficient to make out plausible First Amendment freedom-of-speech claims," U.S. District Judge Thomas A. McAvoy ruled last month in a decision that allows the NRA's resulting lawsuit to proceed.
It's disappointing, but no surprise, that New York officials are again abusing their regulatory power in an attempt to crush organizations and ideas they dislike.