Drunk Sheriff: 'I'm a Constitutional Fucking Officer. You Can't Take Me to Fucking Jail'
Spoiler alert: It didn't work.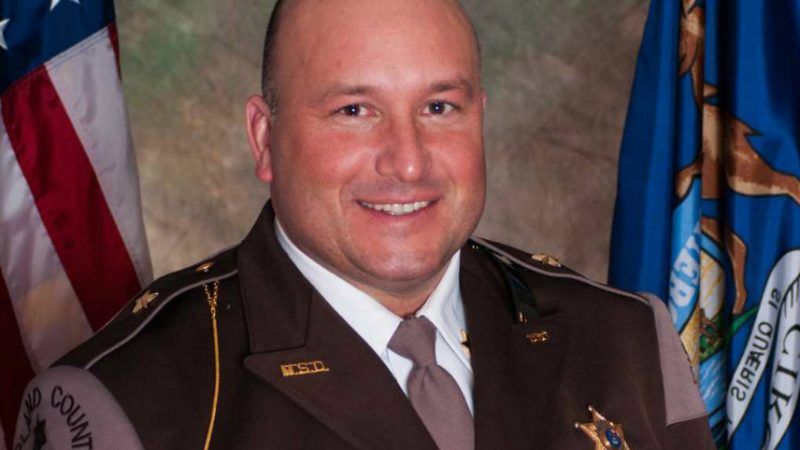 A drunk Michigan sheriff tried to avoid being arrested for driving under the influence last month by claiming he's a "constitutional fucking officer."
Body camera footage of the November 16 incident shows Kalkaska County Sheriff's Deputy Ashley VanSloten knocking on Midland County Sheriff Scott Stephenson's car door. "Sir?" she says several times, only for Stephenson to say something unintelligible in response. "You need to wake up and talk to me," VanSloten says while snapping her fingers.
"What are you doing? You're on the side of the road slumped over. What's going on today?" she says. Eventually, VanSloten asks if Stepehenson has consumed alcohol. "Yeah," he responds, though he notes that he's not currently driving. "How did you get here is the question," VanSloten responds.
At one point, Stephenson asks: "Do you know who I am?" VanSloten claims she doesn't. "I'm fucking Midland County sheriff," Stephenson says, showing VanSloten a commemorative badge. "I'm fucking good. I had a fucking bad day."
Later, Stephenson is shown standing outside his car. By that point, he and VanSloten have been joined by Garfield Township Police Chief Nelson "Jerry" Cannon, who used to be the sheriff of Kalkaska County. VanSloten and Cannon both ask Peterson how many drinks he's consumed in the past four hours, to which Peterson responds that he's drunk four beers. Stephenson performs several field sobriety tests, then takes a breathalyzer test. The footage shows that he had a blood alcohol content level of 0.233 percent, almost three times the legal driving limit of 0.08 percent.
After he takes the breathalyzer, Stephenson begs both cops to let him off. "Jesus Christ, I'm fucking praying," he says. "Try to fucking help me out man. I can't go to fucking jail for fucking drunk driving. Are you fucking kidding?"
According to WJRT and MLive.com, Stephenson can also be heard saying: "Jesus Christ, I'm a sheriff…. I'm a constitutional fucking officer. You can't take me to fucking jail. I'm a goddamn sheriff." That part appears to have been taken out of the video published by MLive.
His pleas didn't work. Stephenson was arrested anyway. MLive reports:
Stephenson on Dec. 13 appeared in Kalkaska County District Court for arraignment and ended up pleading guilty to one count of operating a motor vehicle while visibly impaired. In exchange, the prosecution dismissed a charge of operating a motor vehicle while intoxicated.

Stephenson was not charged under the super drunk statute, which comes with maximum potential penalty of 180 days in jail, as opposed to the 93-day maximum of standard operating while intoxicated.
The sheriff was also fined $1,030 and placed on probation for a period of one year. Stephenson did apologize, explaining that he was drinking at a deer hunting camp before leaving to find cellphone reception. He claims he started to feel drunk while driving and pulled over. Stephenson says he won't resign as a result of the incident. However, as WJRT notes, he had already decided against seeking reelection in 2020.
It's a good thing that Stephenson was punished for his infraction. It's troubling that he tried to use his position as sheriff to get out of trouble. He's not the only elected official to do this. In July, Reason's Zuri Davis wrote about an Arizona state representative who tried to avoid a speeding ticket by citing legislative immunity. He did not appear to receive a ticket, though after the incident attracted controversy, Arizona Gov. Doug Ducey (R) signed an executive order clarifying that lawmakers are not exempt from the repercussions of speeding.
In Stephenson's case there was an early indicator that he was in the wrong. Generally speaking, you're probably the bad guy if you're trying to get out of legal trouble by asking, "do you know who I am?"