Video Shows NY Cops Ripping Baby From Screaming Mom's Arms
According to a witness, Jazmine Headley got in trouble for sitting on the floor of a government office because there were no seats available.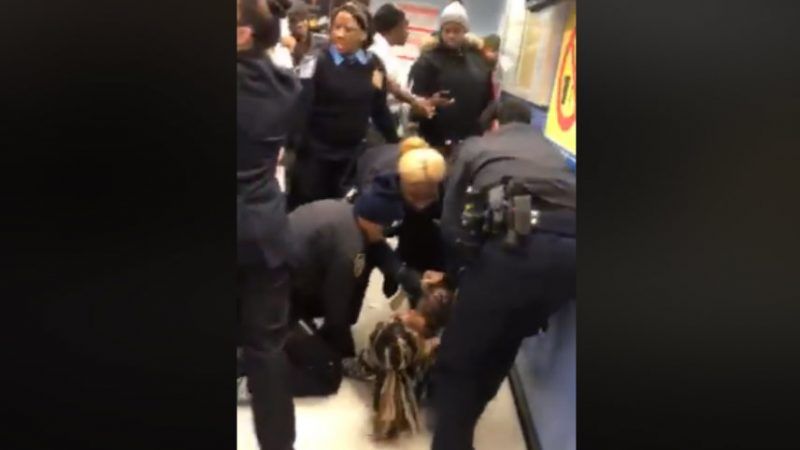 (Screenshot via Facebook/Monae Sinclair)
The New York Police Department (NYPD) says it's investigating a Friday incident in which several officers yanked a 1-year-old from his struggling mother's arms.
A cellphone video posted to Facebook shows officers surrounding 23-year-old Jazmine Headley, who's on the floor of a Human Resources Administration (HRA) office in Brooklyn while holding onto her son, Damone. The video picks up in the middle of the altercation, by which point a small crowd is looking on in astonishment:
"They're hurting my son," Headley screams repeatedly from the floor as several officers attempt to seize the baby from her arms. It's difficult to understand more of her exact words over the noise of the crowd, but the Gothamist reports that Headley also says: "I'm begging you. Please."
The officers continue struggling with Headley, to the horror of those looking on. "She didn't do anything," one witness says. "It's a fucking baby," adds another. At one point, an officer pulls out his Taser and waves it at the crowd.
Eventually, though the video does not make it clear when, the cops successfully wrest Headley's baby from her grasp. Headley was taken into custody and "charged with resisting arrest, acting in a manner injurious to a child, obstructing governmental administration and criminal trespass," WPIX reports. Damone is being cared for by Headley's mother while Headley herself is held on Riker's Island. A spokesperson for the Brooklyn District Attorney's Office tells WABC she's being held behind bars due to an unrelated outstanding warrant in New Jersey.
So what triggered this incident, and why did police feel the need to literally rip a baby from his mother's arms? According to the official NYPD statement, Headley was acting in a "disorderly" manner, prompting HRA officers to unsuccessfully ask her to leave. Police were eventually called, and situation soon escalated. "As NYPD officers were attempting to convince the woman to depart the facility, HRA peace officers brought the woman to the floor," NYPD Sgt. Jessica McRorie tells Politico. "NYPD officers then attempted to place her under arrest. She refused to comply with officers' orders, and was then taken into custody." McRorie did describe the video of the incident as "troubling," and said "the event is under review by the NYPD and HRA Police."
That's not the whole story, says Nyashia Ferguson, who took the video. Ferguson explains that Headley spent hours waiting in line at the HRA. But since there were no chairs available, she and her baby waited on the floor. A security guard came over to tell Headley she couldn't sit on the floor, but Headley didn't see any other options. "She said, 'Well, I'm not going to stand with my son,'" Ferguson tells WCBS. "She was like, 'What is the crime? What did I do wrong?' And then it just escalated."
Ferguson adds to The New York Times that instead of de-escalating the situation, police "made it way worse."
Going by the initial police statement and by Ferguson's recollection, it doesn't sound like Headley posed a threat to Damone or anyone else. "It was unnecessary to use that much force on my daughter," Headley's mother tells WPIX. Alex S. Vitale, the coordinator of Brooklyn College's Policing and Social Justice Project, agrees: "It's just hard to imagine what possibly could have transpired before the video starts that would have warranted that level of force in those circumstances," he tells the Times.