The Libertarian Party Future, Perennially Out of Reach
Where does political libertarianism go after the midterms?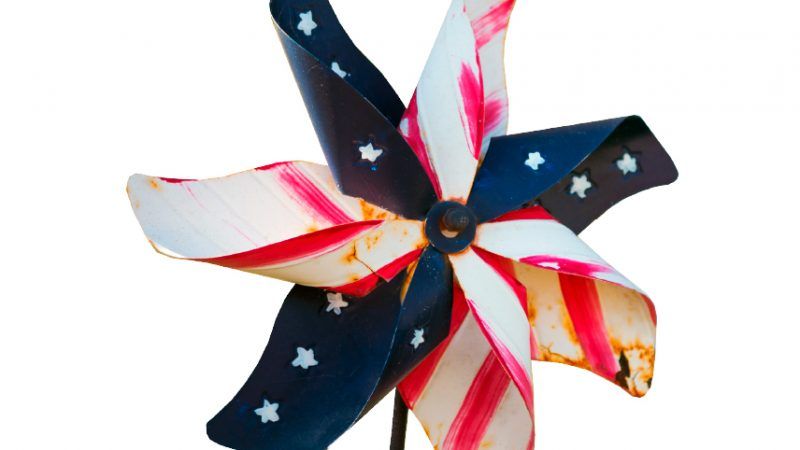 "He's going to finish certainly no worse than second, and maybe first," Libertarian Party (L.P.) 2016 vice presidential nominee Bill Weld enthused about Massachusetts state auditor candidate Dan Fishman in mid-October. And once Fishman grabs all those votes, Weld declared, "[We're going] to make a list of every campaign for whatever office this year that Libertarians fare no worse than second, and then we're going to take that and publicize it strongly. I think that's going to be a crevasse in the two-party monopoly."
It looked like Weld might be onto something two weeks later when The Boston Globe took the highly unusual step of endorsing the L.P. candidate for a job that's been held, in all living memory, by Democrats. "Fishman would bring a sorely needed independent streak to the office," the region's dominant newspaper proclaimed. "Give this Libertarian a shot."
Massachusetts voters declined the advice. When the smoke cleared on November 6, the would-be Libertarian auditor for the government of Taxachusetts finished not first, not second, but a distant third place, with a desultory 4.2 percent of the vote. The effort was enough to give the party automatic statewide ballot access for 2020—no small achievement—but not enough to stave off the national wave of nausea that afflicted many libertarians on election day.
President Donald Trump, who was rebuked when the House of Representatives flipped Democratic yet emboldened by the Senate getting more Republican, chose in his three weeks of closing arguments not to campaign on the libertarian-friendly grounds of tax cuts, judicial appointments, regulatory reforms, and the economic growth that has thus far accompanied all three. Instead, by his own admission, he opted to whip up fear of a distant caravan of northbound asylum-seekers, asserting without evidence that there were likely terrorists among them and making daily noises about massing troops along the U.S.-Mexico border and unilaterally revoking the privilege of birthright citizenship enshrined in the 14th Amendment. His final commercial, about a deranged illegal-immigrant cop-killer, was rejected on content grounds by Fox News.
Democrats, on the other hand, campaigned hard on Medicare for All, even though our current Medicare-for-seniors system is projected to run out of money by 2026. With the annual federal budget deficit zooming back north of the ominous $1 trillion threshold despite nine years of economic growth and a booming stock market, the two major parties have abandoned even the pretense of acknowledging fiscal reality.
About the only federal candidate prioritizing the budget calamity was Gary Johnson, running as a Libertarian for Senate in his home state of New Mexico. "The biggest issue facing this country is the deficit, is the debt," he told me 12 days before the election. "You know what? In five years we could well be spending $1 trillion, interest only, on the debt. Young people are getting fucked."
Johnson, who had told Reason emphatically from Election Day 2016 until spring 2018 that he would never run for political office again, decided in August to get into the New Mexico race in large part because he reckoned the L.P. badly needed a victory. "He's not going into the race unless he thinks he can win," Johnson's longtime campaign confidant Ron Nielson told me just before the announcement.
Running in the state he governed twice, and where he earned 9.3 percent of the presidential vote in 2016, against a GOP novice (Mick Rich) he out-fundraised and a Democratic incumbent (Martin Heinrich) with low name recognition, Johnson was able to participate in debates and generate extensive media coverage. The first independent three-way poll in late August hinted at a shockingly competitive race: 39 percent for Heinrich, 21 percent for Johnson, and just 11 percent for Rich.
And yet Election Day 2018 brought another Libertarian bummer: Heinrich sailed to re-election with a whopping 54 percent of the vote. And no-name, no-charisma Rich doubled up on Johnson, 31 percent to 15 percent. What happened?
Political fear and loathing, it turns out, is no friend to independent and third-party candidates. The most telltale math in New Mexico two weeks before the election was the partisan intensity of early voting. By then, around 15 percent each of registered Democrats (who comprise 45 percent of New Mexico voters) and Republicans (who comprise 29 percent) had already cast a ballot. And the quarter of the voting population that doesn't affiliate with a major party? Only 7 percent of those had voted early.
As we learned in 2016, when voters feel revulsion toward a candidate or party, they are likely to go for the alternative with the best chance to defeat the bad guy. In a high-turnout midterm like 2018, minor parties undershoot their polling projections by massive amounts.
The most anticipated of the 22 Libertarian races for governor, for example, was rising party star Larry Sharpe in New York. An energetic, fast-talking campaigner with a preternatural talent for fundraising, Sharpe brought in an impressive $450,000 in a contest against unloved Democratic incumbent Andrew Cuomo, faceless Republican Marc Molinaro, and two other minor-party candidates. One week before the election, Sharpe confidently predicted to me he'd get at least 10 percent.
Turns out his decimal was in the wrong place. He pulled just 1.6 percent, behind even Green Party candidate Howie Hawkins' 1.7. Yes, the L.P. achieved state ballot access for the first time in history, but that low showing came as a demoralizing shock.
"WTF is going on?" Wisconsin Libertarian gubernatorial candidate Phil Anderson messaged me on election night. And no wonder: In a toss-up race that incumbent Republican Scott Walker eventually lost, Anderson's pre-election polling average of 4.2 percent had collapsed to a barely visible 0.8 percent. Eight Libertarian candidates for governor were polling higher than the Democratic-Republican point spread on election eve; zero repeated the trick once the votes were counted.
It gets worse. The three state legislators who had previously switched from Republican to Libertarian once in office—Nebraska state Sen. Laura Ebke and New Hampshire state Reps. Brandon Phinney and Caleb Dyer—all faced their first election wearing the L, and all lost badly. Mayor Jeff Hewitt of tiny Calimesa, California, took his crusade against the Golden State's overweening and unsustainable public-sector pension system to the campaign for a much larger seat on the Riverside County Board of Supervisors, and was an agonizing 360 votes short as of press time. Insurgent Wyoming state House candidate Bethany Baldes came so close to unseating incumbent Republican Majority Leader David Miller that she was erroneously reported as winner on election night, only to eventually lose by 53 votes.
For those not keen on third-party politics, the above list of disappointments may elicit a shrug. But there were concrete policy plans tethered to these losing Libertarians. Ebke authored what has become the model occupational licensing reform bill in America. Hewitt weaned his city off the state and county fire department bureaucracies and all the unfunded mandates and pensions they require. Phinney helped make it legal for visiting bands to drink on stage in New Hampshire. When allowed to, these candidates inject sorely needed libertarian policy and philosophy into our moribund, statist debates.
While Republicans Rand Paul and Mike Lee are still in the Senate, and Reps. Justin Amash (R–Mich.) and Thomas Massie (R–Ky.) retained their House seats handily, elected libertarianism has rarely looked so defeated.
Libertarians are accustomed to being outnumbered and excel at playing long-game strategies, often far outside the cyclical sugar highs of electoral politics. As bad as 2018 was, 2008 was in many ways worse. But that election also sparked a backlash that brought the Pauls, Massies, and Amashes of the world to Washington.
As disappointing as November 2018 felt for the L.P., the party did emerge in a stronger position for 2020, when it will be the only minor party with a spot on all 50 state ballots. American politics moves fast, so the next two years may yet feature more political libertarianism than we can currently fathom. As hard as that may be to believe after Election Day.
This article originally appeared in print under the headline "The Libertarian Party Future, Perennially Out of Reach".