Prosecutors Recommend Prison for Cohen, Say He Paid off Women on Trump's Behalf
Manafort, meanwhile, tried to conceal that he was still talking to Trump administration officials after he was indicted.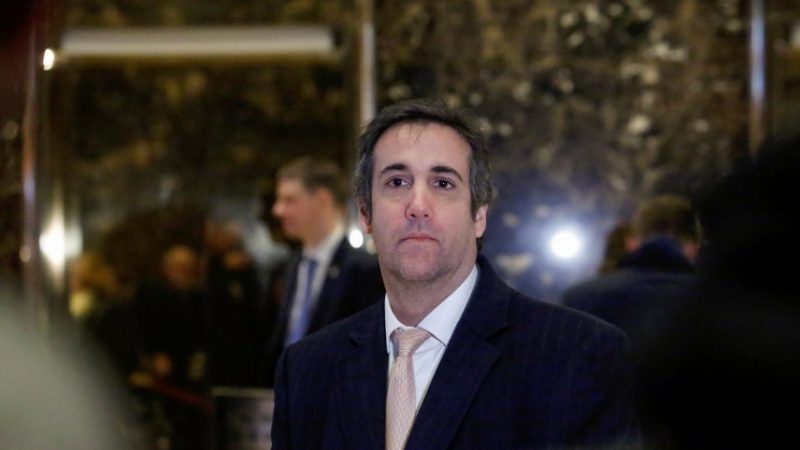 (ANDREW KELLY/REUTERS/Newscom)
Federal prosecutors are recommending that former Donald Trump lawyer Michael Cohen serve a "substantial" prison sentence (around four years) for his eight tax fraud and campaign violation crimes, according to a memo released today.
But also, significantly, the memo documents Cohen's claims that he was operating at the behest of Trump when he paid off two women Trump allegedly had affairs with to keep them from going to the press during the 2016 presidential campaign.
Cohen pleaded guilty to those crimes back in August and said back then that he arranged payments on then-candidate Trump's behalf and at his request. Cohen was paid for this work through some money laundering methods to conceal the political purposes behind the payments.
So Cohen actually saying he was doing it at Trump's request isn't new. But one of the sentencing memos released today (by federal prosecutors with the U.S. District Court for the Southern District of New York) makes it clear they believe Cohen: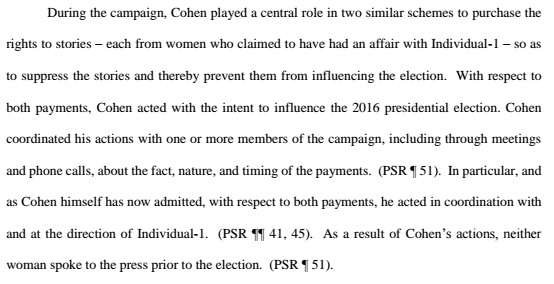 "Individual-1" in these memos is Trump, just in case it's not clear. And no, these aren't charges coming from Special Counsel Robert Mueller's investigations. These are all from New York's federal courts and are unrelated to the investigation of whether anybody in Trump's circle coordinated with Russian officials in their attempts to manipulate the outcome of the 2016 election.
That's the other sentencing memo. Mueller's office also submitted a sentencing memo today for Cohen's other guilty plea from the end of November, where he acknowledged lying to Congress when he said negotiations with Russia to build a hotel in Moscow had ended before the primary season kicked off in the spring of 2016 (they had not). Mueller's memo says Cohen has met with the special counsel's office in seven different sessions to provide valuable information. Cohen told them he had been in communication with Russian nationals as far back as November 2015, a few months after Trump formally declared he was running for president, to try to arrange possible meetings between Trump and Russian President Vladimir Putin.
Mueller's memo is not giving a specific sentencing recommendation, but because Cohen is being cooperative and has accepted responsibility for his lies, his office is requesting that any prison time for which he might be sentenced for misleading Congress be run concurrently with the sentences he gets for his fraud and campaign violation plea bargain with the New York office.
Both the New York sentencing memo and Mueller's memo can be read here.
Trump tweets a response!
Totally clears the President. Thank you!

— Donald J. Trump (@realDonaldTrump) December 7, 2018
Well … okay, then.
Meanwhile, some more details are coming out from the Department of Justice explaining why they say former campaign head Paul Manafort breached his plea agreement conditions with them:
Mueller's office says Manafort remained in contact with a "senior" Trump administration official though February 2018, well after he was indicted, and lied about it. They confirmed his contacts with administration officials by search his electronic documents. pic.twitter.com/7Y5quOG9tc

— Brad Heath (@bradheath) December 7, 2018
It is a mystery how Manafort could have thought he could have contacts with Trump administration officials after he was indicted and not be found out. But there you have it.