George H.W. Bush Averts Government Shutdown From the Grave: Reason Roundup
Plus: France postpones planned fuel-tax hike after Yellow Vest protests.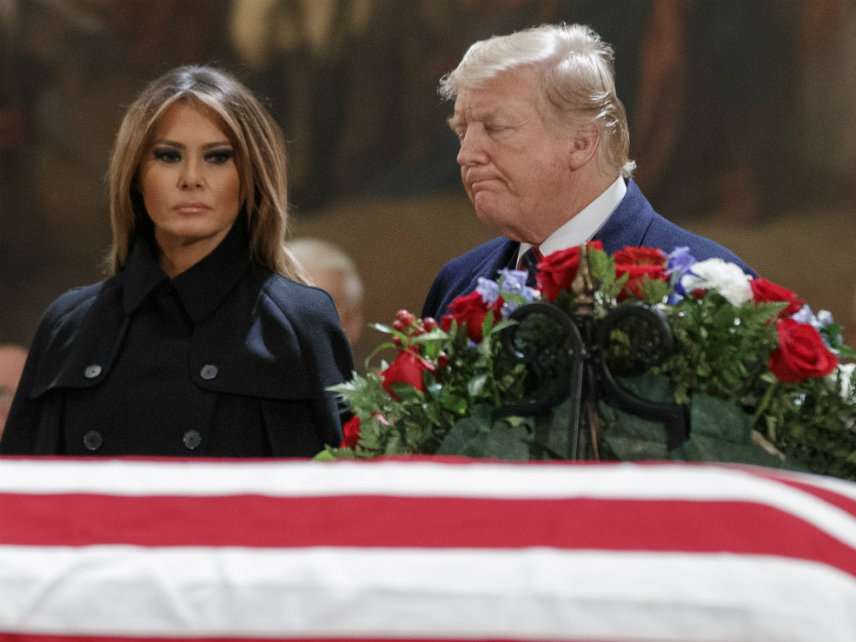 In his last act of moderate, patrician governance, it seems George H.W. Bush has kept the government going a little longer. The drama and hissy fits that surround shutdown fights will wind down for a moment, at least, per plans in Congress to take a pause for Bush's funeral and continue funding things through December 21. Otherwise the fabled shutdown was slated for December 7.
Why must they toy with our hearts like this? Always promising us a government shutdown they never deliver…
(That's a joke; I'm not a filthy anarchist like Editor in Chief Katherine Mangu-Ward. But I'm also not a fan of the manufactured frenzy that always surrounds what will inevitably be bipartisan agreement to return everything to the status quo.)
Mainstream media headline writers' hearts aren't even in it anymore. The most hype Time magazine could muster "It's still not clear how it will end." The Time article starts by invoking "a trillion dollar game of chicken," but a few paragraphs in reminds us that this is all business as usual:
A two-week delay would push the deadline to Dec. 21, right on the eve of Christmas, a classic legislative maneuver meant to force a solution on recalcitrant members who would rather spend the holidays with their families instead of debating the budget
The wild card this time is that President Donald Trump has declared conditions: He wants $5 billion for his border wall. From Time:
Fellow Republicans in Congress have offered to cobble it together, with money allocated earlier, new cash now and something of an IOU to come next September. The President's strongest allies are still holding out hope for a massive cash injection for the wall, while Senate Democrats seem to be holding steady at an offer of $1.6 billion to pay for border security, including a very limited section of the wall.
But Bush's funeral has delayed things for now, since roll call votes in the House were canceled all week. "While Democrats prefer a one-week extension, they signaled they would not object to a two-week delay," says Federal News Network. "Trump made clear over the weekend he would agree to a short-term funding extension to allow for ceremonies honoring Bush."
FREE MARKETS
France is postponing a planned hike in fuel taxes after weeks of intense protests. "After hearing (the) anger I am suspending for six months three fiscal measures including fuel tax increases," said Prime Minister Edouard Philippe on Tuesday. The government's concession "comes after leaders from the 'Yellow Vest' movement, so-called because of the high visibility jackets worn by demonstrators, reportedly refused to meet Philippe on Tuesday for talks on how to diffuse opposition to planned fuel tax increases," reports CNBC.
"The police remove their helmets in solidarity with the demonstrators "Yellow vests"."

AKA *THAT* is a significant moment that raises the bar for this situation. When the POLICE join a protest movement it heightens the importance. BIG TIME. pic.twitter.com/ZIt8PsiOeg

— St. Nick Monroe (@nickmon1112) December 3, 2018
FOLLOWUP
Correction: Yesterday's Roundup on the SEC and cryptocurrency "influencers" was illustrated with an image of Floyd Mayweather Sr. when it's his son, Floyd Mayweather Jr., who was in trouble with the SEC for his social-media posts.
Paul Manafort memo may drop this week:
The Manafort memo on Friday "will be public," Mueller's office tells me, indicating prosecutors will detail for all to read what prosecutors believe the ex-Trump campaign chair lied about. Should be interesting reading. https://t.co/dDQhgDJlh3

— Michael Isikoff (@Isikoff) December 3, 2018
More on Manafort lies from last Tuesday's Roundup.
QUICK HITS
• George H.W. Bush "was the right leader for the end stages of the Cold War, but wrong for the challenges that came after," writes James Antle at The American Conservative.
• What the hell is happening with North Carolina ballots? "A set of 161 absentee ballots for the 9th Congressional District obtained by CNN on Monday showed that the same nine people signed at least 10 absentee ballots each," the network reports.
• Denmark will send refugees to an island. From The New York Times:
Denmark plans to house the country's most unwelcome foreigners in a most unwelcoming place: a tiny, hard-to-reach island that now holds the laboratories, stables and crematory of a center for researching contagious animal diseases.
As if to make the message clearer, one of the two ferries that serve the island is called the Virus.

"They are unwanted in Denmark, and they will feel that," the immigration minister, Inger Stojberg, wrote on Facebook.

• The future is now:
Maybe the best demonstration I've ever seen of services being more valuable than objects: Sign up for a new phone plan, get a free giant TV. pic.twitter.com/JcZE5As4lm

— Philip Bump (@pbump) December 4, 2018