Some Temple University Administrators Want Marc Lamont Hill Fired For 'Hate Speech'
"Free speech is one thing. Hate speech is entirely different."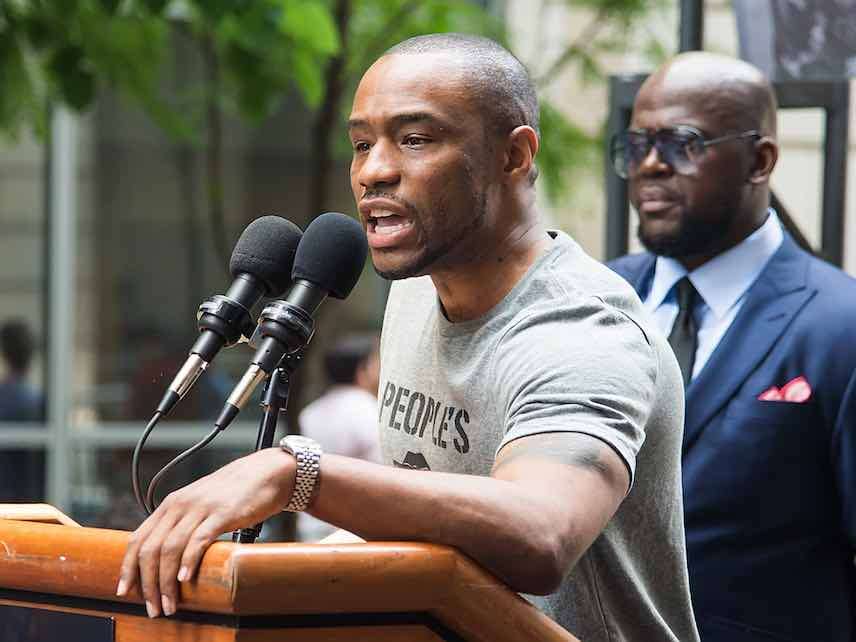 Last week, CNN cut ties with Marc Lamont Hill, a professor at Temple University and leftist pundit for the network, after he made comments about Israel that some consider anti-Semitic. Now some officials at Temple University want to do the same thing.
Hill's comment came at a November 28 United Nations meeting, where he called for a "free Palestine from the river to the sea"—a phrase sometimes used by groups, such as Hamas, that support the destruction of Israel. Hill later apologized, insisting that he did not favor violence or an end to Israel's existence, but the CNN honchos were unmoved.
CNN is under no obligation to employ Hill; his bosses can fire him because they don't like his opinions. The same is not true for Temple, a state-related research university in Philadelphia, where Hill has tenure. Nevertheless, Patrick O'Connor, the chairman of Temple's board, tells Philly.com that "no one is happy with [Hill's] comments." More concerning, O'Connor—described as a prominent lawyer in the article—also said, "Free speech is one thing. Hate speech is entirely different."
This distinction between "hate speech" and "free speech" is nonsense. No Supreme Court decision has ever recognized hate speech as a separate, unprotected category of speech, and any attempt to regulate hate speech at a public university would assuredly be struck down as unconstitutional.
But O'Connor sounds like he wants Hill gone. "We're going to look at what remedies we have," he tells Philly.com. Temple President Richard Englert said in a statement that some people view Hill's remark as a "perceived threat." And a trustee, Leonard Barrack, has accused Hill of using coded language to call for the destruction of Israel.
Temple administrators should stand down immediately. They can criticize Hill all they want, but anti-Israel statements are protected speech, hateful or not.
This incident is a useful reminder that attempts to limit the scope of permissible speech on campus due to nebulous safety concerns—"hate speech," "perceived threats," etc.—will always backfire on the left. The administrative doublespeak deployed by universities in service of keeping Ben Shapiro off campus can and will be weaponized against people like Hill.
At the same time, I would like to see more conservatives stand up for fairness here. If you were outraged about Twitter (briefly) banning Jesse Kelly, or The Atlantic terminating Kevin Williamson, or ABC cancelling Roseanne, you ought to have something to say about CNN firing Hill, too.