Legoland's Plastic Straw Ban Is the Height of Environmental Virtue Signaling
Plastic toys, sí! Plastic straws, no!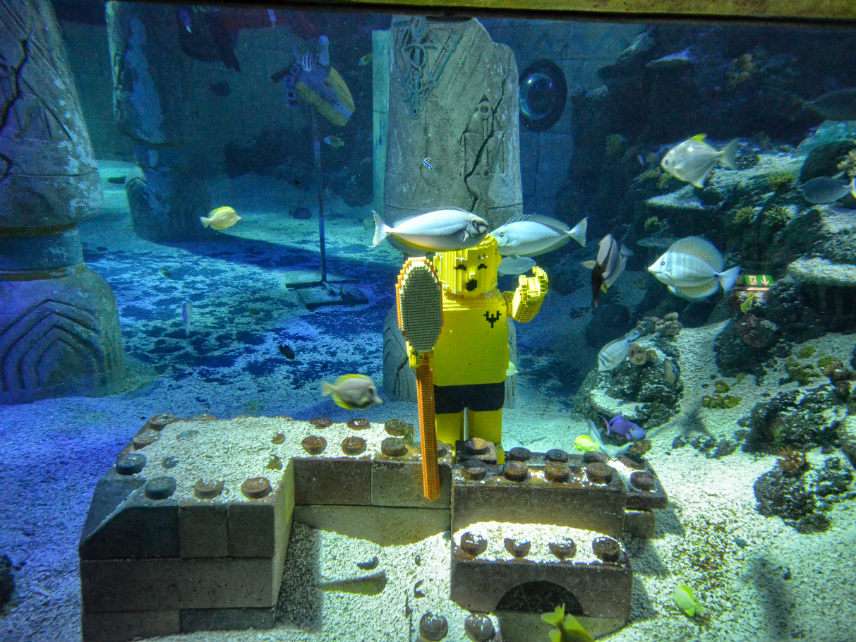 Legoland, a theme park dedicated to celebrating plastic toy bricks, has announced that as of next year it will no longer provide single-use plastic straws to park visitors.
The decision came down last week from Merlin Entertainments, a British company that operates 120 attractions worldwide, including nine Legoland parks.
"Like many of our guests, we are concerned about the negative environmental impact associated with the disposal of plastic straws," says Merlin CEO Nick Varney in a press release. "It is something we can act on immediately as we continue to assess how we minimize the use of plastics within our business."
By December 31, the company says, there will be no single-use plastic straws or lids in Legoland's Florida park. Alternatives to single-use plastic straws will be provided only if required for a product or at a visitors' request.
The straw crackdown at Legoland parks comes a few months after the makers of the actual Lego toys announced their own anti-plastic initiative.
In March, The Lego Group—a separate entity from Legoland parks—announced that from now on, all the plastic trees, plants, and other "botanical elements" it produces will now be made of sugar cane–sourced plastic, which is biodegradable. The company has also committed to using "sustainable materials" in "core products and packaging" by 2030.
That Lego and Legoland have both made a public show of cracking down on plastic use shows both how far the anti-plastics movement has come in such a short time and how divorced from real environmental concerns it actually is.
According to the BBC, Lego sells some 75 billion plastic bricks each year globally. A big consumer of these bricks, is, of course, Legoland.
The newest park, which opened in Dubai in 2016 contains some 15 million Lego bricks. Assuming each of these bricks weighs 1.35 grams—the weight of a standard 2×2 Lego brick, according to Bricklink—that adds up to about 20 metric tons, or one percent of the plastic estimated to get into the word's oceans each year.
Needless to say, this a huge amount of plastic.
If Merlin Entertainment and Lego were truly concerned about the negative effects of plastic consumption on their environment, one would think they would have to reconsider much more than the amount of straws their theme parks consume. And while biodegradable plastics are less dangerous if they wind up in the ocean, only about 1–2 percent of Lego's products are made of biodegradable plastics; the vast majority are still standard, petrolum-based plastics.
Indeed, most of the arguments deployed to justify straw bans would be applied with even greater force to banning Legos.
Unlike straws—which some disabled people actually require—no one needs Legos. They're just a toy, after all, and one for which there exists numerous biodegradable alternatives, from wooden blocks to BuckyBalls. Who knows? Maybe Legos could function as a "gateway plastic" whose prohibition encourages former Lego users to look for other plastics they can cut out of their lives. That, after all, is what various activists have said about banning plastic straws.
That neither Merlin or The Lego Group are considering going into retirement suggests two not necessarily mutually exclusive things. One, that the companies' commitment to lessening the impact of plastics on the global environment is superficial. Two, that they understand their own plastic products are not really part of the problem.
Almost all of the plastic that gets into the world's oceans each year comes from countries with poor waste management systems that allow of a lot of trash to leak into the environment. These are, unsurprisingly, poorer countries. By contrast, the United States and Europe, which host six of the world's nine Legoland parks, are responsible for roughly two percent of annual marine plastic waste.
Private companies are of course free to have whatever straw policy they want. But for plastic pushers to single out plastic straws is hypocritical—and it gives cover to an unscientific and pettily authoritarian anti-straw crusade.