Los Angeles NIMBY Lawsuit Succeeds in Killing Off Elon Musk's Futuristic Transit Tunnel
Neighborhood groups had sued to stop Musk's Boring Company from digging a tunnel underneath wealthy neighborhoods in West Los Angeles.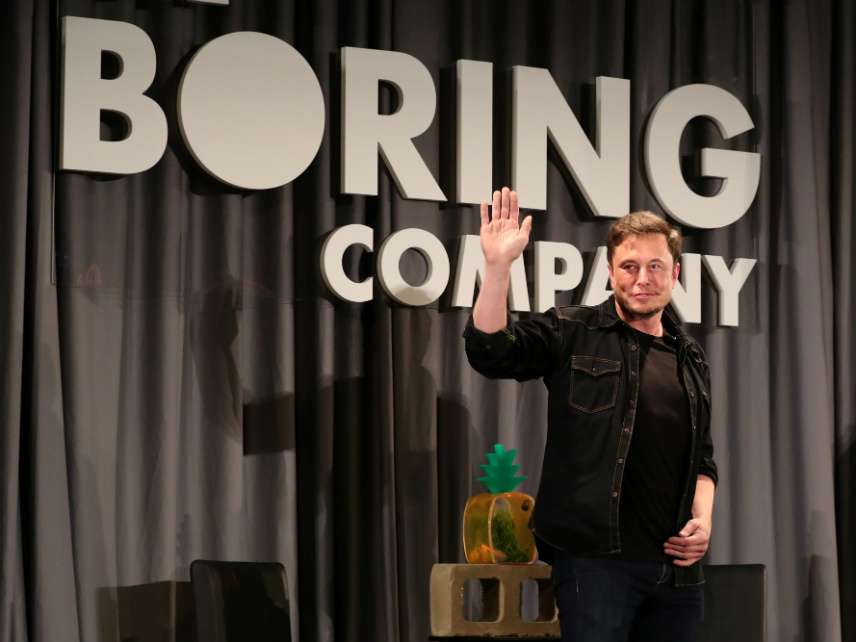 Elon Musk's plans for a futuristic private transit system running underneath Los Angeles experienced a setback yesterday, becoming the victim—like so many aspiring projects that have come before it—of an environmental lawsuit filed by local NIMBYs.
On Tuesday, Musk's Boring Company announced that it had "amicably settled" a lawsuit brought by two Westside Los Angeles neighborhood groups, the Brentwood Residents Coalition and Sunshine Coalition, who had objected to the company's plans to dig a three mile "proof of concept" tunnel under Los Angeles' Sepulveda Boulevard.
That tunnel was supposed to serve as a test of Musk's solution for Los Angeles' "soul-destroying traffic"—a network of underground tubes in which pedestrians, cyclists, and motorists would be whisked along on motorized electric platforms.
The Boring company has already dug one such test tunnel near Musk's SpaceX headquarters in the Los Angeles-area city of Hawthorne, and is working on another mile-long tunnel to connect Los Angeles' Dodger Stadium with a nearby subway station.
In March, Los Angeles' Building and Safety Commission granted the Boring Company initial permits for the Sepulveda tunnel, and also exempted it from the California Environmental Quality Act (CEQA)—which requires projects go through extensive, expensive reviews that can take years.
This approval rankled a number of parties, including the aforementioned neighborhood groups, the government of Culver City —under which part of the Sepulveda Tunnel would run—and Metro, Los Angeles' county's transit authority, which had already been working on a project in the area.
All expressed concern that this test tunnel could potentially become part of a larger, private transportation network. While that's exactly what Musk is working toward, the publicly funded Metro has obvious reasons for undermining his work. But it's not just Metro who's opposed.
"We've decided to tax ourselves in order to pay for a system that serves us all. And to me this looks like competition for something that, you know, we know actually works," Culver City Councilmember Meghan Sahli-Wells is quoted as saying in an April 18 letter sent by the Brentwood Residents Coalition to the Los Angeles City Council.
Similar sentiments were expressed by Santa Monica City Manager Rick Cole, who told the Los Angeles Times in May, "We'll have people stuck in traffic on the surface, and this miracle fast lane underground for the people who can afford it. It'll be toll lanes on steroids."
In short, whether the new system works or not, the fact that it's not government-run means it has to go.
That the Sepulveda tunnel might link up with future tunnels also presented a real legal problem, given that CEQA requires projects be evaluated in full, not chopped up into smaller developments that, by themselves, might be exempt from the law.
According to the Brentwood Residents Coalition lawsuit, the City of Los Angeles' actions "violate CEQA's express prohibition against piecemealing of project approvals by improperly defining the scope of the project as merely a 'proof of concept' tunnel" adding that the city and Boring had "improperly evaded performing adequate and thorough environmental review of a major transportation infrastructure project."
Tuesday's settlement means that a judge will not rule on the merits of this case, and that Boring's plans for a tunnel in the area are dead for the moment. Musk will have to find another way to demonstrate the economic and structural viability of a subterranean, private, mass transit system. He's already succeeded in demonstrating how difficult it is to build something transformative in the city of Los Angeles.