Manafort's Lies Are Mueller's Loss, Too—But Good News for Trump: Reason Roundup
Plus: What the heck is happening in Ukraine? And please give Reason your money.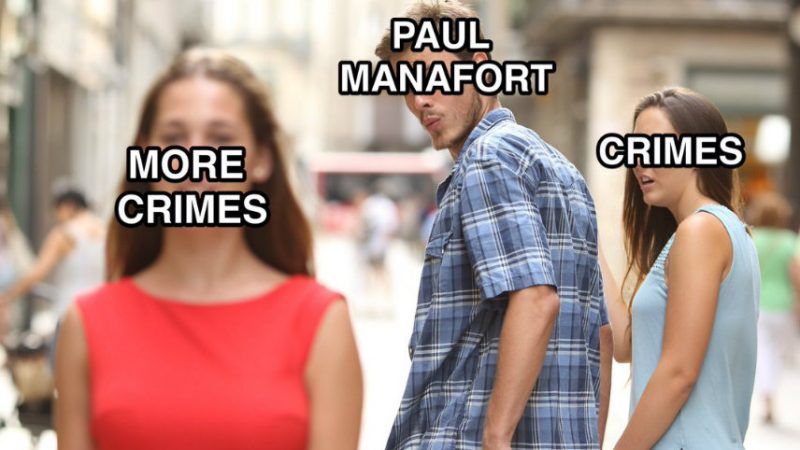 (@caitlin__kelly/Twitter)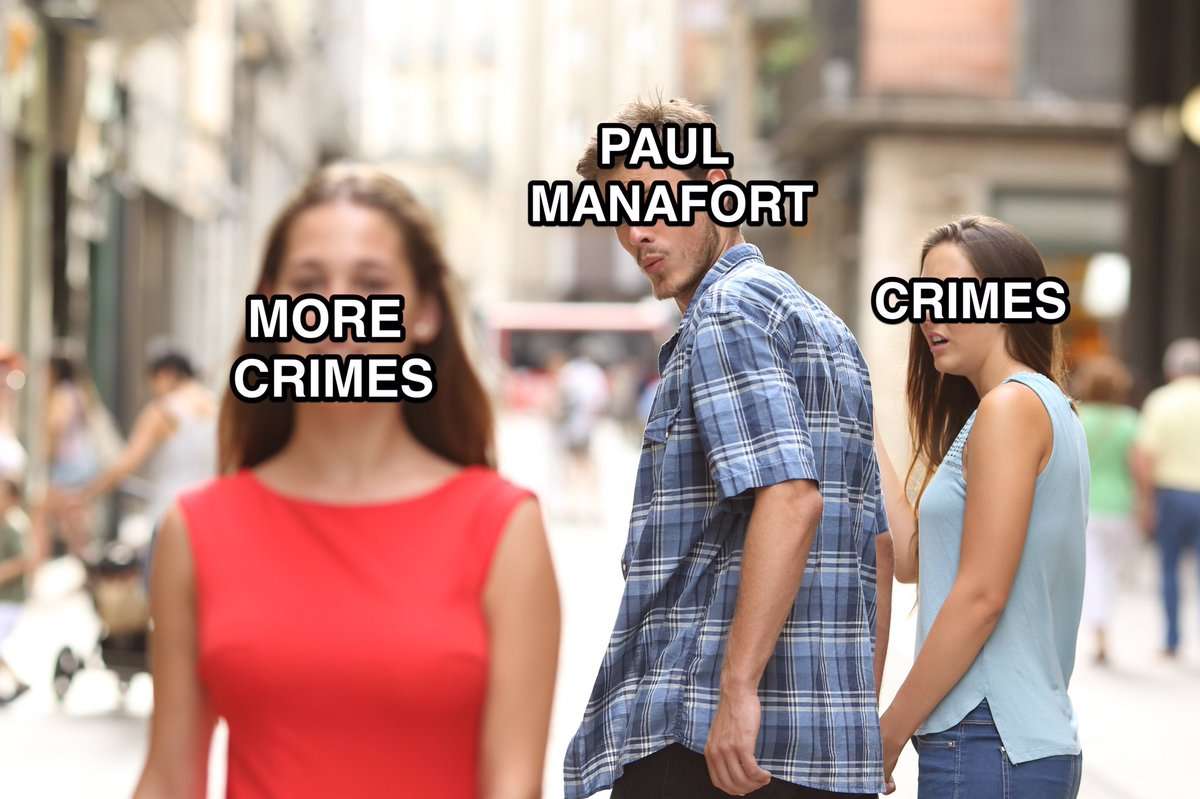 Paul Manafort's plea deal is falling apart, as FBI Special Counsel Robert Mueller accuses him of lying in his statement. It's bad news for both men—but good news for President Trump. Federal prosecutors didn't say what Manafort allegedly lied about (other than that it involved "a variety of subject matters") or how they had caught it.
"Manafort denied doing so intentionally, but both sides agreed in a court filing that U.S. District Judge Amy Berman Jackson…should set sentencing immediately," reports The Washington Post.
The filing also indicated that Mueller's team may have lost its potentially most valuable witness in Manafort, a top campaign official present at discussions at the heart of the special counsel's mission to determine if any Americans conspired with Russia's efforts to sway the U.S. election.
As a former manager of Trump's 2016 presidential campaign, Manafort is certainly privy to lots of private information about how it operated, including whether it "colluded" with Russians.
But that's not what Manafort was under fire for in federal criminal court; those charges stemmed from Manafort's years as a sort of international calamity mercenary, providing political consulting services to shady authoritarian characters worldwide and, particularly, for former Ukrainian president Viktor Yanukovych and other pro-Russia politicians in Ukraine.
In August, a jury found Manafort guilty of five counts of tax fraud, two counts of bank fraud, and one count of failing to report a foreign bank account. A mistrial was declared on 10 remaining charges, which could have meant a second jury trial to consider whether he was guilty of failing to register as a foreign agent, money laundering, witness tampering, and lying to federal prosecutors.
The following month, Manafort accepted a plea deal, copping to two counts of conspiracy (one against the U.S. and one to obstruct justice), and agreeing to cooperate in Mueller's Russia probe.
Now, prosecutors say in the court filing that "after signing the plea agreement, Manafort committed federal crimes by lying to the Federal Bureau of Investigation and the Special Counsel's Office on a variety of subject matters, which constitute breaches of the agreement."
Here was Trump's response:
The Phony Witch Hunt continues, but Mueller and his gang of Angry Dems are only looking at one side, not the other. Wait until it comes out how horribly & viciously they are treating people, ruining lives for them refusing to lie. Mueller is a conflicted prosecutor gone rogue….

— Donald J. Trump (@realDonaldTrump) November 27, 2018
….The Fake News Media builds Bob Mueller up as a Saint, when in actuality he is the exact opposite. He is doing TREMENDOUS damage to our Criminal Justice System, where he is only looking at one side and not the other. Heroes will come of this, and it won't be Mueller and his…

— Donald J. Trump (@realDonaldTrump) November 27, 2018
….terrible Gang of Angry Democrats. Look at their past, and look where they come from. The now $30,000,000 Witch Hunt continues and they've got nothing but ruined lives. Where is the Server? Let these terrible people go back to the Clinton Foundation and "Justice" Department!

— Donald J. Trump (@realDonaldTrump) November 27, 2018
Meanwhile, in Ukraine, current President Petro Poroshenko's proposed declaration of martial law for 30 days was just approved by the country's parliament, following a flare-up in conflict with Russia. "There's little debate about what happened Sunday when three Ukrainian naval vessels attempted to pass through a narrow bottleneck separating the Crimean Peninsula and the Russian mainland," said NPR's Lucian Kim yesterday.
In a video filmed aboard a Russian coast guard ship, crewmembers can be heard cursing before ramming a Ukrainian tugboat. Neither side denies that later the Russian coast guard opened fire to stop the other two Ukrainian vessels and seized all three of them together with their crews. Ukraine says six seamen were injured, and the Kremlin accused Ukraine of committing a dangerous provocation.
Poroshenko framed his move as necessary in the face of potential Russian aggression on land. Emma Ashford of the Cato Institute comments:
Once again, it's a toss up as to whether Ukraine's worst enemy is the Russians or its own political elites. https://t.co/gCfxJG6MLH

— Emma Ashford (@EmmaMAshford) November 26, 2018
And from journalist Michael Tracey:
Ukraine's strongman president, whose government is demonstrably backed by actual Nazis, declares martial law and of course the big US media reaction is that Russia hasn't been condemned aggressively enough

— Michael Tracey (@mtracey) November 27, 2018
Among U.S. political elites, that's certainly been true. The Hill reports that "Sen. Bob Menendez (D-N.J.) on Monday urged President Trump to commit additional military assistance to Ukraine in response to Russian aggression near Crimea." And here's Nikki Haley at the United Nations emergency session yesterday: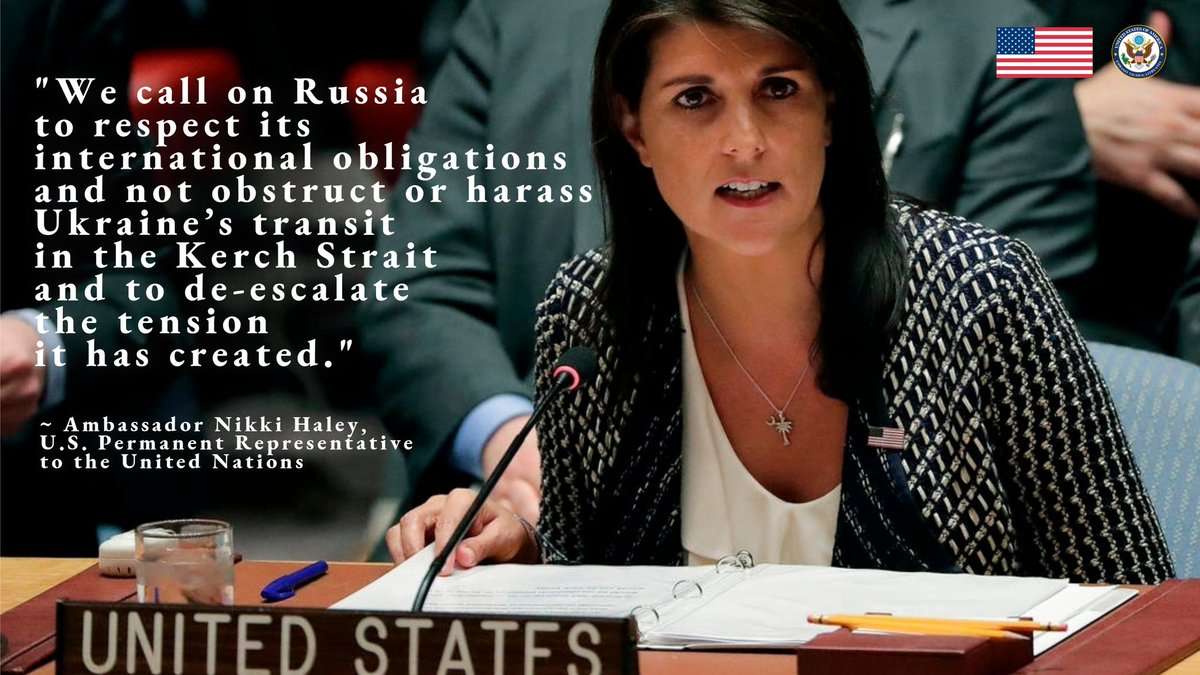 FREE MARKETS
Do you like us? Now's the time to show it! It's the first day of Reason's annual webathon (and "Giving Tuesday," if you're into that sort of thing). More details here.
On #GivingTuesday, help support @reason in our second 50 years of bringing libertarian news, politics, culture, and ideas to the wider world! Giving levels and swag deets at https://t.co/oXUqQFzc8t

— Nick Gillespie (@nickgillespie) November 27, 2018
QUICK HITS
Three cheers for #FOIA, thanks to which we now have the video of a border agent's gender reveal explosion that ended up burning 47,000 acres of land https://t.co/FLaZ3AsP7a pic.twitter.com/V71v2Zg1Ck

— Peter Bonilla (@pebonilla) November 27, 2018