After Cracking Down on Airbnb, New York City Comes After Traditional Hotels
New York City's new zoning ordinance would give the city an effective veto over proposed hotel projects in much of the city.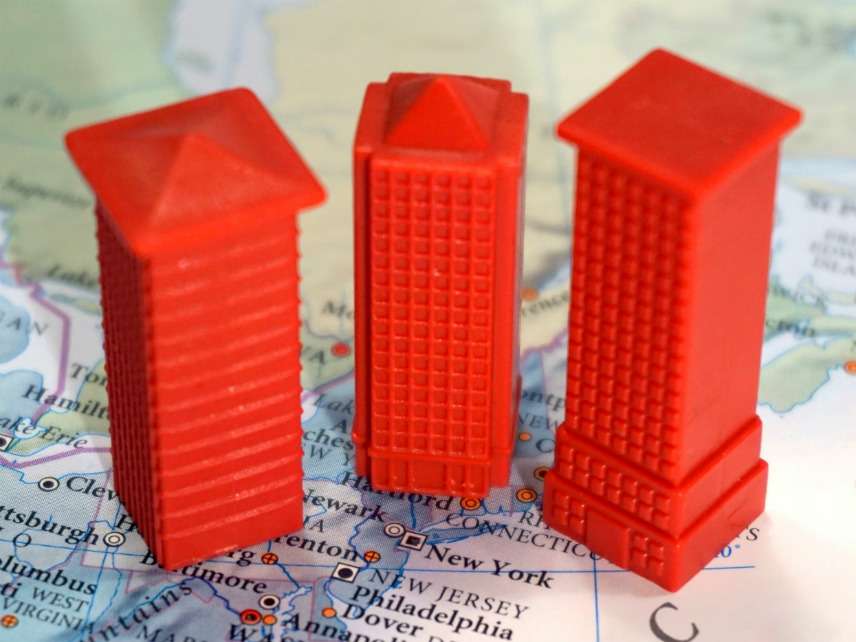 Having succeeded in slapping restrictions on Airbnb, New York City politicians are now coming after traditional hotels with a proposal that would make it far more difficult to build new hotels across much of the city.
The proposal in question—the uninterestingly-named M1 Hotel Text Amendment—would require that all hotels being built in areas zoned as "light industrial" first receive a special permit from the city's Planning Commission before starting construction.
That all might sound like the height of bureaucratic minutia, but the law would be a substantial restriction on property rights and the ability of developers to put up new hotels in the city.
Currently, New York City allows for hotels to be built "as-of-right" in light industrial zones, meaning developers have a right to build new hotels, and project opponents—be that the government or anti-development NIMBYs—have few means of stopping or imposing conditions on new construction.
Should this ordinance pass however, developers would lose this right.
Instead, they would have to obtain those special use permits from the Planning Commission, but only after first going through the city's cumbersome public review process, which can take years and mandates multiple layers of review from community and borough-level governing bodies.
Because these permits would be discretionary, the Planning Commission could deny any one development. Both the Mayor and City Council could, under certain circumstances, also torpedo a new hotel, should they wish.
Developers are naturally opposed to the proposed ordinance.
"Tourism and business travel, including their spending and the jobs they support, would be severely curtailed," wrote Gene Kaufman, a hotel architect and vocal critic of the new law, in a July op-ed in Crains, warning that "concerted efforts to provide affordable hotel rooms in New York City will be largely shut down."
Indeed, the current "as-of-right" arrangement for new hotel construction has led to a boom in hotel construction and consequentially, a fall in room rates, even as New York has seen record numbers of tourists.
New York has added some 40,000 new hotel rooms and 275 hotels since 2007, representing a 57 percent increase in hotel room inventory, with some 24 percent of those rooms in the light industrial areas that would be affected by the new law.
Meanwhile, average daily rates for rooms in the city have declined from a 2014 high of $271 to a little under $240 in 2018, according to data reviewed by The Wall Street Journal.
The increase in inventory and corresponding rate decline is a big reason are why some folks are pushing for these new restrictions.
"If it keeps additional hotel development from getting approved within the city, that's a good thing for existing hotels. Anything that can help current hotels raise their average daily rates is badly needed," said Jay Stein, CEO of Dream Hotel Group, to Commercial Observer in April.
The same line has been adopted by the New York Hotel and Motel Trades Council, a union representing some 36,000 hotel workers in the city. In written testimony submitted to the city council, the union fretted that "the proliferation of hotels in manufacturing zones is ultimately not good for the city's tourism industry," citing the fall in hotel room prices.
Indeed, the hotel workers union—which was also a driving force behind New York's recently imposed Airbnb restrictions—has many reasons to protect existing hotels from new competition. For starters, it's difficult to demand wage and benefits increases from less profitable hotels. In addition, the rapid rate of new hotel construction has outpaced the union's ability to organize workers.
According to real estate news website The Real Deal, only five of the 120 hotels completed since 2013 are unionized.
Slowing down the construction of new hotels would help arrest that fall in room prices, while also giving the union more time to organize workers at new projects as they come on line.
Forcing new hotels to go through the public review process also means that projects will have to vetted by community review boards, which the Hotel Trades Council actively works to influence, and which could make life difficult for developers that don't agree to union demands.
In this way, New York's new hotel zoning ordinance is a lot like zoning ordinances for pretty much anything else: designed to protect the interests of the businesses, workers, and residents already in place at the expense of newcomers (in this case, hotel developers and future hotel employees) and customers (the aforementioned tourists, who'll have to shell out more each time they visit "the greatest city on earth").
The city council is expected to vote on the ordinance sometime next month, after which it will to Mayor Bill DeBlasio for signing.