Rep. Joe Kennedy III Says He Supports Weed Legalization So the Feds Can 'Regulate' It
After years of opposition, Kennedy has finally jumped on the pro-weed legalization bandwagon.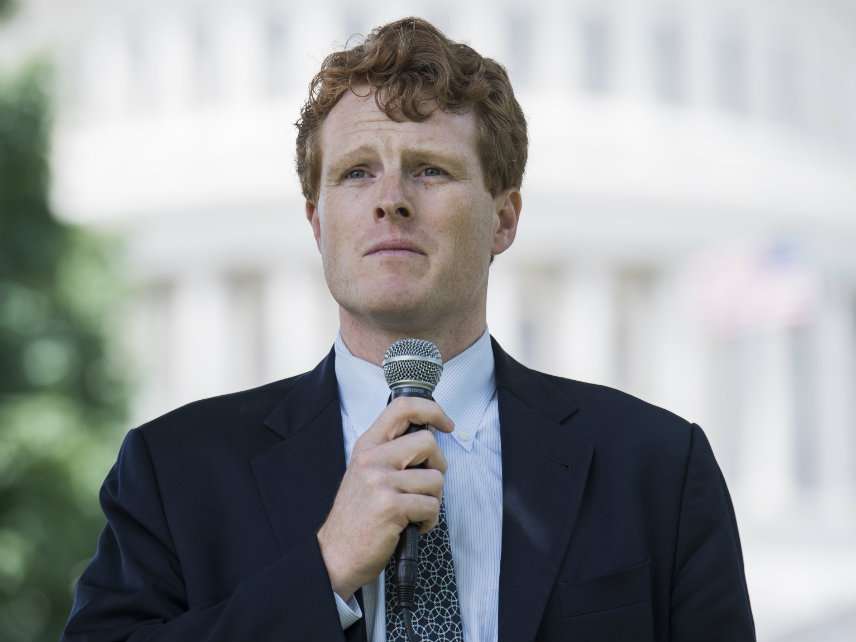 Despite his prior opposition to permitting the recreational use of marijuana, Rep. Joe Kennedy III (D–Mass) announced today he supports legalizing weed at the federal level.
"Given the rapid pace of state-level legalization and liberalization, I believe we must implement strong, clear, and fair federal guidelines," Kennedy wrote in an op-ed for STAT. "To do that requires us to remove marijuana from the Controlled Substances Act (CSA) and legalize it at the federal level."
Kennedy's announcement is noteworthy considering that on multiple occasions, he's spoken out against legalization. "I don't think marijuana should be legalized," he told Boston Magazine in September 2016, adding that "when we look at full-on legalization, the potential danger that marijuana poses particularly to adolescents—I'm not convinced."
Marijuana Moment's Tom Angell notes that Kennedy gradually began to reconsider his views. But as recently as this past March, the Massachusetts Democrat told Vox's Ezra Klein that decriminalizing marijuana made it more difficult for police to conduct vehicle searches. "If you smelled [marijuana] in a car, you could search a car," he said. "When it became decriminalized, you couldn't do that."
In his op-ed today, Kennedy didn't mention anything about police searches conducted with questionable justifications. Kennedy did explain that he still has "concerns about the public health impact of marijuana." But he believes "prohibition has wholly failed to address" these concerns.
So what brought about his change of view? Kennedy writes that legalizing weed nationwide would allow the federal government to "regulate" the marijuana industry:
Legalization would restore the federal government's ability to regulate a powerful new industry thoroughly and thoughtfully. It would allow us to set packaging and advertising rules, so marketing can't target kids. It would help set labeling requirements and quality standards, so consumers know exactly what they're buying. It would ensure that we can dedicate funding to encourage safe use and spread awareness about the risks of impaired driving. And it would create tax revenue for research on mental health effects, safe prescription drugs, and a reliable roadside test.
Of course, as Reason has explained on multiple occasions, government regulations in states where weed is already legal do more harm than good. As Kayla Stetzel wrote in May, the goal of most state regulations is to ensure marijuana ads don't target those under the age of 21. However, these regulations make investing in the industry riskier, meaning it's harder for smaller companies to enter the market. In California, as Reason's Jacob Sullum reported, regulatory costs often mean it's significantly cheaper to buy weed on the black market.
Even with the regulations that would surely accompany legalization at the federal level, ending pot prohibition is still a good idea (if for no other reason than that prohibition infringes on bodily autonomy, as Reason's Nick Gillespie argued back in 2010).
But it's worth pointing out that Kennedy only jumped on the pro-weed bandwagon when doing so was no longer that controversial. For one thing, Massachusetts voters approved a ballot initiative more than two years ago legalizing recreational weed. Kennedy's op-ed came the same day that the first legal pot shops opened in the state.
Even at the federal level, legalization has made progress. Way back in April, Senate Majority Leader Chuck Schumer (D–N.Y.) came out in favor of federal marijuana legalization, following in the footsteps of Sens. Cory Booker (D–N.J.), Ron Wyden (D–Ore.), Kirsten Gillibrand (D–N.Y.), and Bernie Sanders (I–Vt.).
President Donald Trump, while not exactly supportive of legalization at the federal level, has indicated he thinks states should tackle the issue in whatever way they see fit. And with Jeff Sessions out as attorney general, it's possible the DOJ will deescalate its war on weed.
All of this is to say that while it's good Kennedy supports legalizing marijuana nationwide, it's hard to see his recent announcement as anything more than the Massachusetts Democrat following the crowd. Two in three Americans already support legalization, according to a Gallup poll from October, so Kennedy is clearly not alone.
Of course, expressing support for something most people already agree with is important for high-profile politicians, especially ones who might have their eyes on the White House.