Cities Keep Imposing Self-Defeating Restrictions on Electric Scooters
Portland and D.C.'s treatment of electric scooters undermines the cities' own goals.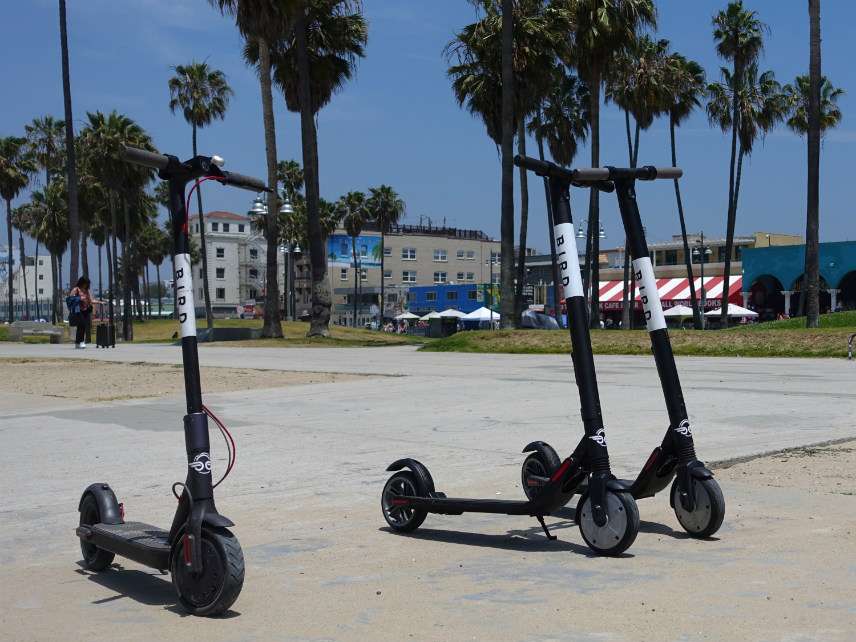 America's cities are engaging in another wave of restrictions on the budding electric scooter industry, just as limited pilot programs come to an end. This is particularly true of two cities, Washington, D.C., and Portland, Oregon, which had previously been relatively welcoming of scooters.
Since July, Portland has been running a pilot program for dockless scooters—which can be rented right off the street using a smartphone app—allowing companies Lime, Skip, and Bird to put their vehicles out on city streets. Portland capped the total number of scooters allowed at 2,500 and required each company to deploy scooters in poorer East Portland.
This pilot program comes to an end Tuesday, and despite Portlanders logging some 755,000 miles on the scooters, the city's current plan is to now shut everything down so it can comb through the data it collected on the vehicles' usage.
"We need to assess what we're finding. We need to hear more from Portlanders, all of their experiences, both positive and negative," Portland Bureau of Transportation spokesperson John Bradley told OregonLive.
This assessment is supposed to guide Portland leaders if they want to bring the scooters back.
Something similar is playing out in Washington, D.C., where after a lengthy pilot program, the city is out with new, more restrictive rules for its scooter permits in 2019.
The number of scooters each company can put out on D.C. streets has been increased from 400 to 600, but that's about the only bone thrown to the four currently permitted scooter companies operating in D.C.
Companies will only be allowed to add 100 scooters per quarter. Any expansion of a company's fleet will have to receive approval from city officials who'll be evaluating their performance along a number of metrics, including trips per day, how quickly the companies to respond to code violations, and how many of their trips are beginning or ending in "Equity Emphasis Areas," i.e. poorer parts of the city.
In addition, scooter speeds—once 15 miles per hour—will be capped at 10 miles per hours instead, even while allowing dockless, for-rent electric bikes to travel a full 20 miles per hour.
Obviously, Portland's plans to totally remove scooters from city streets is more severe, but it is striking that both cities seem obsessed with regulatory minutia.
Portland's evaluation of its pilot program will look at whether the new service helped expand "access for underserved communities" or "reduced private motor vehicle use," yet companies can serve neither goal at all if they're not on the streets. (Whether any company should be required to meet these goals in order to do business is another question altogether.)
Likewise, D.C. says it's being heavy handed in order to address concerns about "safety and equity."
Yet under the District's pilot program, folks from all around the city, including its poorer areas have, clearly taken to the vehicles. A study funded by D.C.'s Department of Transportation (DDOT)—which is responsible for regulating scooters—compared dockless services with the city's own, taxpayer-funded bike share program, which requires users to pick up and return bikes to specific docked locations.
"What we found is that the dockless program overall provides greater micro-mobility accessibility across the entire city, and also specifically in Ward 8, which is traditionally underserved," wrote Regina Clewlow, one of the study's authors, in a blog post. Again, leaving aside the question of whether a private company should be required to provide social services in order to operate, is outperforming a taxpayer-funded program in the city's poorest neighborhood not enough of an accomplishment?
As Bird pointed out in a letter to D.C. Mayor Muriel Bowser, the city's continued cap on vehicles frustrates the ability of companies to serve the very populations the city is so concerned about. A "cap on the number of e-scooters available to the people of D.C. eliminates any chance of this program being equitable," wrote David Estrada, the company's head of government relations last week, noting that "a capped number of scooters incentivizes e-scooter providers to put their vehicles only in popular, high-density areas—not in historically underserved areas."
D.C.'s regulations aren't changing for now, and despite a concerted lobbying effort from companies, Portland officials have given no indication that they're willing to allow scooters on the streets after the pilot program ends Tuesday.
That's a shame for riders in both cities. But it now seems riders were never the top priority.