Private Train Cars, Murder Task Forces, Captain Kirk: Cities Offered Amazon Some Weird Shit
But none of it is a substitute for developing a robust and vibrant economy. And neither is landing a single big employer like Amazon.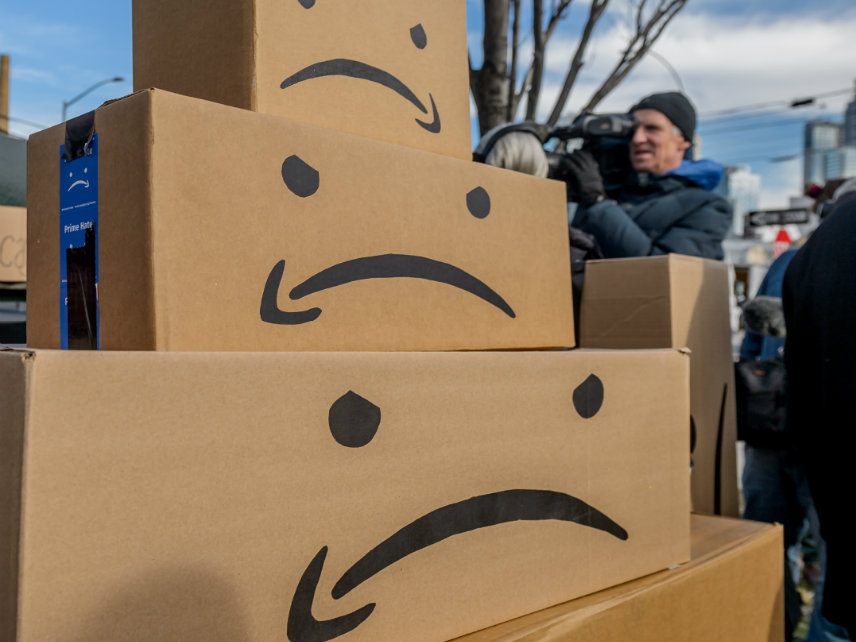 Amazon will build its new corporate headquarters in Queens, New York, and Arlington, Virginia, after conducting a months-long bidding process that at one point had literally hundreds of American and Canadian cities trying to to woo the retail and web services giant with taxpayer-funded givaways large and small.
In the end, it looks like Amazon picked New York and Virginia for strategic and symbolic reasons that go beyond the specific goodies promised by policymakers in either place.
Of course, there are still plenty of goodies. New York will give Amazon more than $1.5 billion in tax breaks, let the company do whatever it wants with the land it will occupy in Long Island City (good luck dodging city codes if you're a small business in Brooklyn), and it will build a private helicopter pad for Amazon executives to use. Sadly, Democratic Gov. Andrew Cuomo won't be following through on his promise to change his name to "Amazon Cuomo."
But in picking New York and Virginia, Amazon left some of the more bizarre offers on the table—many of which Buzzfeed highlighted in a story published Thursday.
Atlanta, for example, would have given Amazon executives a private lounge in Atlanta Hartsfield-Jackson International Airport and offered to rename a major street "Alexa Way" after the Amazon in home spying device digital personal assitant. The city also promised Amazon a private car on each train running through the Metropolitan Atlanta Rapid Transit Authority (MARTA) system, as a way to "distribute products around the city."
Personally, I'm surprised Atlanta didn't promise to let Amazon executives have exclusive access to the city's streetcar-to-nowhere, since no one rides that thing anyway.
Not to be outdone, Chicago offered Amazon more than $2 billion in tax breaks and grants. But every city and state has plenty of other peoples' money to burn on crony capitalism, it seems, so Chicago tried to sweeten its pitch with the original Captain Kirk. Yes, William Shatner provided the voice-over to the city's over-produced-but-underwhelming video message that failed to mention anything uniquely interesting about Chicago except that it once had a big fire. Seriously, if you ignore the one line about the fire, Shatner's voiceover could be describing any metropolitian area in the whole country.
We don't know how much Chicago spent on marketing itself to Amazon, but hopefully this video cost less than the cool half-million dollars Philadelphia spent on advertising itself, also unsuccessfully.
Columbus, Ohio, probably wins the prize for the weirdest promise made to Amazon. On top of a half-billion dollar subsidy and 100 percent property tax abatement, Ohio's capital city pledged to create a special task force to reduce its "unacceptable murder rate."
This was probably an attempt to smooth over any concerns Amazon's bosses might have had about locating in a place where the mayor had recently declared that too many people were getting killed. But residents and business owers in Columbus might be left wondering why reducing the murder rate would be tied to Amazon deciding to move there—and not the wellbeing of people who live there now (and are being murdered). With Amazon heading elsewhere, is Columbus going to invest fewer resources in reducing murders than it otherwise would have?
There's an important lesson here. City officials ought to put more effort into creating a strong local economy that makes people and businesses want to locate there. That means doing things like trying to limit how many people get murdered in your city, yes, but also in not doing dumb things, like wasting tax dollars on silly streetcars. Cities taxing and regulating the living daylights out of incumbent businesses and local entrepeneurs while offering special deals to corporate behemoths is an affront to the people who invested themselves without first demanding an exception. Cities should be looking to create a tax and regulatory climate that allows all residents and businesses to prosper, rather than cutting special deals that free major corporations from high taxes, oppressive land use policies, or restrictive zoning rules.
The real "winners" in the Amazon sweepstakes are places that decided not to play, like San Antonio, Texas. "We have a competitive toolkit of incentives, but blindly giving away the farm isn't our style," San Antonio Mayor Ron Nirenberg wrote in an open letter to Amazon CEO Jeff Bezos last year. Or Toronto, which submitted a bid for the HQ2 but declined to offer any special economic development schemes. "Frankly, we feel we don't need to play that game," Toby Lennox, the CEO of Toronto Global, an organization that promotes the city's business community, told the CBC.
The politicians in those places won't win any special accolades for "creating jobs"—or "buying jobs," as The Wall Street Journal editorial board says of deals like the ones Amazon struck in New York and Virginia. Doing the right thing won't get their names in splashy newspaper stories or lead to a press conferences with the world's richest man.
Fostering a vibrant economy that allows businesses of every shape and size to prosper should be its own reward. Especially since that's the kind of place businesses should want to go.