Portland City Council Rejects Mayor's Constitutionally Dubious 'Emergency Ordinance' on Protests
Believe it or not, authorities can maintain the peace while also respecting the First Amendment.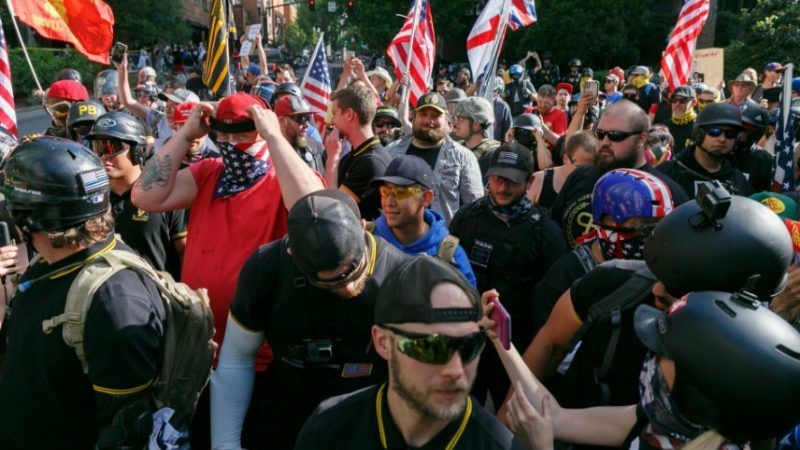 (John Rudoff/Sipa USA/Newscom)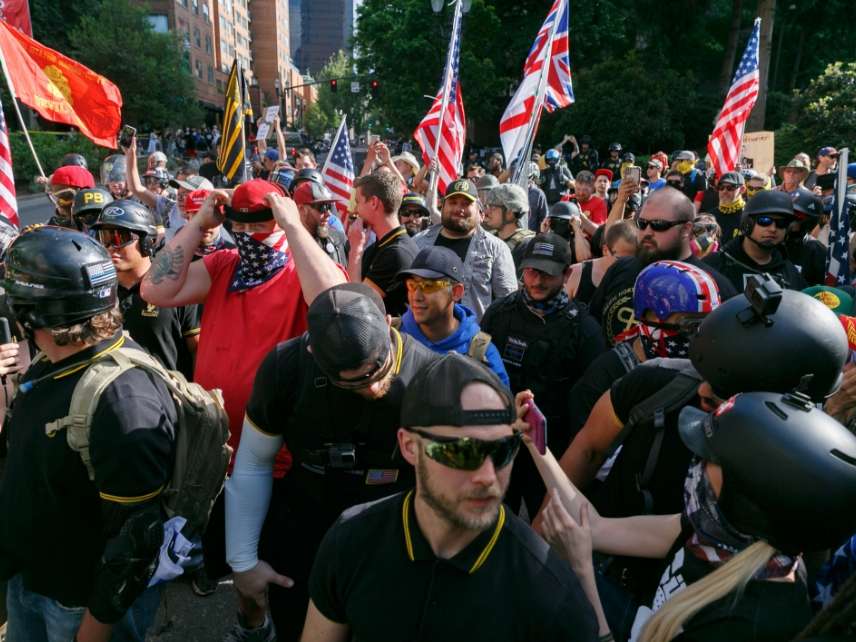 The Portland City Council voted 3–2 yesterday to reject Mayor Ted Wheeler's proposed "emergency ordinance" to crack down on violent protests.
The decision is a win for First Amendment advocates, who had expressed concern that the ordinance curtailed constitutional rights and gave Wheeler too much power.
Two of the city's five commissioners—Amanda Fritz and Chloe Eudaly—had already expressed their opposition to the proposal. The swing vote was Commissioner Nick Fish. While Fish ended up voting no, he didn't object to Wheeler's motives. "He's right to focus on solutions to the unacceptable violence on our streets and the rising tide of hate and intolerance of a vocal minority," he said, according to KATU.
But Fish felt there are better ways to keep the peace. "I'm not convinced we've done everything we can with the tools already at our disposal," he said, according to Willamette Week. "That includes arresting people who violate our laws."
Wheeler proposed the ordinance last month after a series of violent incidents between left- and right-wing demonstrators. The latest of these clashes involved the right-wing group Patriot Prayer and antifa counterprotesters. Some protesters exchanged blows, leading police to intervene with non-lethal ammunition, though no arrests were made.
Following that clash, Wheeler proposed his emergency ordinance, which would have permitted the police commissioner (a position Wheeler holds as mayor of the city) "to issue reasonable time, place, and manner regulations to govern demonstrations" when he "anticipates a high risk of danger and violence."
Wheeler would have been allowed to issue such regulations if groups with a history of violence against each other plan to protest on the same day, if the safety of "participants and bystanders" is in jeopardy, or if he thinks a demonstration would lead to "interference with the ability to access public property, or the disruption of public services." He also would have been able to restrict demonstrations based on "substantial likelihood of violence."
Under the ordinance, a violation of Wheeler's restrictions could lead to arrest and would be considered a misdemeanor.
The American Civil Liberties Union (ACLU) opposed the ordinance on the grounds that it "grants broad authority to the mayor's office to regulate constitutionally-protected speech and assembly with no meaningful oversight for abuse," according to ACLU of Oregon Legal Director Mat Dos Santos.
The National Lawyers Guild also opposed the measure, as did many other groups. Three of those organizations—the Western States Center, CAIR-Oregon and the Oregon Justice Resource Center—proposed a privately funded alternative that would use "education, law enforcement training and creative litigation strategies" to end violence at protests, the Week reports. The groups claim that Wheeler rejected their proposal.
Following the city council's vote yesterday, Wheeler told KPTV he doesn't intend to try again, or at least not with the same bill.
Good. Reason's Christian Britschgi has explained why simply holding a rally cannot be considered an incitement to violence. There is certainly a history of violence breaking out at Patriot Prayer events, but officials shouldn't be able to infringe on free speech because they think this might happen.
So how can authorities maintain the peace while also respecting the First Amendment? Well, they could always enforce the laws they already have that prohibit assault and battery. As Britschgi argues:
Enforcing those laws would be a far better way of dealing with the admittedly troubling street violence situation in Portland, rather than passing emergency ordinances that endanger bedrock constitutional freedoms like speech and assembly.
This wasn't Wheeler's first attempt to restrict freedom of assembly. Reason's Scott Shackford reported last year that Wheeler said the city would stop giving rally permits to some alt-right groups altogether.