Hey, Libertarians! The Criminal Justice Reform Movement Sees You Out There
At a celebrity-headlined and media-focused summit on incarceration, the speakers recognize their allies.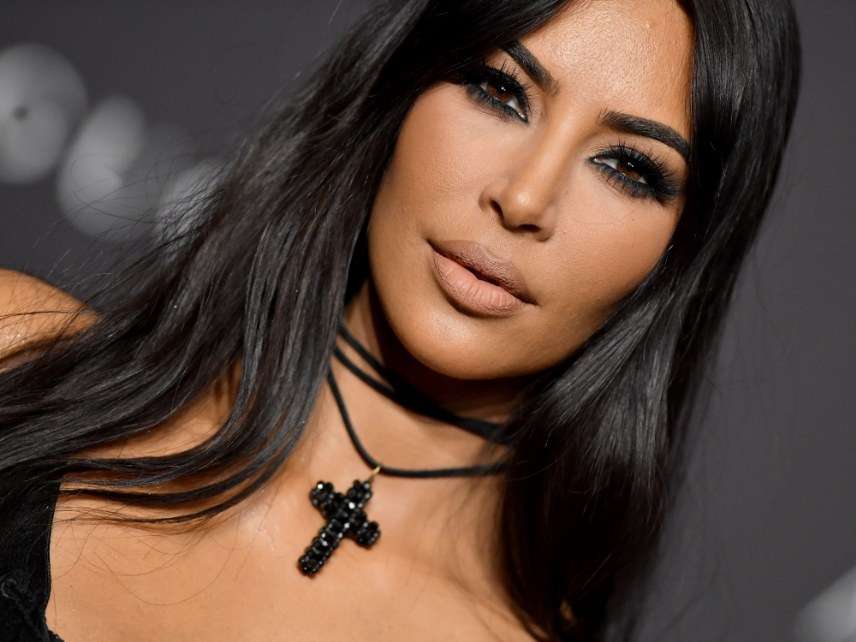 Some big players in the criminal justice reform movement weren't present at President Donald Trump's announcement yesterday that he is supporting a bill to reduce some federal mandatory minimum sentences and to make some other positive changes to the prison system.
By what turned out to be sheer coincidence (I checked), the announcement came the same day many people who had pushed for those changes were gathered in The Jeremy Hotel in West Hollywood, California, for a daylong Criminal Justice Reform Summit put together by Variety and Rolling Stone magazines and headlined by CNN's Van Jones and Kim Kardashian. Even Alice Marie Johnson—Trump's famous clemency recipient, thanks in part to Kardashian's advocacy—was in West Hollywood instead of the White House.
Jones was, in fact, interviewing Kardashian for a modest crowd of Hollywood creatives and criminal justice reformers at the same time Trump was declaring support for the FIRST STEP Act. Jones isn't simply a talking head on CNN and a former advisor to President Barack Obama; he co-founded #cut50, a movement to reduce the prison population by half. He and Kardashian have met with Trump together to push for reforms, and Jones briefly was struck silent at the possibility that they had succeeded. (They still have to get past the Senate, though.)
But enough about them; what about us? Speakers at the summit pushed repeatedly the message that bipartisan agreement had been a vital component in any sort of criminal justice reform, and that the essential components include people who define themselves as libertarians.
Jones noted in his opening comments that America's prison problems were pushed along by both parties in the 1980s and 1990s, name-checking President Bill Clinton and noting that "even the Democrats signed up for mass incarceration." Because the cruelties of the drug war were a bipartisan affair, it "will take two parties to get us out." Jones' education on the matter apparently came from Newt Gingrich, who criticized him during his Crossfire days for not knowing that there were people outside of the left who cared deeply about criminal justice reform or how to reach out to them. Jones specifically noted that libertarians and libertarian-leaning conservatives were affronted not just by a government telling people what they could do with their bodies but by the "big, failed government bureaucracy" that the criminal justice system increasingly became as America implemented harsher sentences and mandatory minimums.
Derrick Johnson, president and CEO of the National Association for the Advancement of Colored People, also referenced libertarians (in the same breath as Mormons) as people who aren't necessarily aligned with the Democratic Party but care very deeply about individual liberty and reducing the size of the prison population. He drew applause from a line with which every self-respecting libertarian would agree: "People in jail for selling weed need to be released." (And if anybody had any doubts that some states are still handing down absurdly harsh sentences over marijuana, the summit also featured Bernard Noble, who was initially sentenced to 13 years in prison in Louisiana for possession of two joints, thanks the state's extremely harsh three strikes laws. He ended up serving 7 years.)
Bill Keller, the former New York Times editor who now runs The Marshall Project, also took note of "libertarian conservatives" and their role in pushing criminal justice reform forward. The Marshall Project is a nonprofit media outlet that reports criminal justice stories and also shares and amplifies pieces by other outlets; it regularly includes Reason's work in its morning newsletters.
While the summit may have taken place in one of the "bluest" communities in the country (West Hollywood's City Council wants to have Trump's star removed from the Hollywood Walk of Fame), the activism taking place here was by no means an effort to try to enlist people to vote for Democrats as the solution to all of our incarceration solutions. When speakers called for philanthropy from Hollywood, they didn't say the stars should donate money and time to political parties; they wanted the recipients to be criminal justice reform groups themselves.
For the most part, the FIRST STEP Act was not presented as some sort of victory over Trump. Indeed, very little about the summit was about Trump. As Jones noted from the start, both parties have played a role in ratcheting up the harshness of our justice system, and so there's nothing terribly special or different about having to convince Trump to support the bill. But when Jones was interviewing Kardashian, he expressed frustration with the challenges of trying to communicate directly with Trump, noting his obvious dislike of the man.
Kardashian's response, speaking for the prisoners she's trying to help get mercy, was simple: "They don't care who signs that clemency paper."
The crowd applauded.