Kansas City Health Officials Bleached Food Meant for the Homeless; Volunteers Came Back with More
How is bleaching food better than letting homeless people eat it?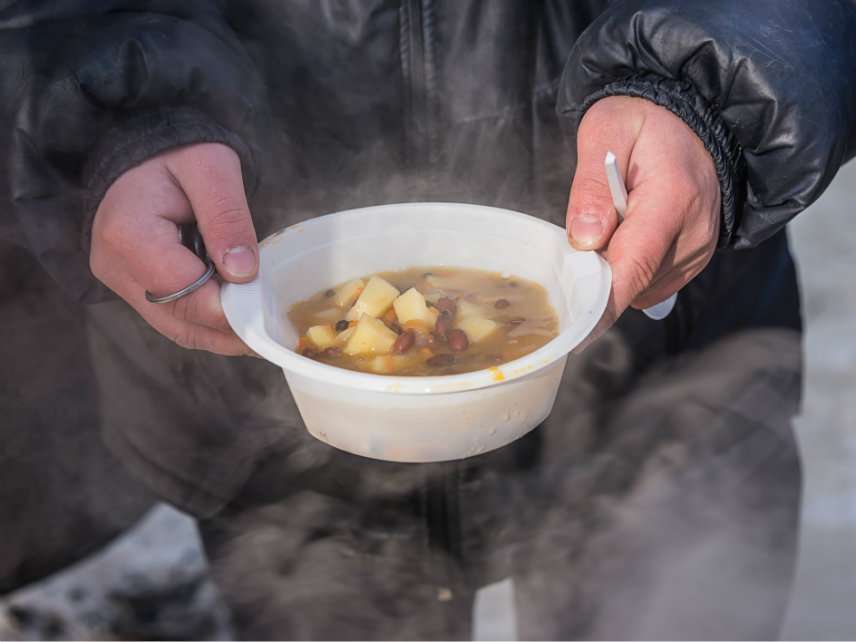 The Kansas City Health Department hasn't made it easy for Free Hot Soup. The group's volunteers showed up at four locations November 4 to serve food to the homeless. But city officials had been monitoring the group's social media posts, and they knew where to go to try to stop the sharing. The Kansas City Star reports that chili, sandwiches, and soup "were dumped in bags and soaked in bleach to make sure no one went back to try to recover it."
According to the health department and Mayor James Sly, the issue is food safety: Free Hot Soup doesn't have a permit to feed the homeless, so the city hasn't been able to check whether the food is safe to eat. Plus, the group allegedly didn't keep the food at the right temperature.
Obtaining the correct permit is free for groups that don't charge for food. But it's not that simple. According to the Star, Kansas City Director of Health Rex Archer
said the city can't allow food to be served publicly without affirming that the preparers are trained in safe food management, proper temperature controls and other defenses against contamination, and have an inspected kitchen.
Free Hot Soup's food comes from volunteers who choose to help out when they can, and there's no feasible way for the group to ensure that every kitchen where food might be prepared has been inspected.
The organization operates its events as potluck meals among friends, and thus argues it doesn't need a permit. "We don't have to have a permit to go have a birthday party in the park with our family and friends," one of the group's leaders, Rachelle Burnett, points out to WDAF. "Why would we have to have a permit to come here and have a picnic with our friends in the park?"
"It's our right of freedom of association and freedom of speech," says Amy Bell, an attorney helping the group. "And for many people here, it's a freedom of religion issue…that their religion dictates that they come and share their food and help the needy," she tells KSHB.
Over this past week, health department officials and Free Hot Soup volunteers met in an attempt to find a solution. It's unclear whether they came up with anything, though the volunteers weren't bothered yesterday when they resumed giving out food in at least three locations.
It wasn't a total win, though. Burnett tells KSHB that at her location, volunteers shifted away from hot meals in favor of less healthy prepackaged foods.
Kansas City is far from the only jurisdiction to infringe on people's right to feed the homeless. Reason has documented many such cases, including one in 2014 where two ministers and a 90-year-old activist were arrested for feeding Fort Lauderdale's homeless. In January 2017, Tampa police were caught on video arresting several members of Foods Not Bombs, a group that seeks to end both poverty and war. Their crime: serving hot meals without a permit.
In August, a federal court ruled that Food Not Bombs' weekly food-sharing events in Fort Lauderdale are constitutionally protected "expressive conduct" under the First Amendment. By organizing those events, wrote Judge Adalberto Jordan of the U.S. Court of Appeals for the 11th Circuit, the group was trying to make a political point: that money spent on war should be used to end poverty instead. That ruling was a win, but as lawyer and food policy expert Baylen Linnekin has explained in Reason, many cities across the country still have bans in place preventing people from feeding the homeless.
These bans, of course, are discriminatory and unconstitutional—and they're just bad policy, too. It's hard to imagine how more food for those stuck on the streets can be a bad thing. It's even harder to understand how bleaching food is better than letting homeless people eat it.
Correction: This post previously referred to St. Lauderdale rather than Fort Lauderdale.