This Sixth-Grader's Breast Cancer Awareness Shirt Clearly Isn't 'Offensive.' So Why Did the School Make Him Cover It Up?
Blake Coil is trying to support his grandmother's cancer battle. The school doesn't like that his shirt says "tata."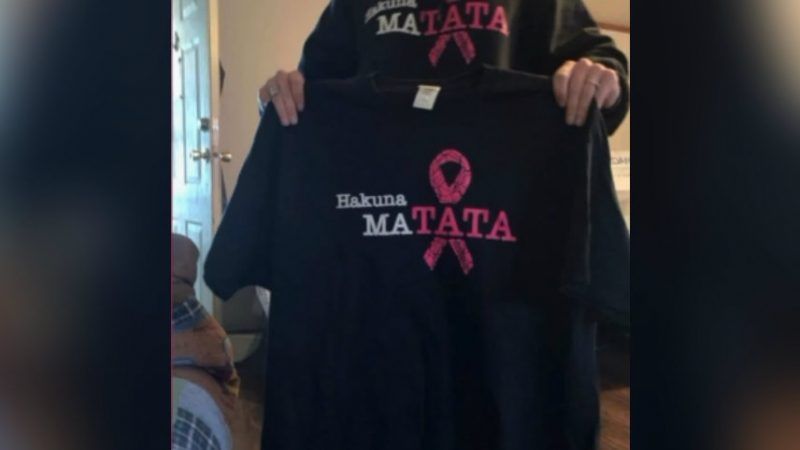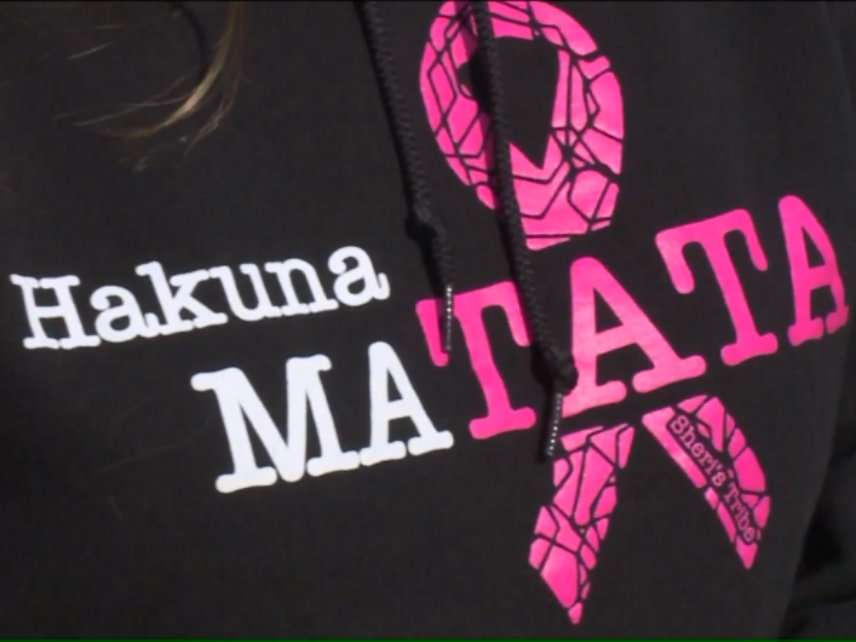 A 12-year-old elementary school student is doing his best to support his grandmother, who's currently fighting stage 3 breast cancer. But the school thinks his efforts are inappropriate.
Blake Coil is a sixth-grader at Roosevelt Elementary, a public school in Belleville, Illinois. Last week, he started wearing a "Hakuna Matata" sweatshirt to raise awareness for his grandmother's cancer battle. The phrase, which many people know as the title of a famous song in the 1994 animated film The Lion King, literally translates to "no worries" in Swahili.
But the school wasn't having it. The second day Blake wore the shirt, the principal approached him at lunchtime and asked him to lift up his jacket, says Blake's mom, Christie Coil. Principal Craig Hayes, who Coil says was alerted to the shirt by a school monitor, told Blake he had to cover the phrase up.
When Blake got home that day, he relayed what had happened to his mom, prompting her to call the school. Hayes told her something along the lines of "it was a little offensive for school because the tata is highlighted in pink," Coil tells Reason.
Coil wasn't happy. "So you made him zip it up so [Blake] didn't get to support his grandmother?" she says she asked Hayes. According to Coil, the principal told her he would take the issue up with the school board and the superintendent to see what they thought.
On Wednesday, Hayes called her back to say his position hadn't changed. He "told me that as much as they support Blake, they do not support him wearing the shirt to school because of the tata part," Coil says. "I asked for the reasoning in that, and he told me it was a slang word for breast."
A statement from Belleville Public Schools District # 118 noted that the district "does not discuss individual student matters."
"However, the District can state its policies promote conduct and attire that minimize disruptions and support a positive educational environment," the statement continued.
But Coil fails to see how the school's decision makes sense. She even searched the school handbook to see if Blake, who she describes as "always want[ing] to help somebody," was violating any rules. "It's not offensive, and it's not violent," she says, adding that the shirt is simply about raising awareness.
The school had no problem handing out breast cancer awareness bracelets over a two-year period back when the school secretary was fighting the disease, she notes. And Blake's sister, who's just 4 years old, "can wear it to her school," Coil adds.
In short, Blake is being punished because there's a slight possibility some elementary school students might make an immature joke or two. Coil says she hasn't let her son wear the shirt to school again, but that's going to change next week. "He's wearing it Monday," she says.
This post has been updated with a statement from the school district.