As His Final Move in Office, Jeff Sessions Limits Use of Court Settlements to Reform Rotten Police Departments
Sessions was a staunch critic of consent decrees that forced police departments to reform unconstitutional practices.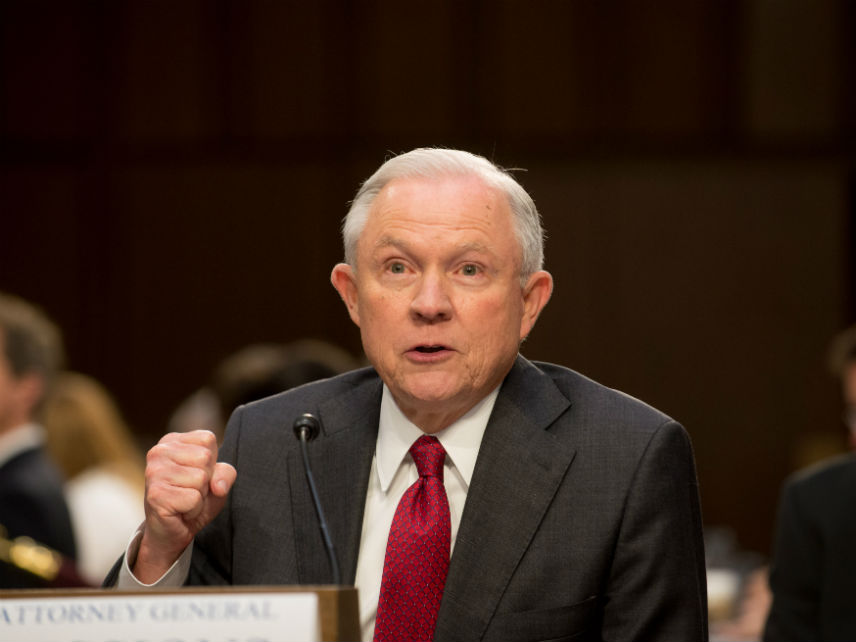 As one of his final moves in office before resigning Wednesday, outgoing Attorney General Jeff Sessions severely limited the Justice Department's ability to enter into court-enforced decrees to reform police departments that have shown a pattern of civil rights violations.
Sessions signed a memo, released by the Justice Department Thursday night, putting in place three new requirements for the department to enter into a so-called consent decree—a settlement between the Justice Department and a local government or agency, monitored for compliance by a judge, that stipulates how it will correct civil rights violations or other issues.
First, the memo orders all proposed consent decrees to be approved by political appointees, such as a deputy attorney general or associate attorney general. Second, proposed decrees must be accompanied by extensive memos justifying their use and cost. And third, all consent decrees must now have a sunset date. Previously, consent decrees were open-ended, terminating when the reforms were deemed completed.
The memo justifies the new rules by saying consent decrees can have a large financial costs for municipal governnments as well as raise federalism concerns.
In a statement, Vanita Gupta, an Obama-era head of the Justice Department's Civil Rights Division, called Sessions' memo "a slap in the face to the dedicated career staff of the department who work tirelessly to enforce our nation's civil rights laws."
"Jeff Sessions' parting act was another attack on the core mission of the Department of Justice," Gupta said. "The memo is designed to restrict consent decrees and creates a series of increasingly higher roadblocks to render them rare and ineffective."
Consent decrees were rarely used until the Obama administration, when the Justice Department launched a record 25 civil rights investigations into unconstitutional policing in such cities as Baltimore, Chicago, and Ferguson, Missouri.
Those investigations revealed systematic and widespread civil rights abuses by police, including excessive force, unconstitutional searches, and often overt racism. The Justice Department was enforcing 14 consent decrees when Obama left office.
Sessions was a staunch opponent of such court monitoring. He said he hadn't even read the Justice Department's scathing report on the Chicago Police Department. And in numerous public speeches, he complained that they tied the hands of police trying to clean up crime-ridden areas. He blamed the decline in police searches and stops for the sharp increase in murders and violent crime in some major cities, echoing conservative critics who dubbed the phenomenon the "Ferguson effect."
"One of the big things out there that's, I think, causing trouble, and where you see the greatest increase in violence and murders in cities is somehow, some way, we undermined the respect for our police and made, oftentimes, their job more difficult," Sessions said in his first speech after being sworn in as attorney general. "It's not been well-received by them, and we're not seeing the kind of effective, community-based, street-based policing that we found to be so effective in reducing crime."
Sessions almost immediately ordered a review of all ongoing consent decrees and attempted to scuttle those that had yet to be finalized, such as the one in Baltimore.
Sessions' animosity toward federal oversight of police departments ended up defining his tenure as attorney general, from his first day to his last.
In a statement, Kanya Bennett, senior legislative counsel with the American Civil Liberties Union, said Sessions "has all but eliminated oversight of local law enforcement for abusive policing practices."
"This memo ensures police departments can operate with impunity, and will not be held accountable for trampling on constitutional rights of the people they are meant to serve," she continued. "This is a legacy we cannot afford — least of all our Black and brown communities, subjected to police violence daily."