After the Midterms, Trumpism Is the Dominant Force in the GOP
The Trumpening of the Republican Party continues apace. What will principled conservatives do now that it's clear they have no home in the GOP?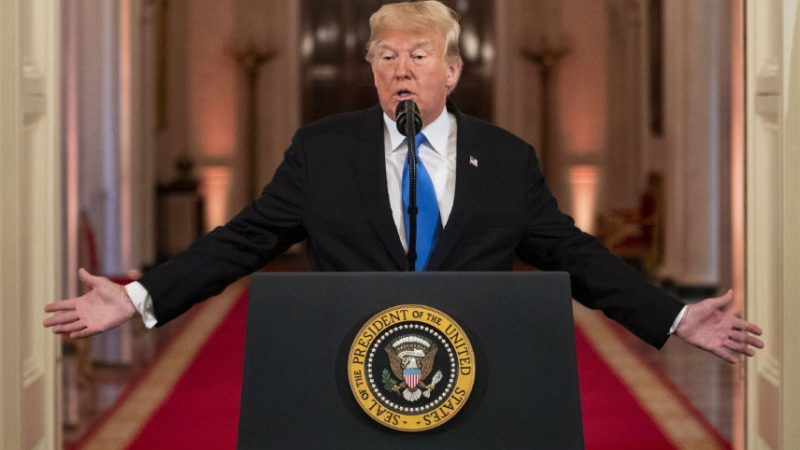 "Mia Love gave me no love. And she lost," President Donald Trump said Wednesday, delivering a stunning post-mortem of Republican electoral losses in the East Room of the White House.
"Too bad," he continued. "Sorry about that, Mia."
He didn't sound very sorry. But the only thing more stunning than hearing a sitting president dancing on the political grave of a member of his own party—something Trump did on several occasions during his 90-minute news conference Wednesday—was the fact that Rep. Mia Love (R–Utah) had not yet officially conceded her election when he tore into her for insufficiently embracing Trumpism. Indeed, by Wednesday night the race was still not called, though Love trailed Democratic challenger Ben McAdams by about 5,000 votes with 30 percent of precincts still outstanding.
The day after midterm elections lend themselves to sitting presidents delivering frank assessments of poor performances by their parties. George W. Bush described his party's losses in 2006 as " a thumpin'" and Barack Obama in 2010 said Democrats were handed a "shellacking." Trump's remarks shared his predecessors' candor but none of their humility. Instead, he rattled off a list of candidates who won after he'd campaigned on their behalf, then mocked some of his fellow Republicans who "didn't want the embrace" from him so close to the election.
"I'm not sure if I should be happy or sad," Trump said of the losses suffered by Republican candidates who distanced themselves from his unpopular presidency. "I think I feel just fine about it."
That's insane—no president has ever benefited from watching the other party take control of Congress. But it reveals once again that Trump really feels no allegiance to the Republican Party, its voters, or its candidates. In the party of Trump, loyalty is a one-way street. And in the aftermath of Tuesday's midterm elections, the Republican Party is increasingly exclusively the party of Trump.
In an election where literally hundreds of Republicans were elected to Congress, it is of course not true that those who showed the greatest fealty to Trump were always victorious while those who shunned him were always defeated. There will be plenty of both groups present when the 116th Congress begins in January.
Still, Trump's broad assessment of the GOP's performance on Tuesday has more than merely a ring of truth to it—something that's been widely acknowledged in the days after the election by commentators and analysts like The Federalist's Ben Domenech, The Washington Examiner's David Drucker, and The Atlantic's McKay Coppins, among others. The specifics of their arguments differ, but the central thesis is the same. The Republican Party is now "decidedly more Trumpian," writes Domenech, "having seen the elimination of its most moderate and Trump-critical members, and the support of those who embraced Trump emphatically on the campaign trail and in policy preferences."
The effect may be more pronounced in the Senate, due mostly to the simple fact that the Republicans no longer control the agenda in the House (where the GOP conference was already more pro-Trump even before the election). Several GOP senators who were at times thorns in Trump's side are now gone. That includes the late John McCain (R–Ariz.), of course, but also Jeff Flake (R–Ariz.) and Bob Corker (R–Tenn.), both of whom are retiring. Marsha Blackburn, who was elected Tuesday to replace Corker, made Trump's endorsement a centerpiece of her campaign—a fitting analogy for the transformation of the GOP on the national stage.
Beyond the specifics of who comprises the Senate Republican conference, Tuesday's outcome also boosts Trump by widening the Senate's Republican majority. With a 54-seat majority (which seems the most likely outcome, though a few races remain undecided), the moderates that remain will have less power to bend the chamber's will. Senators like Susan Collins (R–Maine) or Ben Sasse (R–Neb.) will have fewer opportunities to fill the swing-vote role that McCain did on the Obamacare repeal or Flake did on Kavanaugh's confirmation.
That means that the only obviously Trump-skeptical Republican to win a statewide race on Tuesday—the newly elected senator-to-be from Utah, Mitt Romney—may not have much leverage either. Trump is despised in Utah, so selectively opposing the president's agenda should not carry a high political price for Romney, but he also doesn't seem like the likely leader of a Senate GOP opposition movement.
When I went back and re-watched Trump's press conference, I was struck by how deliberate the president's shots at other Republicans were. The "sorry, Mia" might have been typical Trumpian ad-libbing, but the rest was decidedly not. Trump was reading from a card most of the time, including the moment when he helpfully laid out exactly what it means to "embrace" Trumpism. This was not Trump talking off the cuff. The White House was deliberately conveying a specific message to Republicans: Trump is now the center of conservatism.
It's telling that one of the strongest rebukes of Trump's comments about Love and other Republicans who lost on Tuesday came from Rep. Ryan Costello (R–Penn.), who said on Twitter that he was "disgusted" by the performance.
To deal w harassment & filth spewed at GOP MOC's in tough seats every day for 2 yrs, bc of POTUS; to bite ur lip more times you'd care to; to disagree & separate from POTUS on principle & civility in ur campaign; to lose bc of POTUS & have him piss on u. Angers me to my core.

— Ryan Costello (@RyanCostello) November 7, 2018
During an appearance on CNN later in the day, Costello stood by his tweet and clarified that he believed many moderate Republicans had made the right choice to distance themselves from Trump, who is deeply unpopular in some parts of the country. The president's unpopularity, Costello said, was a deciding factor in some of the races Republicans could have won but lost instead.
Trump may not care much. Like so many other non-Trumpist Republicans, Costello is leaving Congress at the end of the year. He didn't seek re-election.