Scott Walker's Foxconn Boondoggle Is Now Subsidizing Imported Chinese Workers
Looks like Scott Walker got Foxconned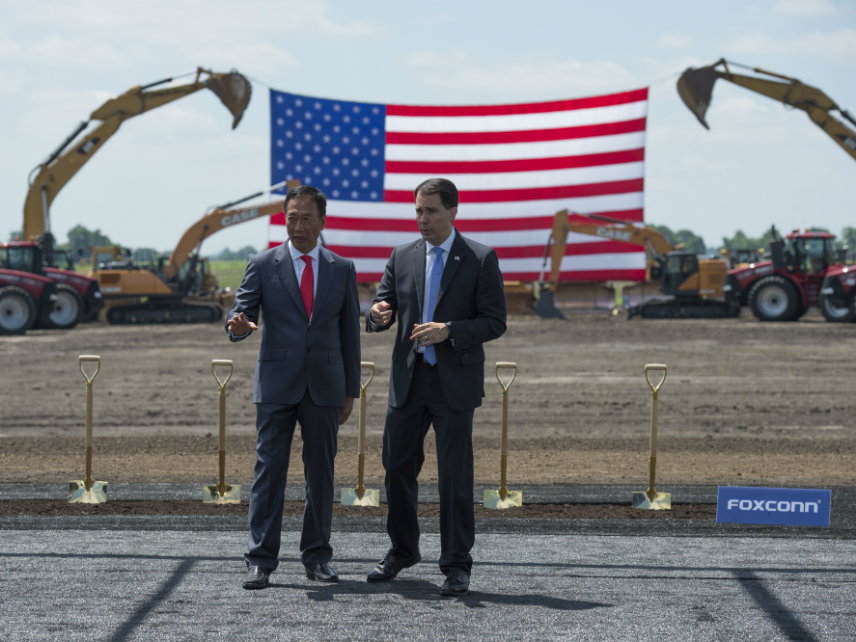 It's almost like spending billions of dollars to get a single employer to locate in your state might not be a great idea.
Wisconsin Gov. Scott Walker pledged more than $3 billion in state tax incentives to lure Taiwanese manufacturing giant Foxconn to the Milwaukee suburbs (local governments pitched in with $764 million in additional subsidies), but, as The Wall Street Journal reports today, Foxconn is now considering bringing in Chinese workers to fill jobs at the plant. Foxconn is struggling to find engineers and other skilled employees, a problem that's been exacerbated by America's tight labor market and Wisconsin's 3 percent unemployment rate, which is 7/10ths lower than the national rate.
In order to qualify for state and local tax incentives, Foxconn must hit certain hiring goals over the coming years—goals that it may not be able to achieve without bringing in workers from elsewhere. That's not all bad for Wisconsin workers. As the Journal reports, local companies are boosting pay and benefits in an effort to "avoid having Foxconn poach their workers."
But it's the latest sign that the Foxconn deal may not have been the economic windfall that Walker and others—including President Donald Trump, who praised the economic development package when it was announced—might have hoped. If a significant number of the 13,000 jobs Foxconn promised to create are not going to Wisconsin workers, Wisconsin taxpayers might have more reason to wonder why they're on the hook for footing the company's bill.
Many are already wondering exactly that, and it could cost Walker his job in today's election. A September poll by Marquette University found that only 39 percent of Wisconsinites believed the Foxconn deal was worth it. Tony Evers, the state superintendent of public education and Walker's Democratic opponent in the gubernatorial election, has called the Foxconn subsidies a "lousy deal" that seems to contain "asterisk after asterisk."
The numbers alone are staggering. While many states provide handouts in the form of economic development subsidies and tax breaks to lure companies to certain locations, the Foxconn deal is the largest such subsidy in Wisconsin history. Even if all 13,000 promised jobs went to Wisconsinites, the tab would be more than $230,000 per job created.
Another lousy part of the deal is the fact that eminent domain will be used to remove residents of Mt. Pleasant, Wisconsin, where the new facility is to be built. As Reason has previously reported, Foxconn will receive more than 1,000 acres of land for free, the logic being that the subsequent increase in land value will pay for itself eventually in the form of higher property taxes.
Today's news that Foxconn will likely import workers from China to fill jobs at the Wisconsin plant should be another warning sign to politicians who go all-in to land a major employer in their town, city, or state. Once the deal is inked and the taxpayers are holding the bag, plans can (and do) change for reasons that may not have been anticipated or included in the original arrangement. Wisconsin would be better off with lower tax rates for everyone, instead of subsidizing a giant employer. I'm sure the cities vying to host the second Amazon headquarters are paying attention, right?