Party-Switching N.H. State Rep. Brandon Phinney Gets Slaughtered as a Libertarian
"Voters care more about party than literally anything else."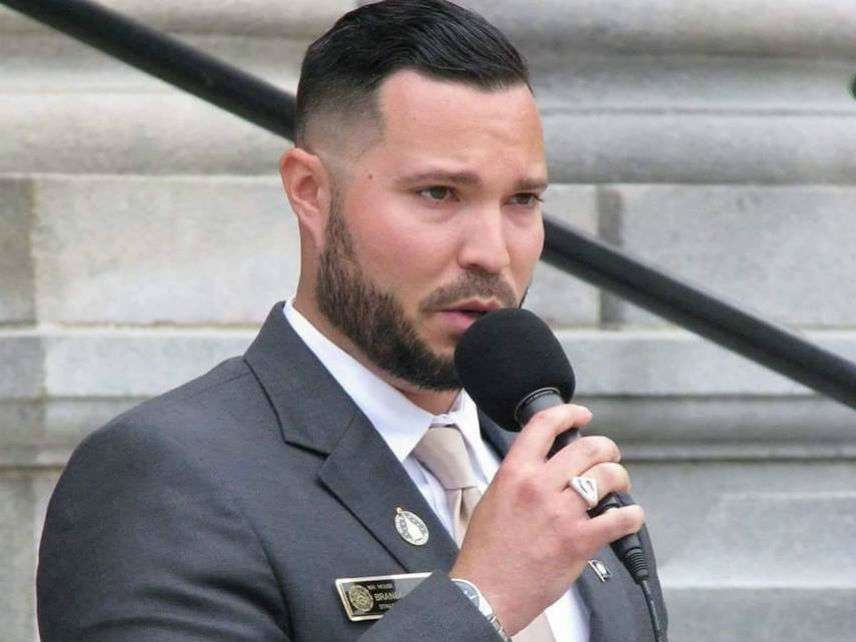 Until tonight, Brandon Phinney was a model for one genre of elected Libertarian: The party-switcher.
The New Hampshire state representative, elected to the 400-member body in 2016 as a Republican, switched to Libertarian in June 2017 after watching the machinery of allegedly small-government Republicanism up close. "I saw how they wanted to spend all of our money," he recalled to me in an interview this summer, "and that immediately set off every red flag imaginable." He targeted archaic laws to be stricken from the books, helped effectively legalize visiting bands drinking beer on stage, and prepped for his first election wearing the "L" right there on his sweater.
With a win tonight, Phinney could demonstrate that the most libertarian among Republicans can safely switch to the more ideologically sympatico smaller party, and still protect a seat. Other major-party politicians, surely, would take note in these polarizing times.
Phinney did not win. He got trounced.
"After two years of voting to protect personal freedom, control spending, provide transparency and after two years of proposing legislation to do the same (with two bills as a prime sponsor signed into law)," Phinney wrote on his Facebook page, "my district rewarded me with 377 votes." It got more bitter from there:
As the incumbent State Representative who is capable of thinking for himself, isn't a brainless pawn for a political party and works very hard for all NH residents, this election sent me the message that they do not want that kind of representation.

The Democratic candidate, who barely campaigned, received 1,548 votes. The Republican, who did NOTHING but put out yard signs, received 1,720 votes.

I received 377 votes.
In another post, Phinney complained that "voters care more about party than literally anything else and that's the biggest problem in this country. The Republican victor is going to be just another pawn for the party, going along with whatever they say."
We're still waiting to hear on Phinney's fellow N.H. state-rep party-switcher Caleb Dyer. Stay tuned to this space for news of Nebraska State Sen. Laura Ebke.