Florida Approves Ballot Amendment to Restore Voting Rights of 1.4 Million People With Felony Records
Amendment 4 will reverse Florida's more than 100-year-old law disenfranchising felons, a vestige of the state's racist "Black Codes."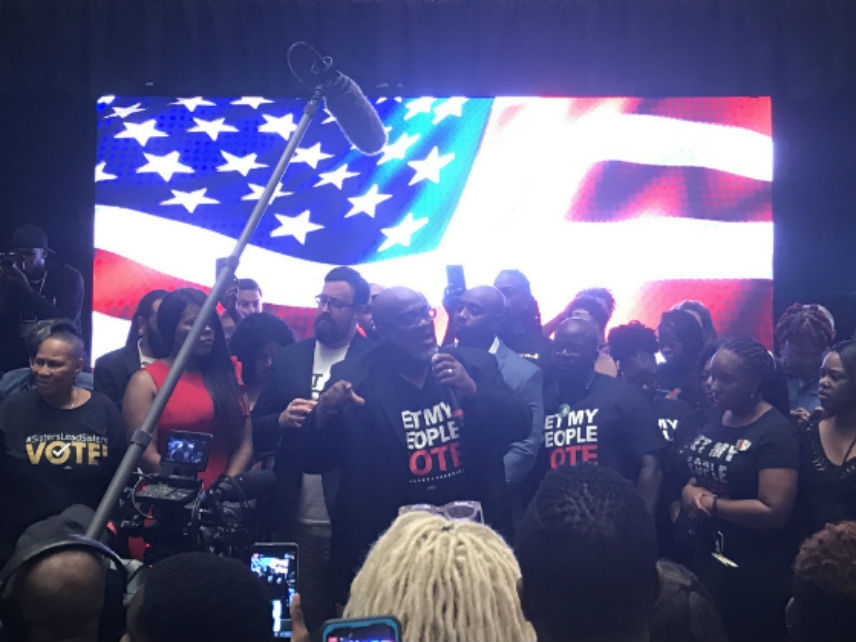 ORLANDO, Fla. — Florida voters approved a ballot measure Tuesday night that will restore voting rights to an estimated 1.4 million people with felony records in the critical swing state.
Amendment 4 passed by 64 percent and would re-enfranchise all felons in the state, save those convicted of murder or sex offenses. The amendment was supported by progressive groups, civil liberty organizations, conservative groups aligned with the Koch brothers, and a bevy of celebrities. It also received a groundswell of grassroots support from ex-offenders and their families, who say those who paid their debt to society should be returned to full citizenship.
"We have returned!" Desmond Meade, president of Florida Rights Restoration Coalition, told a room of overjoyed supporters, some of them teary-eyed, at an election night watch party in Orlando. Drake's "Started From The Bottom" blared over the sound system.
"This was a campaign about inclusion," Meade continued. "Those numbers represented what happens when we come together along the lines of humanity and reach each other where we're at. That's what happens when we're able to transcend partisan politics and bickering, when we're able to transence racial anxieties and discourse, when we're able to come together as God's children."
Florida was one of four states that impose lifetime bans on voting for people with felony records. The two remaining states are Iowa and Kentucky. Virginia has a similar provision, but the last two governors have used their executive powers to restore voting rights of those affected.
Thirty-three states have various laws disenfranchising felony offenders and those under law enforcement supervision, impacting an estimated 6.1 million potential voters, according to a 2016 Sentencing Project report.
Former offenders in Florida could petition the governor for clemency to have their voting rights restored, but in 2011 then-governor Rick Scott, who is running for the U.S. Senate this year, rewrote the rules, making Florida the toughest state in the U.S. for felons to regain their voting rights.
"Ultimately, we are citizens, we are in the community, we do want to have a say—I know I do—and this is a great way to have that opportunity," says Bryan Russi, 42, of Orlando, an ex-felon and current real estate agent. "It's not Republican or Democrat, it's a human thing. Everyone has people who have been affected."
Kim Lawrance, an activist whose 18-year-old daughter is currently incarcerated, would like to see her child be able to vote one day. "They should be able to come home and get reintegrated into society," Lawrance says. "When your time is done, it's done."
One estimate says that 10 percent of all Floridians who are otherwise eligible to vote have been disenfranchised by the law.
Felon disenfranchisement also disproportionately affects black residents. One out of every 13 African-Americans in the U.S. has lost their voting rights due to felony disenfranchisement laws, compared to one in every 56 non-black voters, the Sentencing Project report said.
Florida's felony disenfranchisement laws were, like those in many other states, a vestige of the its racist 19th century "Black Codes," which attempted to systematically criminalize freed slaves following the Civil War, and then bar them from voting.
In a statement, ACLU of Florida Executive Director Howard Simon celebrated what he called "one of the largest expansions of the franchise in our nation's history" but warned that the fight was not over.
Shortly after Amendment 4 passed, Trump-aligned Republican Ron DeSantis narrowly defeated progressive Democrat Andrew Gillum in the race for Florida governor.
"The constitutional amendment the voters have now approved is not the end of this saga; it is more like the end of the beginning," Simon said. "In the days and weeks ahead we will seek to work with newly elected Governor to ensure that Amendment 4 is implemented as intended by the Floridians who placed it on the ballot and voted to approve it—without delay and without imposing more burdens on the process to register to vote."