Libertarians Could Impact as Many as 9 Governor's Races
Wisconsin, Georgia, and even Alaska are among the 8 states where Libertarian candidates are polling more than the margin between Republicans and Democrats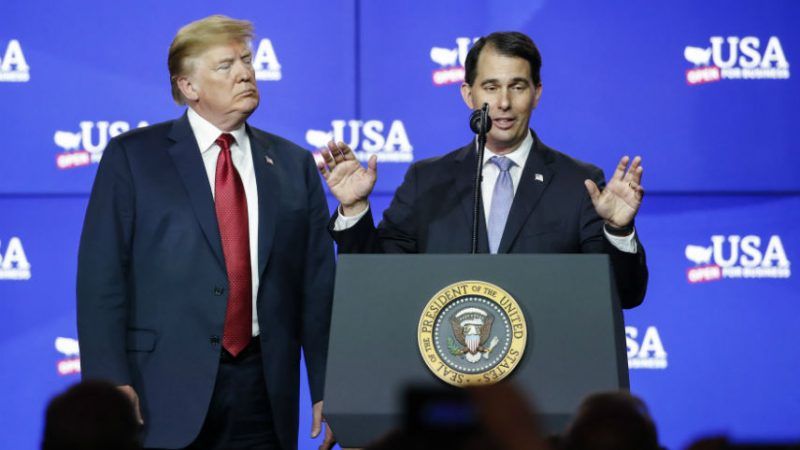 When it comes to gubernatorial races tonight, as my colleague Eric Boehm wrote here last week, "the results in Georgia and Wisconsin are likely to drive the narrative on Wednesday morning." You've got the once-presidentialesque career of Scott Walker hanging in the balance up north, and "a potentially history-making candidate in a state that's crucial to the [Democratic Party's] hopes of cracking the Republican stronghold in the Deep South."
And in both states, Libertarian candidates stand ready and willing to take the blame as "spoilers." In Georgia, as I wrote here two weeks ago, Ted Metz with his 2 percent polling numbers looks poised to drive the toss-up race between Republican Secretary of State Brian Kemp and Democratic legislator Stacey Abrams into a runoff, as the Peach State requires a full majority for electoral victory. The headline matchup has stoked understandable amounts of national attention: Kemp has been serially accused of voter suppression and related skullduggeries; Abrams would be the first black female governor in U.S. history.
In Wisconsin, as discussed here three weeks ago, Libertarian Phil Anderson wants to eliminate the income tax, remove state mandates and regulations on localities, and renegotiate Walker's FoxConn crony capitalism boondoggle. He's been polling around 4 percent, in a race rated by six of eight forecasters as a toss-up.
And yet neither Anderson nor Metz hold the crown of the Libertarian polling highest above the point spread in the headline Democrat-Republican race. That distinction belongs to Nevada's Jared Lord, who has been averaging above 4 percent in a neck-and-neck race between GOP comer Adam Laxalt and Democratic Clark County Commissioner Steve Sisolak. Republican direct mail king Richard Viguerie—a critic of alleged Libertarian electoral spoilage—called this one of today's "Two Most Important State Races for Conservatives," arguing that "Adam Paul Laxalt is the only thing standing between the America we had, and the America that George Soros, Tom Steyer, Barack Obama and Eric Holder want to create."
Similar to my exercise with Libertarian Senate candidates earlier today, here's a list of gubernatorial candidates ranked by the relationship between their poll numbers and the spread between the top two candidates. There are other so-called "spoilers" running for the statehouse tonight—most notably independent Greg Orman in the bitterly contested Kansas race—but these are the ones wearing gold. And of course, no single candidate or political party is entitled to the votes of anyone, let alone those of us who prefer a more competitive politics.
1) Jared Lord, Nevada, +3.8 points
D Steve Sisolak 41.8%, R Adam Laxalt 41.4%, L Lord 4.2% (5 polls), I Ryan Bundy 3%, IA Russell Best 1.5% (2 polls)
Last poll: Sisolak 46%, Laxalt 45%, Lord 2%, none of the above (an option in Nevada) 5%, undecided 2% (Oct. 24-29 CNN/SSRC, which two months prior had the percentages 45-41-5-7-1).
Forecast: 6/8 Toss-up on Wikipedia's page of collated election prognosticators, 1 Lean D, 1 Tilt D. FiveThirtyEight has it a toss-up, and projects the narrowest of Sisolak wins, 49%-48.7%, with 2.5% other. Election Betting Odds: Sisolak 54.9%.
2) Wisconsin, +2.4
D Tony Evers 47.3%, R Scott Walker (Incumbent) 45.5%, Anderson 4.2% (6 polls), G Michael White 1% (2 polls)
Last poll: Evers 47%, Walker 47%, Anderson 3%, undecided 0% (Oct. 24-28, Marquette University, which three weeks prior had the percentages at 49-44-6-1).
Forecast: 6/8 Toss-up, 2 Lean D. FiveThirtyEight says toss-up, but also projects Evers up 49.2%-47.5%, with 3.3% other. Election Betting Odds: Evers 58.3%.
3) Travis Irvine, Ohio, +2
D Richard Cordray 42.8%, R Mike DeWine 41.2%, Irvine 3.6%, G Constance Gadell-Newton 1.8% (5 polls)
Last poll: Cordray 48%, DeWine 45%, Irvine 5%, Gadell-Newton 1% (Change Research, Nov. 2-4).
Forecast: 7/8 Toss-up, 1 Lean D. FiveThirtyEight is one of the tosser-uppers, but projects a Cordray win at 49.8%-48.3%, with 2% other. Election Betting Odds: Cordray 67%.
Note: If Irvine gets 3 percent tonight, the Libertarian Party, which has spent six-figure sums fighting Ohio's draconian ballot access laws, would have automatic ballot status for the 2020 presidential election.
4) Billy Toien, Alaska, +2
R Mike Dunleavy 43%, D Mark Begich 42%, Toien 3% (1 poll)
Forecast: 5/8 Lean R, 2 Toss-up, 1 Tilt R. FiveThirtyEight projects a GOP win, 50.8%-46.8%, with 2.4% other. Election Betting Odds: Dunleavy 71%.
This is one of the wildest races going tonight. Alaska's incumbent governor, Bill Welker, is an independent, and an unpopular one at that. He was vying for second place in the polls with Democrat Mark Begich, 20 points behind frontrunner Republican Mike Dunleavy, when he abruptly exited the race Oct. 19 and endorsed Begich. There has only been one poll taken since that news, and you can see it above. Wheeeee!!!
5) Jake Porter, Iowa, +1.7
D Fred Hubbell 46%, R Kim Reynolds 43.7% (I), Porter 4% (3 polls), I Gary Siegwarth 1% (1 poll)
Last poll: Hubbell 49%, 46%, Porter 3%, Seigwarth 1% (Nov. 2-4, Change Research).
Forecast: 6/8 Toss-up, 1 Lean D, 1 Tilt D. FiveThirtyEight rates it a toss-up, but projects a narrow Hubbell victory, 49.7%-48.6%, with 1.7% other. Election Betting Odds: Hubbell 67.3%.
Note: Just 2 percent from Porter gets the L.P. ballot access in Iowa for 2020.
R Brian Kemp 47.3%, D Stacey Abrams 46.3%, Metz 2% (8 polls)
Last poll: Kemp 49%, Abrams 47%, Metz 1%, undecided 2% (Oct. 29-31, Emerson College).
Forecast: 6/8 Toss-up, 1 Lean R, 1 Tilt R. FiveThirtyEight projects it outright for Kemp, 50.5%-48.3%-1.1%. Election Betting Odds agrees: Kemp 65.2%.
7) Jeff Caldwell, Kansas, +1ish?
D Laura Kelly 40.5%, R Kris Kobach 39.5%, I Greg Orman 9% (4 polls), Caldwell n/a, I Rick Kloos n/a.
Forecast: 7/8 Toss-up, 1 Lean D. FiveThirtyEight says toss-up, but projects Kobach a tick up at 44.9%-43.6%-9.8%, with 1.6% other. Election Betting Odds: Kobach 54.5%.
Kobach, arguably the country's most prominent hunter of ever-illusive illegal-immigrant voter fraud, is high on the wish-list of Democratic targets. Orman, an entrepreneur who earned 43 percent running as an independent for the U.S. Senate in 2014, is a "sensible centrist"-style candidate, and is polling far ahead of any Libertarian gubernatorial candidate. Democrats will surely eviscerate him should the hated Kobach sneak through.
Libertarian Jeff Caldwell has not been polled, but Keen Umbehr won 4.1 percent running for this seat in 2014.
8) Kurt Evans, South Dakota, +0.3
D Billie Sutton 46.7%, R Kristi Noem 45.7%, L Kurt Evans 1.3% (3 polls)
Last poll: Sutton 51%, Noem 45%, Evans 2% (Nov. 2-4, Change Research).
Forecast: 3/8 Lean R & Toss-up, 1 Tilt R, 1 Likely R. FiveThirtyEight projects 50.5%-48%-1.5%.
9) Chris Powell, Oklahoma, -0.1
R Kevin Stitt 46.7%, D Drew Edmondson 43.3%, L Chris Powell 3.3% (3 polls)
Last poll: Stitt 47%, Edmondson 44%, Powell 3%, undecided 6% (Oct. 31-Nov. 3, Sooner Poll, basically the same as its two prior polls).
Forecast: 7/8 Safe R, 1 Likely R. FiveThirtyEight projects 52.9%-45.7%-1.4%.
There are plenty of interesting races among the remaining 13 Libertarian gubernatorial candidates, not least of which is New York nominee Larry Sharpe, about whom we'll be reporting later. But. with the important caveat that polling has been meager, the rest of the field has not been within four percentage points of the polling spread between Democrats and Republicans.