Virginia Cop Charged in Shooting That Got Him Named Officer of the Month
It's not a cut-and-dried case. But the officer's life doesn't appear to be have been in any danger.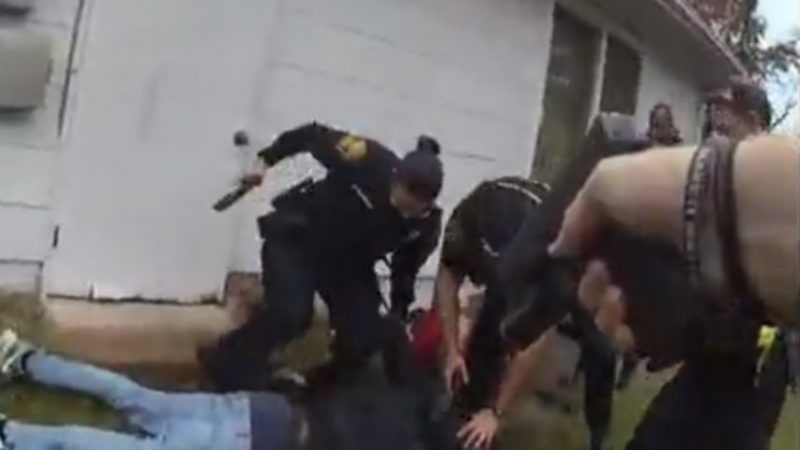 When a Virginia cop shot a fleeing burglar in October 2017, he was named officer of the month and received a medal of valor. Now the same incident has him facing criminal charges.
Officer Jeremy Durocher of Portsmouth was charged Thursday with "aggravated malicious wounding" and "use of firearm in commission of felony," according to a grand jury indictment. Durocher allegedly intended to "maim, disfigure, disable, or kill" the defendant, 19-year-old Deontrace Ward. Durocher's actions caused Ward "to be severely injured and to suffer permanent and significant physical impairment," the indictment says.
Body camera footage of the October 29 incident shows Durocher running after Ward, a burglary suspect:
Durocher, who had been sworn in as an officer roughly six months prior, yells "Get on the ground" and then fires two shots before Ward jumps over a fence. "He has a gun! He has a gun!" Durocher shouts. He eventually has a clear line of sight and shoots again. This time, Ward drops to the ground. "Stay down," Durocher says. As other officers surround Ward, Durocher warns them that the suspect is armed.
"He's got a gun in his waistband," Durocher tells two officer who are down on the ground with Ward. "I got you, I already see it," one of the officers responds, before telling Ward: "You reach for that, I swear to God you will regret it."
Near the end of the video, Durocher says: "He came out the window, had a gun pointed at me."
Police did find a handgun inside the bottom of one of Ward's pant legs, The Virginian-Pilot reports. He originally faced charges of assaulting a cop and "brandishing a firearm," according to WAVY. But under the terms of a plea agreement, those charges were dropped. Ward pleaded guilty to several other charges, including armed burglary and grand larceny. He was given a 31-year prison sentence, though 25 of those years have been suspended.
Durocher, meanwhile, was honored at least twice for his actions. "His efforts have been recognized by his chain of command, as well as executive command staff," says a December message from Capt. Rich Springer congratulating Durocher on being named officer of the month.
Chief Tonya Chapman has also praised Durocher. "In recognition for your heroic response," she writes in his medal of valor commendation, "you took necessary steps to stop the threat that this suspect posed to the public and to your fellow officers at great personal risk."
Durocher was put on administrative duty after the shooting, though it's unclear if the department plans to keep him on in the wake of his indictment. Duurocher turned himself in after being charged but was soon released on bond.
So how did Durocher go from being a hero to facing criminal charges? Portsmouth Commonwealth Attorney Stephanie Morales tells WAVY the change came following "a Virginia State Police investigation and a supplemental investigation performed by our office's investigator."
Via his defense attorney, Durocher maintains that he did nothing wrong. The Portsmouth Fraternal Order of Police agrees. But a lawyer for Ward, who's currently serving his sentence, says he plans to file a lawsuit.
To be clear, this is not a cut-and-dried case. Ward was an armed criminal. But he was also running away, and it doesn't appear as though Durocher's life was in any danger. It remains to be seen how that will play out in court.
But the entire ordeal shows the danger of encouraging officers to use potentially deadly force when their lives aren't in danger. As Chicago Tribune columnist Steve Chapman has written, "American cops have a pattern of erring on the side of using deadly force, because they generally are trained to do so and rarely incur punishment for it." Some are even rewarded for it.