10 House Races Libertarians Should Watch on Election Night
Democrats are expected to take the House majority, but will libertarian-friendly Republicans like Thomas Massie and Justin Amash keep their seats?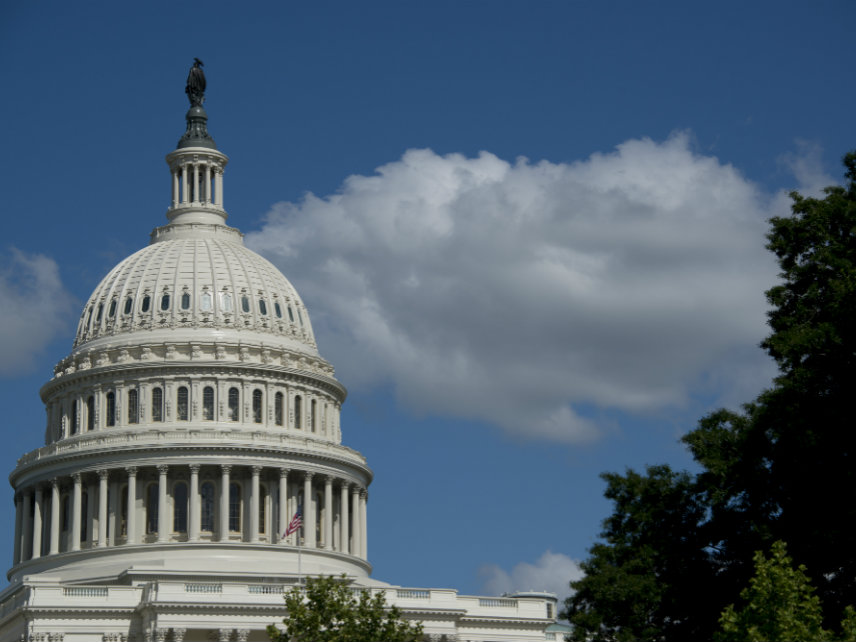 With all 435 seats in the House up for election on Tuesday night, it's far easier to get interested in the aggregate result: Will Republicans hold their majority or will they lose it to the Democrats?
The second outcome seems most likely, with Nate Silver's FiveThirtyEight now projecting that Democrats have an 84 percent chance of emerging from Tuesday with a House majority. Polling aggregator Real Clear Politics also sees Dems with a clear advantage, but a smaller one; it lists three dozen races as "toss-ups" heading into the final 48 hours of the campaign.
Below, we've picked out 10 races that might be particularly interesting to libertarians—either because of who is running or because of specific dynamics at play in the race. And, sure, it helps if the outcome of the race remains in doubt.
Don't forget to check out Reason's coverage of key Senate races and the nation's most important gubernatorial contests too.
Colorado 6th

Incumbent: Rep. Mike Coffman (R)
Cook Partisan Voter Index (CPVI) Rating: D+2
Why It Matters: Republican incumbent Rep. Mike Coffman is likely to be unseated, with polls showing the race leaning toward his Democratic challenger, Jason Crow—and in a district that's already slightly favorable to Democrats, according to the CPVI, which is based on how the district has voted in the past two presidential elections relative to the nation as a whole. This is also one of the most expensive congressional races in the country, with more than $22 million spent by the candidates and outside groups combined.
Libertarian candidate Kat Martin has broken from mainstream talking points to defend less government in all aspects of life. While several of Martin's views include national politics, she has also supported the passage of Colorado's Amendment A. The amendment seeks to change wording in the state constitution to abolish involuntary servitude without pay or compensation as a punishment for crime. An identical amendment was passed unanimously in the state legislature in 2016, but failed in the general election. Supporters of the previous amendment believe that it failed because of confusing language.
Kentucky 4th
Incumbent: Rep. Thomas Massie (R)
CPVI Rating: R+18
Why It Matters: One of the most libertarian-friendly members of Congress, Massie is expected to be on his way to a fourth full term representing this northern Kentucky district. His opponent is Seth Hall, an attorney who won a three-way primary earlier this year.
Even if a Democratic "blue wave" materializes, Massie appears to be on dry land. Both Real Clear Politics and FiveThirtyEight rate the district as safely Republican. The more interesting thing to keep an eye on here may be Massie's margins. He got 62 percent of the vote in 2012, followed by 67 percent in 2014 and 71 percent in 2016.
Iowa 3rd
Incumbent: David Young (R)**
**
CPVI Rating: R+1
Why It Matters: Actually, all four of Iowa's congressional districts are rated as some of the most important in the country. Thanks to the state's politically balanced population, its reputation for having an independent streak, and a redistricting scheme that actually sorta works, three of of Iowa's districts are rated between D+1 and R+1 on the Cook Partisan Voting Index. The fourth is also a close race this year (despite being an R+11 district), because incumbent Rep. Steve King (R) has drawn widespread criticism—including from Sen. Jeff Flake (R-Ariz.), who says he is "rooting for" King's Democratic opponent, J.D. Scholten—for supporting white nationalist candidates in recent Canadian and European elections. **
**
Still, the 3rd District might be the most important bellwether in the state. It's one of the most purple districts in the whole country, but it hasn't turned into a Democratic runaway even as other narrowly Republican districts have. Democrat Cindy Axne, a small business owner, leads by less than 2 points in several late-October polls. She has earned some attention for eschewing the #MeToo narrative as part of her campaign, despite having survived an attempted rape while in college. Trump's tariffs are particularly unpopular in Iowa, potentially an anchor on Young's re-election chances.
Given the balanced population and the close polls, the 3rd District also provides an opportunity for Libertarian Bryan Holder to cover the spread. Unfortunately, pollsters have not seen fit to include him in their surveys.
Michigan 3rd
Incumbent: Rep. Justin Amash (R)
CPVI Rating: R+6
Why It Matters: While many Republicans have used Trumpian language to message to voters in the upcoming election, the libertarian-leaning incumbent, Justin Amash, has spent the better part of the Trump presidency tweeting his unadulterated critiques of the administration. Most recently, Amash decried the president's desire to end birthright citizenship via executive order, saying that Trump could not amend the Constitution so easily. Both Amash's outspokenness and his Arab-American identity have led to scraps with Trump Republicans.
Prior to the 2016 election, Amash was a less polarizing figure in the GOP. Amash is a member of the House Freedom Caucus, which has roots in the Tea Party movement. The House Freedom Caucus has also been criticized in a post-Trump GOP after opposing the equally problematic "Ryancare" bill. After Trump relentlessly attacked fellow Freedom Caucus member Mark Sanford of South Carolina, he lost his primary.
New York 14th
Incumbent: None (Rep. Joe Crowley, a Democrat, was defeated in the primary)
CPVI Rating: D+29
Why It Matters: Democrats experienced a shocking upset when Alexandria Ocasio-Cortez, who self-identifies as a democratic socialist, beat 10-year-incumbent Rep. Joe Crowley in the Democratic primary. The 28-year-old's win was considered the Democrats' "Eric Cantor moment," as Crowley was widely predicted to succeed House Minority Leader Nancy Pelosi. Following Ocasio-Cortez's win, other Democratic primaries were watched closely for similar upsets.
Ocasio-Cortez, who was previously a organizer for Bernie Sanders' 2016 presidential campaign, quickly became an icon for democratic socialists across America. Despite her success, many other high-profile candidates backed by Ocasio-Cortez and Sanders were not as successful in their races.
Ocasio-Cortez is very likely to win the general election. It will be interesting to see how establishment Democrats deal with being on the political outside.
North Carolina 9th
Incumbent: None (Rep. Robert Pittenger, a Republican, was defeated in the primary)
CPVI Rating: R+7
Why It Matters: One of four toss-up races in a critical swing state, this newly redrawn district—North Carolina had to reconfigure its congressional districts this year after federal courts decided the previous map was unfairly gerrymandered—is exactly the type of mixed rural/suburban place that Democrats will have to win to take the House.
Mark Harris, a former pastor, upset Pittenger in the Republican primary. He's a hardcore cultural conservative who has preached that women should be subservient to their husbands and should shy away from careers. He's also opposed to gay marriage. Democrat Dan McCready, a former Marine, has promised to vote against Nancy Pelosi for House Speaker and has stressed his military service and religious beliefs, positions that make strategic sense running against an extreme opponent in a moderately conservative district.
Three October polls by two different pollsters found everything from a five-point Harris lead to a four-point McCready lead. No one knows how this race will go, but it's safe to say that Libertarian candidate Jeff Scott had the best tweet of the campaign:
In my US House race, General Stanley McChrystal has endorsed the Democrat. And James Taylor is coming to town to do a private fundraiser for him. I heard a rumor they're going to sing a duet of "You've got a Drone". #NoAntiwarDemocratsLeft #LP18

— Jeff Scott Candidate for Congress, NC9 (@Kleptosclerosis) October 26, 2018
Pennsylvania 7th
Incumbent: None (Rep. Charlie Dent, a Republican, resigned in May for personal reasons)
CPVI Rating: D+1
Why It Matters: A court-ordered redrawing of Pennsylvania's congressional districts produced a more compact and competitive map—previously, the area now covered by the 7th district was split between a deeply blue district and moderately red district. The new map figures to wipe away the 13–5 edge that Republicans have enjoyed in Pennsylvania since 2011, and this district (along with the PA-1) are prime pick-up opportunities for Democrats.
The most recent poll of the race, conducted in mid-October by Muhlenberg College, showed Democrat Susan Wild, an attorney, with a 48–41 lead over Republican Marty Nothstein, a county commissioner and former Olympic cyclist. Libertarian candidate Tim Silfies, a television producer who worked on John Stossel's former Fox Business Channel show, got 5 percent of the vote in that poll. Silfies participated in a three-way debate on October 25, potentially raising his profile in the district and increasing the chances that he can cover the spread in what looks likely to be a Wild victory.
Texas 32nd
Incumbent: Rep. Pete Sessions (R)
CPVI Rating: R+5
Why It Matters: This Texas race has entered the tossup category, with Republican incumbent Rep. Pete Sessions polling just one point ahead of Democratic challenger Colin Allred. Libertarian challenger Melina Baker is currently predicted to receive 2.7 percent of the general vote in the close race.
Baker has been a vocal opponent of her Republican challenger, who serves as the Rules Committee Chairman. In June, the committee blocked Oregon Rep. Earl Blumenauer's bipartisan Veterans Equal Access amendment, which would give veterans protections to help them access medical marijuana.
Utah 4th
Incumbent: Rep. Mia Love (R)
CPVI Rating: R+13
Why It Matters: Despite becoming the first black Republican woman elected to Congress four years ago, Rep. Mia Love's tenure could be coming to an end. The race between Love and Democratic challenger Ben McAdams is officially in the tossup category, with Real Clear Politics showing McAdams with a 2.3 point lead.
In 2012, Reason identified the Tea Party Republican as a "libertarian(ish)" candidate during her first bid for office. Love's liberty-friendly views included things from eliminating the federal departments of Education and Energy to opposing the Defense of Marriage Act despite being personally against marriage equality. Since being elected, Love has largely voted in alignment with Republican and conservative bills. As the child of Haitian immigrants, however, she has not hesitated to speak out against the administration on immigration issues. In January, Love said that Trump's "shithole countries" comments were "indefensible." Both Love and McAdams also recently opposed Trump's desire to end birthright citizenship with an executive order.
Virginia 7th
Incumbent: Rep. David Brat (R)
CPVI Rating: R+6
Why It Matters: Brat shocked the political world when he upset then–House Majority Leader Eric Cantor by 12 points in the 2014 Republican primary. It remains the only time in U.S. history that a sitting majority leader (a title that has existed officially since 1899) was defeated in his or her party's primary election. Brat's win demonstrated the extent to which "establishment" conservatism had lost control of the GOP to the party's insurgent right wing.
Now the former college professor and House Freedom Caucus member could be heading toward another symbolic upset. Democrat Abigail Spanberger, a former CIA officer, is running neck-and-neck with Brat in a district that should be relatively safe territory for Republicans. (Romney won the district by 11 points, Trump by 6.) The most recent poll of the race, a late September survey by Monmouth University, showed Spanberger with a 47–42 lead, while Libertarian candidate Joe Walton garnered 2 percent.