Arizona Liberals Are Working Hard to Unseat This Libertarian Justice
Clint Bolick faces a judicial retention fight.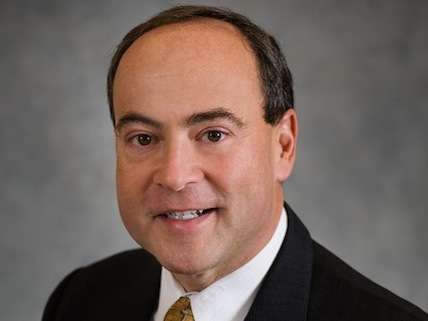 When voters in Arizona head to the polls tomorrow, they will have the opportunity to vote yes or no on retaining two members of the state's highest court. Under the Arizona constitution, state Supreme Court justices face a judicial retention vote two years after they are first appointed by the governor, and then again every six years after that. One of the justices up for retention tomorrow will be a familiar name to Reason readers.
Clint Bolick is a pioneering libertarian lawyer who has helped to shape the course of U.S. constitutional law. As I noted in a 2016 interview with him, "as a co-founder and former director of strategic litigation for the Institute for Justice, Bolick helped bring about landmark legal victories on behalf of students, parents, property owners, and entrepreneurs. In 2002 Bolick's litigation on behalf of school choice culminated in the U.S. Supreme Court's ruling in Zelman v. Simmons-Harris, in which Cleveland's pioneering school voucher program was upheld. Three years later, Bolick argued and won before the U.S. Supreme Court in a case known as Granholm v. Heald, in which the Court struck down protectionist state laws that banned the direct sale of wine to consumers from out-of-state wineries." Arizona Gov. Doug Ducey (R) appointed Bolick to the Arizona Supreme Court in 2016.
Bolick has since distinguished himself on the bench. In Arizona v. Maestas (2018), for instance, Bolick wrote a significant concurring opinion challenging the application of the U.S. Supreme Court's "political question doctrine" to the case of a valid medical marijuana card holder arrested by Arizona State University police for having a small amount of pot in his dorm room. The case turned on whether a 2012 state law forbidding the possession of otherwise legally permissible marijuana on state college campuses could be squared with the Arizona Medical Marijuana Act of 2010, the voter initiative that legalized and regulated pot possession in the first place. State officials had urged the court to defer to the legislature's 2012 actions.
"When the judiciary fails to interpret and enforce constitutional rights and limits," Bolick wrote, "it shrinks from its central duty and drains the Constitution of its intended meaning." The medical marijuana card holder ultimately prevailed.
Normally, a judicial retention vote in Arizona goes smoothly for the sitting justice. But Bolick is under fire this election season from the liberal National Education Association, which is funding anti-Bolick activities as part of its "Red for Ed" campaign. As the Arizona Capitol Times has reported, "upset with a ruling that knocked a tax hike for education off the ballot, some education advocates are trying to get voters to turn [Bolick] out of office in November."
We'll soon find out whether or not Arizona's libertarian Supreme Court justice gets to keep his seat.