Movie Review: Bohemian Rhapsody
Rami Malek gives a championship performance as the great Queen frontman Freddie Mercury.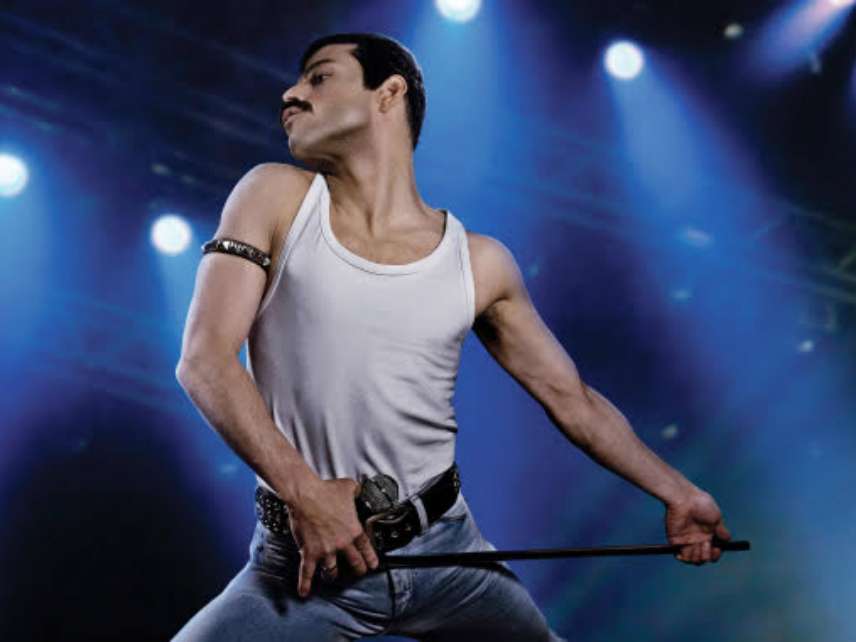 Bohemian Rhapsody—a movie that recounts the life of the late Queen singer Freddie Mercury, who's played by Rami Malek—is pretty wonderful in several ways, but it's also a museum of ancient biopic clichés. For example, in an early scene we see the young Freddie-to-be, an immigrant kid from Zanzibar named Farrokh Bulsara, at his parents' London home, where he lives. You've met these parents before. Dad (Ace Bhatti) is an old-world kind of guy who disapproves of this rock & roll music his son is so into, and the late-night life it engenders. However, Freddie's mom (Meneka Das) is an optimist. When her young nightcrawler says he's going "out with friends" again, she asks, hopefully, "A girl?" "Maaahhm," he whines.
Classic: some light biography, a touch of sex-life foreshadowing. A little later we find Farrokh—or Freddie, as he's already calling himself—at a bar cheering on his favorite band, a group called Smile. Out in the parking lot between sets we see drummer Roger Taylor (Ben Hardy) and guitarist (and physics grad!) Brian May (Gwilym Lee) being informed by their singer that he's leaving the band. This character is barely out of the frame before Freddie pops up and informs the two Smilers that he's a songwriter and a singer, too. And we're thinking: Wait, what? When did he start doing these things? But the picture has already moved on.
In less time than it might take an average person to cross the street, Freddie has joined the band, changed its name to Queen, and pushed it to record a demo. The group scores a record deal, releases an album, and is soon touring the world. At this point, Freddy is living with a sweet young woman named Mary Austin (Lucy Boynton, making a lot of a little role). They're really in love (he's given her an engagement ring), but she senses something is not quite right. In a scene set in the midst of a tour, we see Freddie at a pay phone in a concert-hall corridor, talking to Mary back in London. "Do you miss me?" she asks. "Don't be silly," he says, eyeing a pair of sultry lads nearby, who are eyeing him right back. "Of course I do."
The narrative manipulations in this movie are classic head-smackers, but at least they're deployed forthrightly. I think the filmmakers (of whom there've been many over the course of the picture's messy eight-year development) have embraced tried-and-true clichés as a crowd-pleasing element of large-scale commercial storytelling and, hey, so what? There are worse sins. And much worse movies.
Still, the picture might not be worth much discussion were it not for Rami Malek, whose performance as Freddie Mercury, both onstage and off, is…well, pick a superlative. Titanic, maybe. Volcanic, even. Swanning around in (recreated) venues from Madison Square Garden to London's Wembley Stadium (for the ripping 1985 Live Aid scenes), Malek has thoroughly nailed Freddie's harlequin-leotard concert persona. And the singing, although not his, is beautifully constructed and exhilarating. (What we're hearing is Mercury's original Queen vocal tracks mixed with the ultra-Freddie-like voice of Canadian singer Marc Martel—a mixture fresh enough to dispel the usual dire vibe of soulless lip-synching.)
To the actor's great credit, Malek's Freddie is a complex character after the music stops playing. The singer had an extreme overbite (the result of four extra incisors he'd been born with), and this required Malek to wear jutting prosthetic bucked teeth throughout the film. The marvel of this is that we pretty much forget about it after the movie takes hold. Mercury may have been embarrassed about his dental abnormality, but he didn't show it—in fact, he believed it to be an important component of his vocal power. As he tells another character at one point, "I'm exactly the person I was always meant to be. I'm not afraid of anything."
There's been some pre-release grumbling about the way that Mercury's sexuality is portrayed in the movie. This is unfounded. By all accounts, he saw Mary Austin as a true soulmate; and here, when they both realize that he is gay, and that their physical relationship is over, he implores her to continue wearing the engagement ring he gave her. "What do you want from me?" she asks in some frustration. "Almost everything," he says.
But the movie is also straightforward in depicting Mercury's gay relationships, for better and worse. We see him being cruelly manipulated by a snake named Paul Prenter (Allen Leech), who has compromising photographs and ultimately sells him out to the tabloids. And we see him finding long-term happiness with Jim Hutton (Aaron McCusker), who was with Freddie when he died of AIDS-related pneumonia in 1991. But it's fair to say that his deepest love really was for Mary Austin, to whom he left the bulk of his very large fortune when he died.
These details of Freddie Mercury's story are so moving that we nearly stop noticing the movie's ongoing narrative cheese. When we see Brian May in a studio thumping out a rhythm with his foot as he works up a number that will "give the audience a song they can perform," we know we're present at the birth of "We Will Rock You." And when John Deacon tries to cool down a studio argument with a dance-y little bass riff he's just dreamed up, well, here comes "Another One Bites the Dust." At one point, someone in this film actually says, "Freddie, you're burning the candle at both ends."
I say embrace this vintage silliness. It's worth it.