Spooky! Tariffs Hike Prices for Costumes, Candy, Cider, and Other Halloween Favorites
The specter of mercantilism rises from the dead!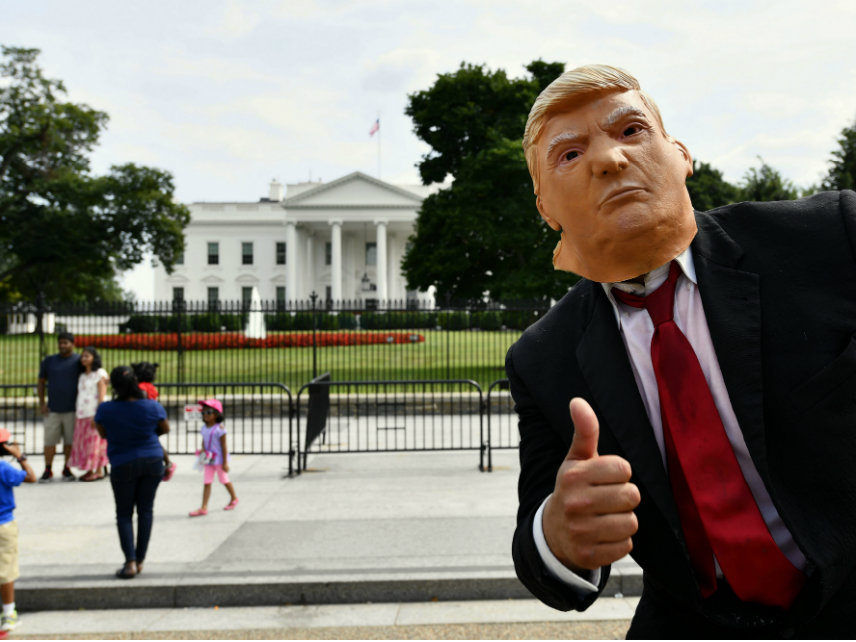 It began, like so many scary stories do, with the unleashing of an ancient evil by a few people too blinded by naivety or hubris to understand fully the consequences of their actions.
By the time the innocents start getting hurt, it's too late.
It's true that the Trump administration's tariffs are not hacking virgins to death or creating a plague of zombies, but they are nonetheless a Halloween horror this year. Costumes and holiday decorations imported from China are subject to 10 percent tariffs (which could increase to 25 percent next year as—like all good monsters—they become more difficult to stop), while other tariffs are increasing the price of holiday treats like candy and cider.
Amid hundreds of comments submitted earlier this year to the Office Of United States Trade Representative in opposition to the Trump administration's plan to impose tariffs on an estimated $250 billion of Chinese-made goods, costume shops and sellers of seasonal goods stressed how the tariffs could put a stake through their businesses. Advantus Corporation, which sells fabric used to make costumes, decorations, and crafts, told the Trade Representative that higher taxes on Chinese-made goods would force price increases of at least 10 percent, and could raise the specter of job losses too.
Chris Ironfield, who told the Trade Representative's tariff committee that he worked for a small California-based retailer, wrote that the new tariffs on China "could potentially put us out of business as we could not compete with larger companies and retailers like Rubies, Disguise, Party City and Spirit Halloween who can absorb the tariff for a long period."
That's perhaps the scariest part of tariffs: they prey on the weakest and most vulnerable. Like any regressive tax, the tariffs will hit discount retailers (and their customers) the hardest.
The National Confectioners Association (NCA), which represents more than 700 companies that make chocolate, candy, and other sugary sweets, warns that tariffs will increase prices and limit selection of holiday goodies. Halloween marks the beginning of the most crucial time of the year for American candymakers, with about 75 percent of all U.S. candy sales occurring between September and April, according to the NCA. With the price of candy already inflated by federal sugar subsidies, tariffs add an additional trick to those treats.
Grown-ups aren't immune from the threat that stalks Halloween this year. Thanks to tariffs on steel and aluminum, the brewers of autumnal favorites like pumpkin-flavored beers and craft ciders are feeling the squeeze. Justin Heilenbach, president and co-founder of Citizen Cider in Burlington, Vermont, tells Vermont Public Radio that he has little choice but to pass the increased cost along to consumers. Unable to compete with cheaper kegs made in countries that aren't artificially inflating the price of steel, Pennsylvania-based American Keg could go out of business.
"From costumes to cider, trade wars can have 'tarrify-ing' consequences for Americans," says Kevin Schweers, a spokesman for Freedom Partners, a nonprofit that advocates for free markets and opposes the Trump administration's tariff policies. "No matter how anyone tries to dress them up, tariffs are nothing more than sales taxes that unfairly charge the working class more for everyday goods."
If the individual horrors of the trade war aren't bad enough, the tariffs also run the risk of bewitching the economy as a whole. Overall growth has slowed and the stock market was shaken this month by earnings reports from several major American companies highlighting the tariffs as a source of growing concern. Economists warn that the newest round of tariffs will bite into consumers' wallets during the holiday season and could bury the economic benefits of last year's tax cut.
The ghoulish tariffs unleashed by the Trump administration can only be halted by the same people who created them—or by Congress, if our elected lawmakers weren't too scared of the power they wield. Until a hero arises to slay the beast, the terror of the tariffs will continue—and the consequences are, despite what the president might tell you, not just a ghost story.