Los Angeles Owes Billions in Pension Debts. Now It's Asking Citizens for Permission to Run a Bank.
What could possibly go wrong?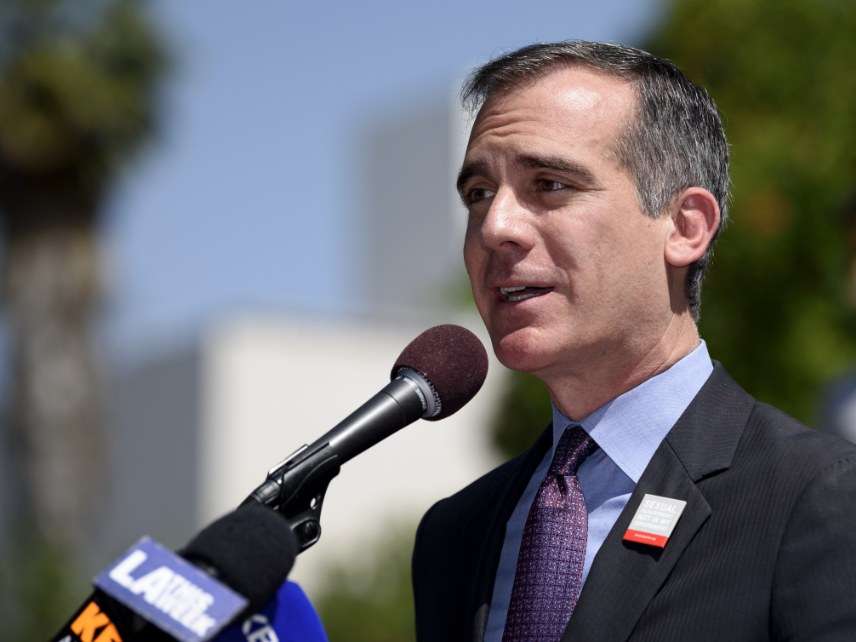 How inept is the Los Angeles City Council when it comes to economics?
Well, it cartelized L.A.'s commercial and apartment building trash pick-up, completely and deliberately destroying competition in the process. To the surprise of no one but city council, prices skyrocketed and service declined.
The city's stranglehold on construction keeps housing development far below the community's needs. Instead of loosening its grip, the government blames the city's high rents on insufficient rent control. The City Council and Mayor Eric Garcetti are supporters of Proposition 10, a statewide initiative that will expand the ability of cities to further implement more rent controls if passed.
L.A. owes billions in pension obligations, and its payments to its own employees' retirement funds are consuming more and more of the city's budget—about a fifth of it at the moment. That number is expected to rise to more than $1 billion a year by the next decade.
Now the city government is asking Los Angeles residents for permission to start its own bank. You have to admire the chutzpah!
On the November ballot is Measure B, which simply asks Los Angeles voters, "Shall the City Charter be amended to allow the City to establish a municipal financial institute or bank?"
The good news is that the ballot measure would not actually launch the bank. The city would have to go through a lengthy process to present a plan to city leaders to vote on actually create the institutions.
But look at the city's record when it comes to economic issues. Would you trust your money in a bank put together by these people?
Unfortunately, as a Los Angeles resident, I might not have any choice. If the city gets to build the bank, it will almost certainly have to use taxpayers' dollars (including mine) to create it.
People who support this "public bank" imagine that they're going to be sticking it to Wall Street and using the money for socially conscious investments that serve "the public." (And by "the public," they mean the part of the public that agrees with their priorities and not jerks like me or other Reason writers who like to point out how poorly Los Angeles leaders manage taxpayers' money.)
In reality, Los Angeles, just like most major cities, directs its financial decisions to benefit the connected and the powerful within its borders. That's how that trash cartel that I mentioned came into being. The program included all sorts of financial demands on trash haulers that aligned quite well with what local union leaders wanted.
There's no reason to think a bank operated by the City of Los Angeles would be any different. In fact, as the Los Angeles Times notes, one excellent example of the city's tendency toward cronyism was the now-deceased L.A. Community Development Bank. This wasn't a full bank; it was a loan program. Auditors found that it "distorted decisions to favor politically connected borrowers."
Now seems like a good time to point out that Los Angeles will be hosting the Summer Olympics in 2028, a costly boondoggle of more than $5 billion. The city also wants to spend more on improving its mass transit infrastructure, even though L.A. has stupidly committed to spending hundreds of millions of dollars on bicycle lanes that people are not using. They're also spending hundreds of millions doing an incompetent job of electrifying the city's bus fleet (but much more competently cashing in on it). They're not really "improving mass transit" so much as catering to certain politically connected people's fantasies about what urban transit should be, actual citizen behavior be damned.
The one potential plus side is that a city-owned bank could be a place for people in the cannabis industry to deposit their money. Even though several states have developed a massive legal marijuana economy, the federal government's continued ban makes banking a challenge.
But would you want to put your money in a bank where people are decrying Wall Street for investing in things that actually earn a profit and instead call for catering to various special interests? You might, if there's a chance you could be one of those special interests. No doubt the city would be quite appreciative of those who park their money there to make sure the bank actually works.
The rest of us, as with the city's pensions and infrastructure boondoggles, would be financially on the hook for whatever disaster plays out with this bank. This particular Angeleno will be voting no.