This Chart Explains How Badly Trump's Trade War Is Hurting Soybean Farmers
And it could get worse, as China is now considering cutting off all American soybean purchases.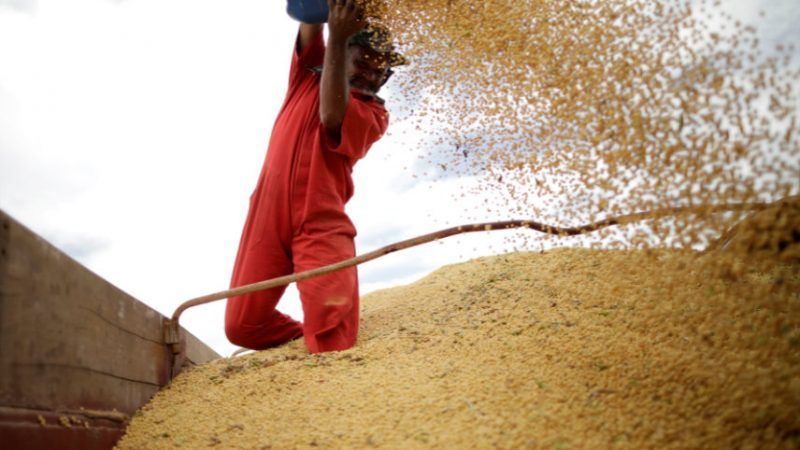 (Ueslei Marcelino/REUTERS/Newscom)
It's soybean harvest season, and there may be no better indication of the damage done by the ongoing U.S.-China trade war than the fact that American soybean exports are down a whopping 40 percent from last year.
The sharp dropoff is due in large part to China's stated policy of cutting back on American soybean purchases as a retaliatory tactic. Shortly after President Donald Trump in July imposed tariffs on about $25 million worth of Chinese goods—a figure that has grown to about $250 million and could go higher after the holiday season passes—China hit back with tariffs on American agricultural products.
Soybeans are particularly vulnerable to Chinese tariffs because America produces far more soybeans than the domestic market demands, with the expectation that about half of all American-grown soybeans will be exported. Farmers planted more than 89 million acres of soybeans across the United States in 2018, narrowly edging out the 88 million acres of corn that were planted, according to an annual survey by the Department of Agriculture. In recent years, nearly 50 percent of the American soybean crop has been exported, with the vast majority of those exports going to China, which is the world's largest consumer of soybeans.
Here's a visual representation of how the trade war has changed that mutually beneficial relationship, courtesy of Karen Braun, global agriculture columnist at Reuters:
On average, 76% of U.S. #soybean shipments in October are to #China.
Not this year though. Stats are alarming.
Bean inspections to China, Oct. 1-18: 134,729 t
Oct. 1-18, 2017: 3.42 mln t
YTD insp. to all destinations down 40% YOY.#AGTRIVIA pic.twitter.com/haipZID4ME

— Karen Braun (@kannbwx) October 23, 2018
A 40 percent decline in a single year is stunning. Equally stunning, perhaps, is the fact that the U.S. has shipped a mere 395,000 tons of soybeans to China since July 27, when China's soybean tariffs took effect. As Braun notes, a typical October week in previous years has seen more than 1 million tons of American soybeans entering Chinese ports.
No wonder, then, that soybean farmers aren't thrilled about the trade war—despite Trump's ham-handed attempt at buying their support by covering some of the losses.
Soybeans that aren't being shipped to China may be getting shipped elsewhere, of course. As China has ramped up purchasing soybeans from Argentina and Brazil, those two countries have sold so many soybeans to China that they've had to turn to American suppliers to meet domestic demand—and if that's not a metaphor for how Trump's trade war has screwed up global supply chains, I don't know what is.
Even if demand from other nations can pick up some of the slack, the Chinese market for soybeans is so large that there's literally no way for American farmers to make up for losing access to China. The result is predictable: excess supply leading to lower prices and economic losses for growers.
While soybeans have been on the front lines of the trade war, farmers have been hit hard across the board. According to the latest projections from the federal Department of Agriculture's Economic Research Service, 2018 net farm income will be $9.8 billion (or 13 percent) lower than it was in 2017. That would make 2018 the worst year for American farms since 2002, when the numbers are adjusted for inflation.
The longer the trade war continues, the more likely it becomes that American farmers will be shut out of Chinese markets in 2019 and beyond. Already, China is making plans to further reduce dependence on American soybeans—some Chinese trade analysts tell CNN that the country's goal is to stop buying American soybeans entirely.
In the short-term, that means China will continue buying mostly from South America. Because the growing season is inverted in the southern hemisphere, that also means that China might have to turn to American suppliers again in a few months, once the Brazilian and Argentinian supplies from the spring growing season are exhausted. In the long term, China could invest in infrastructure to allow for greater production and reduced transportation costs, while continuing with ongoing efforts to reduce consumption of soybeans by livestock.
Whether all those changes work or make economic sense remains to be seen. But the damage done in 2018 to the relationship between the world's largest soybean producer and largest soybean consumer will not heal on its own—and American farmers will continue to pay the price for the White House's trade war.