New California Lawsuit Accuses Electric Scooter Companies of 'Negligence,' 'Abetting Assault,' and Inciting 'Civil Unrest'
The class action suit demands Bird and Lime cease operations in the state of California.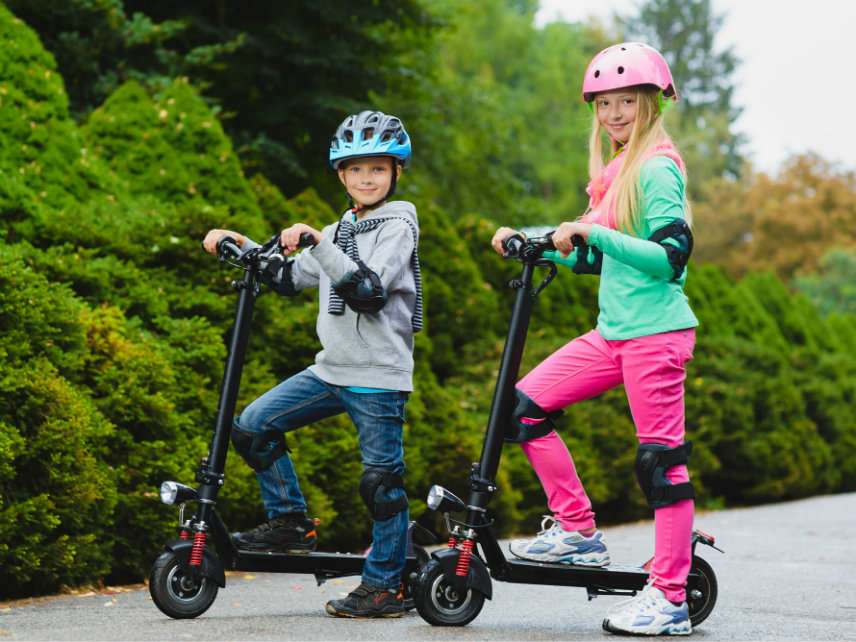 As dockless, electric scooters rise in popularity across America, the backlash against them has grown increasingly hysterical. Witness a new class action lawsuit accusing Lime, Bird, and other scooter rental companies of "neglect," "abetting assault," and inciting "civil unrest" in the greater Los Angeles area.
"While acting under the guise of the commendable goals of furthering personal freedom and mobility and protecting the environment, the defendants…are endangering the health, safety, and welfare of riders, pedestrians, and the general public," reads the complaint, filed by personal injury law firm McGee, Leher, & Associates last week.
The firm is representing eight plaintiffs, all of whom claim to have been injured in some fashion by electric scooters that first appeared on Los Angeles area streets late last year.
This includes Andrea Rosenthal, an arthritic, who was unable to park in a handicapped spot thanks to someone's careless placement of an electric scooter.
Worse off still is Tina Ogata who tripped over not one, not two, but three Lime scooters left on the sidewalk, resulting in a broken left wrist and ring finger. (The complaint does not specify if Ogata tripped over all three scooters at once, or rather suffered a series of falls a la Sideshow Bob stepping on rakes.)
Another plaintiff, Natasa Kojic reports being hit from behind by a Bird scooter rider, suffering "injuries to her left big-toe, right wrist, and left knee."
Then there's David "Davy Rocks" Petersen. The 62-year-old street performer was reportedly dancing in a gladiator's outfit near the Santa Monica pier when he was struck from behind by a man riding a Bird scooter, resulting in a broken arm and torn muscle which required surgery.
"My arm is never going to be the same, not to mention the five-inch-long scar it's got now," Petersen told the Washington Post. "If Bird is going to profit off the human meat grinder they've created in Santa Monica, they should be held responsible for the suffering they've caused."
This all amounts to negligence on behalf of Bird and Lime, according to the complaint, which accuses the companies of offering insufficient safety instruction to riders. The lawsuit also claims Bird and Lime are abetting assault for failing to stop their customers from crashing scooters into pedestrians.
The class action suit also dings the companies for inciting "civil unrest," noting that some individuals have thrown the scooters into the sea, lit them on fire, or buried them in the sands of California's beaches.
In return for all the evils dockless scooter companies have wrought, these plaintiffs are demanding a unspecified amount of monetary compensation, and a cessation of the two companies' scooter operations.
In response to the lawsuit, both Lime and Bird stressed their commitment to safety.
"While we don't comment on pending litigation, safety has always been at the very core of everything we do at Lime as is our mission of reducing cars from city streets and making them safer and greener for pedestrians, bike and scooter riders alike," reads a statement from the company.
"Class action attorneys with a real interest in improving transportation safety should be focused on reducing the 40,000 deaths caused by cars every year in the U.S.," reads a statement from Bird. "Shared e-scooters are already replacing millions of short car trips and the pollution that comes with them."
It is of course true that auto travel is by far the most dangerous mode of transportation in America today, although that too is mercifully getting safer. There were roughly 37,000 auto fatalities last year. That's compared to only two reported deaths of scooter riders since the vehicles first started appearing on city streets, one in Washington D.C., the other in Dallas.
The Washington Post's write up of D.C.'s first scooter death—the result of a rider being struck an SUV—noted that there had been 25 other transportation fatalities in 2017 in the District, including nine pedestrians, five motorcyclists, three bicyclists, seven motorists or car passengers, and one driver of an ATV.
The fact is that all modes of transportation are going to bring with them some level of risk with them, even something as simple as walking. The more electric scooters are around, the more comfortable riders will get with the vehicles, and the more pedestrians and drivers will learn how to interact with them.
This won't stop all accidents, injuries, or even deaths, and it goes without saying that scooter pilots who cause harm to pedestrians should be held accountable. But trying to hold the scooter companies themselves responsible for all harmful uses of their vehicles, not to mention trying to get them shut down entirely, is an overreaction and one that would set a dangerous precedent for other transportation services.