Migrant Caravan Hysteria Returns
There's no evidence this caravan is full of Middle Eastern terrorists.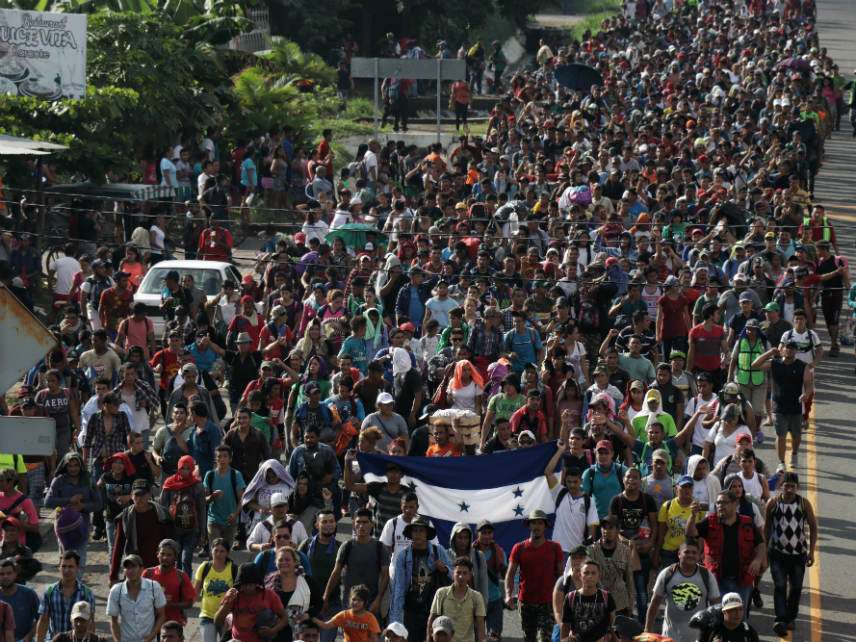 About 7,000 migrants are currently making their way through Central America, seeking refuge in the United States—and sparking hysteria here too. Several right-wing outlets and organizations have tried to link the caravan to ISIS. "100 ISIS Terrorists Caught in Guatemala as Central American Caravan Heads to U.S.," Judicial Watch warns. "Guatemala claims it has caught 100 ISIS terrorists as migrant caravan reaches Mexican border," blares The Blaze. "Nearly 100 ISIS Terrorist Arrests Prompt Worries About Caravans," claims LifeZette.
The ISIS story originated with the Guatemalan newspaper Prensa Libre, which reported that Guatemalan President Jimmy Morales had said his administration had caught almost 100 people with ISIS ties. Morales did not go into further detail, though Guatemalan Secretary of Strategic Intelligence Mario Duarte later cited the 2016 arrests of several Syrian refugees who were found to be in possession of false documents.
But Morales did not mention the migrant caravan. Indeed, Prensa Libre published its story on October 11, before the caravan started garnering international attention. Nor is it clear that the claim was true in the first place. Even the Center for Immigration Studies (CIS), a group that generally opposes illegal immigration, describes Morales' claim as "unverified."
"Healthy skepticism is warranted here," CIS senior national security fellow Todd Bensman wrote, explaining that Guatemala has "requested $15 billion in border security assistance" from the U.S., "and President Morales is laboring under accusations of corruption." One Guatemalan reporter told Bensman that many journalists in the area believe the Prensa Libre report is "bullshit."
Linking the migrant caravan to the threat of terrorism seems to be a popular tactic. This morning, President Donald Trump asserted on Twitter that "criminals and unknown Middle Easterners are mixed in" with the other migrants:
Sadly, it looks like Mexico's Police and Military are unable to stop the Caravan heading to the Southern Border of the United States. Criminals and unknown Middle Easterners are mixed in. I have alerted Border Patrol and Military that this is a National Emergy. Must change laws!

— Donald J. Trump (@realDonaldTrump) October 22, 2018
Trump provided absolutely no evidence to back up that claim. According to The New York Times, the "unknown Middle Easterners" he mentioned are probably some of the "bad people" he talked about during a rally on Friday. "A fairly big percentage of" migrants in the caravan "are criminals," Trump said then. Again, he did not give any evidence.
Trump is not the only one in his administration trying to fan public fear about the migrants. Last night Secretary of State Mike Pompeo alluded darkly to "the apparent political motivation of some organizers of the caravan." This may be a reference to Trump's frequent assertions that Democrats and their allies are funding the caravan. According to the Times, "there is no evidence" to back that up.
Trump and other immigration hardliners made similar arguments earlier this year when another migrant caravan headed toward the border. They're just as wrong now as they were then. ISIS-in-Latin-America stories have an even longer pedigree; they're dubious too. Indeed, as Reason's Ronald Bailey has pointed out on several occasions, immigrants, including those in the country illegally, are actually less likely to commit crimes than American citizens.