Questionable Saudi Explanation of Khashoggi's Death Bolsters Rand Paul's Case for Ending Arms Sales
The new official story is "not even close to credible," says Paul, who is calling for an end to arms sales and military cooperation with the Saudis.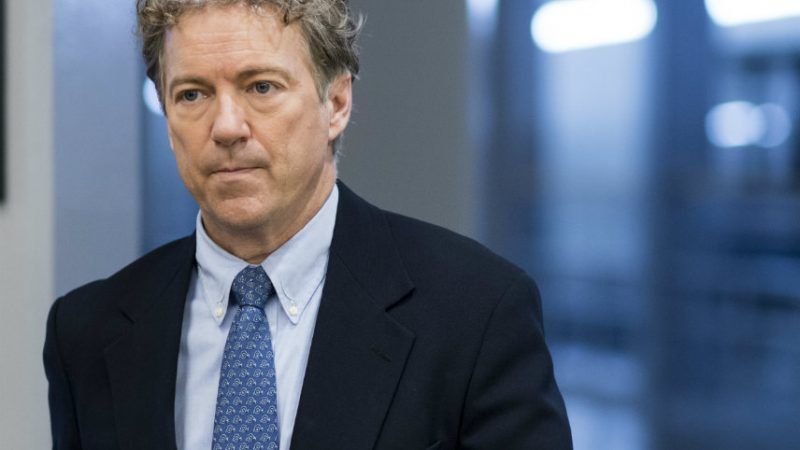 (Bill Clark/CQ Roll Call/Newscom)
Saudi Arabia reversed days of denials on Friday evening and admitted that journalist Jamal Ahmad Khashoggi was killed by Saudi agents inside the country's Istanbul consulate.
But the new official story is "not even close to credible," says Sen. Rand Paul (R–Ky.), who today reiterated his call for a reevaluation of the U.S.–Saudi relationship, including putting an end to military cooperation with and arms sales to Saudi Arabia.
The so-called "explanation" from the Saudis is not even close to credible. What they did was unacceptable and I call on my colleagues in Congress to join me in denouncing their behavior and changing how we treat them.

— Senator Rand Paul (@RandPaul) October 20, 2018
Indeed, the new Saudi explanation of how Khashoggi was killed strains credulity.
Saudi Arabia's foreign ministry now says the journalist was killed after being placed in a choke-hold during a fist fight that broke out inside the consulate on October 2. Khashoggi, who was living in Turkey, visited the Saudi consulate to obtain some paperwork necessary to marry a Turkish woman. Once there, he was confronted by a team of 15 men, most of whom were part of the Saudi security services, who had flown to Istanbul from Saudi Arabia earlier that day, according to The Washington Post. Saudi Arabia says it has detained 18 individuals involved in the incident and is continuing to investigate.
Earlier in the week, The New York Times reported that Khashoggi was beheaded and dismembered inside the Saudi consulate, citing audio recordings provided by an unnamed senior Turkish official.
For the official story to hold up, you'd have to believe that a 59-year-old journalist tried to Jean-Claude Van Damme his way out of a confrontation with more than a dozen highly trained operatives. And you'd have to come up with an explanation for what happened to Khashoggi's body.
Paul is hardly the only one to question the legitimacy of this story. Sen. Lindsey Graham (R–S.C.) has tweeted that it would be "an understatement" to say he's skeptical of the latest Saudi explanation for Khashoggi's death, and Sen. Marco Rubio (R–Fla.) says the story of a "fist fight gone bad is bizarre." (Consider how rare it is for Graham and Rubio to land on the same side as Paul on a foreign policy issue.) Rep. Adam Schiff (D–Calif.), the ranking member of the House Intelligence Committee, tells the Post that "if Khashoggi was fighting inside the Saudi Consulate in Istanbul, he was fighting for his life with people sent to capture or kill him."
President Donald Trump, on the other hand, seems accepting of the shifting explanations. On Friday he called the newest version of the Saudi's story "a good first step," and the White House says it will continue seeking further investigation.
Khashoggi's death has generated so much international attention because it represents a brazen attack on a critic of the Saudi government who was living outside Saudi Arabia and who had close ties to American media outlets. (Khashoggi was a contributor to The Washington Post and other publications.) But the difference between this latest atrocity and Saudi Arabia's long history of brutally repressing criticism and violating human rights is one of degree, not kind.
The kingdom's ongoing proxy war with Iran has caused horrific bloodshed in Yemen, including the killing of 40 children in August when a school bus was struck by an American-made missile. The conflict has also caused a widespread famine that threatens to kill millions more.
In an op-ed for Fox News published earlier this week, Paul says Khashoggi's killing should be "a turning point in our relationship, where we as Americans stop and ask ourselves what we have been propping up."
Saudi Arabia is the largest buyer of American weaponry in the world, and it inked a $110 billion weapons deal with the Trump administration in 2017. Trump has pointed to that large purchase agreement as a reason to hold off on punishing Saudi Arabia for killing Khashoggi.
Paul says that is a poor reason to continue supporting "outright evil," and that Saudi Arabia's need for American firepower gives America leverage over the kingdom. The fact that Saudi officials have been pressured into changing their story to admit fault in Khashoggi's killing seems to prove the senator's point, as least in some small way.
"The Saudis need our help and weapons," Paul writes in his Fox article. "And we should make sure that this need causes a change in their behavior."