The Good, the Bad, and the Loophole of New York City's New Police Search Law
The Right to Know Act has good intentions, but supporters and opponents fear it will not work as intended.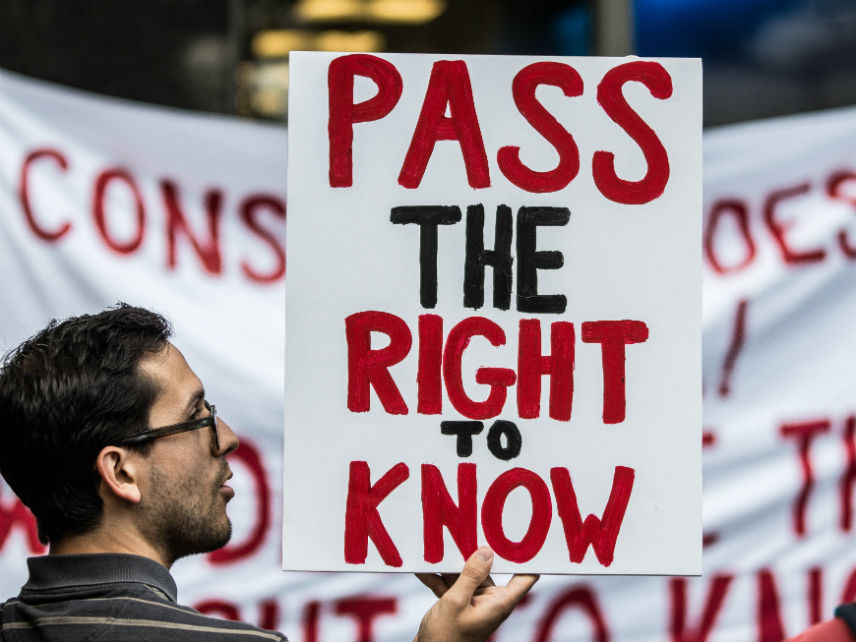 New procedures attempting to promote accountability and transparency in the New York Police Department (NYPD) went into effect today. The new system was detailed in the Right to Know law, which the New York City Council passed in December. While criminal justice reformers have praised the act, it's unclear whether it will accomplish as much as it promises.
The Right to Know Act set new requirements for certain sorts of police interactions. When police stop a person "suspected of criminal activity," NYPD officers will identify themselves by first name, last name, and rank. They are to provide a cause for the interaction, explain consent rights to any search, and hand out a business card that explains how to file a police complaint and obtain body camera footage.
Civil libertarians have argued that the new law will help stop unconstitutional searches, but they've expressed some skepticism about the revised rules too. In a Tuesday blog post, Michael Sisitzky, lead policy counsel at the New York Civil Liberties Union, wonders whether the NYPD would adhere to the new guidelines. The requirement that a person be "suspected of criminal activity" could be an enormous loophole, Sisitzky warns, since it does not cover investigative questioning in nonemergency encounters, which is the more common police interaction.
Sisitzky also claims that reform groups were shut out of closed-door meetings about the bill in the days leading to its passage. The meetings were instead attended by the bill's sponsor, the council speaker, and representatives of the NYPD.
Many police officers have criticized the new requirements for a different reason.
"As we've said from the beginning, the 'Right to Know' laws will discourage police officers from proactively addressing crime and disorder and will lead to more frivolous complaints. The City Council has continuously piled on new burdens and second-guessing for our police officers, creating unnecessary distractions for them that will ultimately make NYC a more dangerous place," complained the Patrolmen's Benevolent Association, a police union, in a statement.
Reformers have spent a great deal of time trying to find ways to combat unconstitutional, frivolous, and discriminatory searches. In July, U.S. District Judge Analisa Torres ordered the NYPD to create a pilot program to record all police interactions. The program would help identify whether or not stop-and-frisk searches were disproportionately carried out against minorities. In 2013, another judge had ruled such searches unconstitutional.
The fight to access footage and other details of police interactions extends to several parts of the country. California Gov. Jerry Brown signed a bill at the end of September that gives the public access to details of investigations into police-related shootings, use-of-force incidents, falsified reports, planted evidence, and sexual assaults. In Chicago, reform advocates have been complaining about the department's "code of silence," which, with help from other parts of the city government, has made footage of controversial police shootings difficult to obtain.
*CORRECTION: A previous version said that a ruling against the NYPD "stop and frisk" program occurred in August 2018. The ruling occurred in August 2013.