Poll Shows Wide Support For Criminal Justice Reform Bill In Congress
Prosecutor groups and criminal justice reform advocates are putting out dueling polls on a major bill in Congress.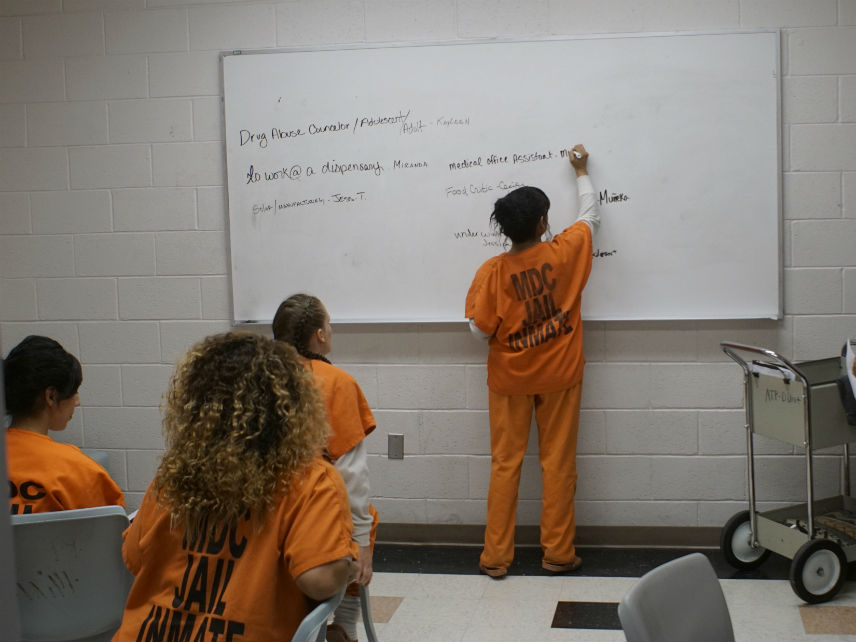 A new survey shows wide support among registered voters for provisions in a major criminal justice bill in Congress, in sharp contrast to a survey promoted by a group of federal prosecutors released last week showing opposition to the bill.
According to a national survey of 1,234 registered voters conducted online between Oct. 11-12, 82 percent of respondents approved of the specific provisions in the FIRST STEP Act, a prison reform bill that passed the House by a wide bipartisan margin this May.
Additionally, 82 percent supported allowing non-violent offenders to finish their sentences in home confinement in order to ease their integration back into society, and 76 percent of respondents agreed with the FIRST STEP Act's "good behavior" provision that would expand the number of days non-violent offenders can have removed from their sentence.
The survey was conducted by In Pursuit Of, LLC, a communications firm connected with the Koch network of conservative advocacy groups, for the organization Freedom Partners.
The FIRST STEP Act would, among other things, expand eligibility for reentry programs and halfway houses, increase "good time" credits, require inmates be housed within 500 miles of their homes, and ban the shackling of incarcerated women in federal prisons. The Senate version is also expected to include several measures reducing federal mandatory minimum sentences for certain crimes.
The bill is now awaiting action in the Senate. Republican Senate majority leader Mitch McConnell told reporters last week that he would bring the bill to the Senate floor if it had at least 60 votes.
But despite support from a large number of Republicans, conservative groups, and the White House, it faces stiff opposition from the Justice Department and staunch law-and-order conservatives such as Sen. Tom Cotton (R-Ark.), who especially oppose reductions in mandatory minimums.
The Foundation for Safeguarding Justice, a group aligned with the National Association of Assistant U.S. Attorneys (NAAUSA), which represents federal prosecutors, released its own poll last week showing what it says is widespread opposition to reducing federal penalties for drug traffickers.
The Washington Free Beacon reported last week:
The survey was administered by ORC International and commissioned by the Foundation for Safeguarding Justice, a group which represents the National Association of Assistant U.S. Attorneys, who are opposed to FIRST STEP. ORC asked respondents if they would "support or oppose a proposal to reduce penalties for traffickers in heroin, fentanyl, and similar drugs?" with 74 percent saying they would oppose the proposal. Majorities opposed the idea across all demographic groups, including both genders, three races, and all age groups […]

ORC further polled respondents on how they would feel if their congressional representative backed such a proposal. While 7 percent said it would make no difference, 66 percent said they would think less highly of their representative, and only 19 percent said they would think more highly. A majority also said that the federal government was not tough enough on handling drug trafficking, likely reflecting public awareness of the ongoing fentanyl crisis.
"Law enforcement organizations have soundly rejected these proposals, noting their endangerment to law-abiding Americans and the additional leverage they would provide to criminal gangs and drug cartels," the Foundation for Safeguarding Justice said in a press release accompanying the poll. "This new survey confirms that the American people share the same concerns."
But the results are the complete opposite of what polls by other conservative groups and criminal justice advocacy organizations have found. A previous July poll by Freedom Partners found 70 percent of likely voters wanted the Senate to pass the FIRST STEP Act.
"We're looking at what this group and what they're putting out and just shaking our heads," says Mark Holden, the chairman of Freedom Partners and general counsel of Koch Industries. "We're not sure how they're coming up with their numbers. The home confinement stuff they're polling on, our polling shows a completely different outcome. There's immense support for all the provisions in the bill, and anyone who says otherwise is obviously motivated by an agenda."
The NAAUSA has consistently opposed efforts to reduce federal mandatory minimum sentencing laws, expand judges' discretion, or in any way reduce the leverage federal prosecutors enjoy over defendants—a result of which is that 97 percent of federal prosecutions end in plea deals.
Of course, the language of the surveys might be the culprit here. The same respondent might, on different days and with no internal contradiction, say when asked that fentanyl dealers deserve harsher sentences and that nonviolent offenders should have better preparation and more opportunities to reintegrate back into society.
Other supporters of the FIRST STEP Act also say they've seen consistent public support for the measures in the bill.
"Virtually every poll we've seen shows support for prison reform and sentencing reform," says Jason Pye, vice president of legislative affairs at FreedomWorks, a grassroots conservative advocacy group. "After all, people are seeing the successes of state level efforts."
As an example, Pye cites Georgia, where Republican Gov. Nathan Deal began a series of criminal justice reforms in 2012.
"Today, the rates of violent crime and property crime are lower than before Deal began this effort," Pye continues. "In fact, Georgia's violent crime rate is lower than it has been since 1971."