Trump Beat Stormy Daniels' Defamation Claim With a Law Aimed at Rich Bullies Like Him
The president, who routinely threatens to sue people for saying things he does not like, deployed an anti-SLAPP law in his own defense.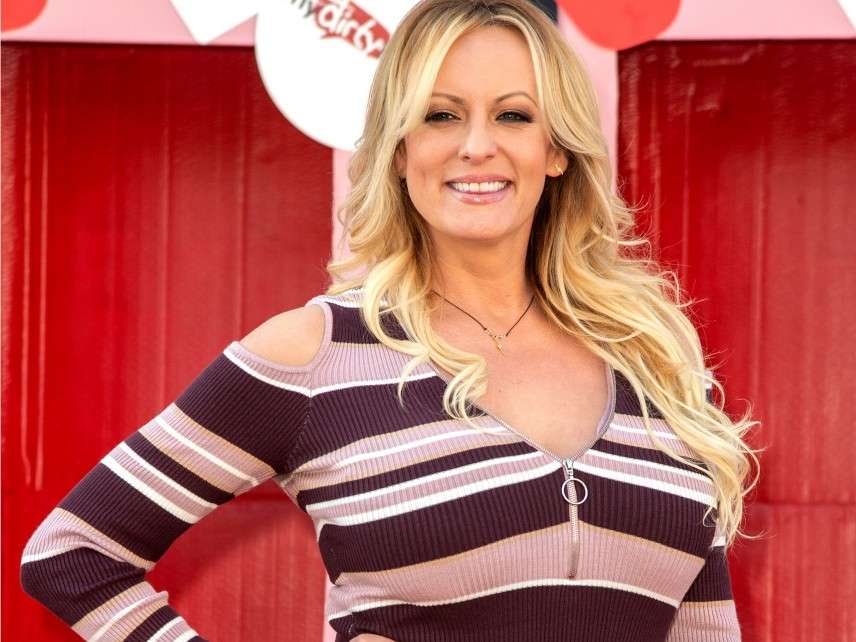 Donald Trump, who is notorious for trying to intimidate his critics by threatening to sue them, this week used a law aimed at discouraging that sort of abuse to defeat a defamation claim. In dismissing Stormy Daniels' defamation lawsuit against Trump, U.S. District Judge S. James Otero upheld the First Amendment rights of a man who routinely attacks freedom of speech.
Daniels, a.k.a. Stephanie Clifford, says she had an affair with Trump in 2006. She sued him last spring after the president dismissed her report that a stranger had threatened her in 2011, when she was planning to discuss the affair with the press. According to Clifford, the man approached her in Las Vegas and threatened to hurt her daughter, saying, "Leave Trump alone. Forget the story." In April, when Clifford released an artist's rendering of the man, the president tweeted, "A sketch years later about a nonexistent man. A total con job, playing the Fake News Media for Fools (but they know it)!" That tweet was the basis for Clifford's defamation claim.
A sketch years later about a nonexistent man. A total con job, playing the Fake News Media for Fools (but they know it)! https://t.co/9Is7mHBFda

— Donald J. Trump (@realDonaldTrump) April 18, 2018
Clifford, who is from Texas, initially filed the lawsuit in New York, Trump's home state, but it was moved to California, where another case pitting Clifford against Trump (involving the enforceability of a nondisclosure agreement that his lawyer had her sign) is pending. Based on New York's choice-of-law rules, Otero, a federal judge in Los Angeles, concluded that Texas law should apply in the defamation case. Trump therefore benefited from the Texas Citizens Participation Act, a 2011 law that is designed to protect a defendant who faces a "strategic lawsuit against public participation" (SLAPP).
That sort of lawsuit, which aims to punish and deter constitutionally protected speech, is a Trump specialty. The president has a long, amazingly petty history of using the legal system against people who offend him.
In 1984, for instance, Trump sued Chicago Tribune architecture critic Paul Gapp for calling a Manhattan skyscraper proposed by Trump "aesthetically lousy" and "one of the silliest things anyone could inflict on New York or any other city." The thin-skinned developer demanded $500 million in compensation for those insults, which seemed like a lot until he sought 10 times as much—$5 billion—in a 2006 lawsuit against Tim O'Brien, a financial journalist who had dared suggest that Trump was not worth as much as he claimed. Although Trump lost both of those cases, he later told The Washington Post he got what he wanted from his suit against O'Brien: "I did it to make his life miserable, which I'm happy about."
During his presidential campaign, Trump or his lawyers threatened to sue a website for selling anti-Trump T-shirts; the National Hispanic Media Coalition for condemning his anti-immigrant rhetoric; the Club for Growth, Ted Cruz, John Kasich, and a Jeb Bush supporter for criticizing him in TV ads; Tony Schwartz, his former ghostwriter, for saying negative things about him in an interview with The New Yorker; The Daily Beast for reporting an ex-wife's abuse allegations; the Associated Press for reporting on one of his business disputes; The Washington Post for revisiting the failure of Trump's Taj Mahal casino; and The New York Times for reporting the claims of women who said Trump had kissed or groped them without their consent. Trump said that if elected he would make such lawsuits easier to win by "open[ing] up those libel laws" (something the president does not actually have the power to do).
The Texas anti-SLAPP law that Trump used in his own defense, by contrast, makes it harder for rich bullies like Trump to punish people who say things they don't like. The law allows a defendant to seek quick dismissal of an unfounded claim and recover legal fees from the plaintiff. Once the defendant shows by a preponderance of the evidence that the lawsuit is based on "a communication made in connection with a matter of public concern," the plaintiff has to establish "by clear and specific evidence a prima facie case for each essential element of the claim." The defendant can still win dismissal of the case if he "establishes by a preponderance of the evidence each essential element of a valid defense."
In this case, Judge Otero concluded that Trump's tweet easily met the first test, while Clifford's allegations failed the second test, primarily because the tweet was constitutionally protected "rhetorical hyperbole" that Trump deployed as a defense against Cliffords' charges:
Mr. Trump, as President, made a hyperbolic statement against a person who has sought to publicly present herself as a political adversary to him. In filings before this Court, Ms. Clifford has challenged the legitimacy of Mr. Trump's victory in the 2016 Presidential election. Mr. Trump's tweet served as a public rejoinder to allegations made by Plaintiff. If this Court were to prevent Mr. Trump from engaging in this type of "rhetorical hyperbole" against a political adversary, it would significantly hamper the office of the President. Any strongly-worded response by a president to another politician or public figure could constitute an action for defamation. This would deprive this country of the "discourse" common to the political process. In short, should Plaintiff publicly voice her opinions about Mr. Trump, Mr. Trump is entitled to publicly voice non-actionable opinions about Plaintiff. To allow Plaintiff to proceed with her defamation action would, in effect, permit Plaintiff to make public allegations against the President without giving him the opportunity to respond. Such a holding would violate the First Amendment.
Whether or not you agree with Otero's analysis, his warning against unilateral disarmament in public discourse must be puzzling to someone who values the First Amendment only when it benefits him.